Creating a Library
Editorial Rating:

Average Rating:

(

0 votes

)
by

Brandy
—
last modified
Dec 14, 2011
As many of you know from previous posts (some obsessive to the point of concerning), we are big on books around here. Of course, some of us still read them on paper and have yet to make the leap to electronic versions. This is the same person that wants a phone that just calls people. [...]
---
As many of you know from previous posts (some obsessive to the point of concerning), we are big on books around here. Of course, some of us still read them on paper and have yet to make the leap to electronic versions. This is the same person that wants a phone that just calls people. Why do we have to complicate everything? (And this is the same person that works for a major technology company, but that is beside the point really.)
Nevertheless, the topic of books is coming up again as the living room begins to take form in my imagination. The entire design centers around my imaginary sofa from Perch (mentioned here and here and I am sure in multiple others). 
My first thought was sofa against the wall with end tables and some kind of fantastic art work from Pool Pony on Etsy above it (like this).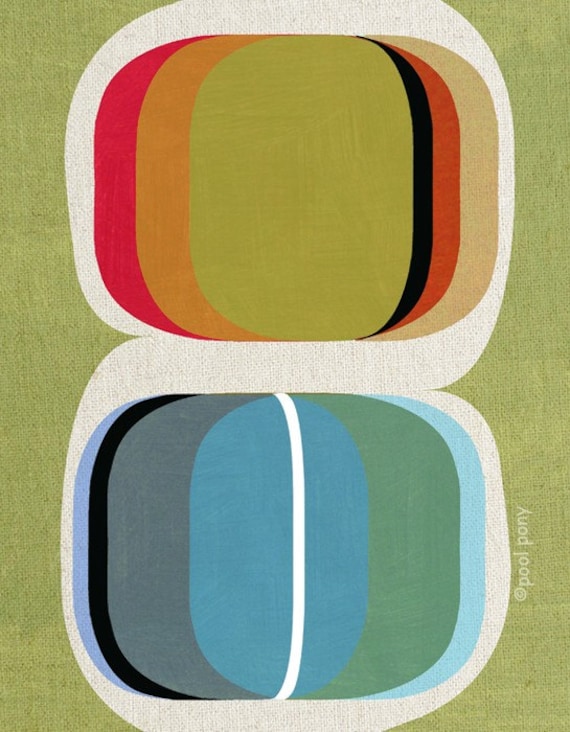 I would surround the sofa with some cool end tables and a coffee table and maybe add one of those arching floor lamps in the corner. This lovely tableau would be cushioned by a nice shag area rug and faced with the refinished and reupholstered chairs I picked up from the Mercer Island Thrift Store. The wall to wall windows would be to one side and the huge open hearth fireplace (once we remove the wood stove!) would be to the other. Perfect, right?
That is until I considered what to do with the stacks and stacks of books next to said fireplace. And since this is still in my imagination and not yet imminent and the living room is actually still full of kitchen cabinet doors, I wasn't too concerned about it. Then I was in the car chatting with Ainsley about it one day and she said, why not make that room into a library?
Huh. A library. In my own house. Oh fantasy of fantasies. Bookcases upon bookcases in a room with a fireplace even. How lucky are we to even have a room to transform into a library! It seems that books as decor are still a big topic, having just seen on Apartment Therapy this morning Lindsey and Stephen's Book-Filled Apartment.
She kept describing it and I kept trying to resist. It didn't help that Maeve kept saying it was the most brilliant idea EVER! I had become attached to my idea of the living room based pretty much on my love of the artwork I had also imagined and the image of it hanging over that glorious sofa. But flexibility in life is key and I began my mental rearranging of furniture. If I put Gracie (the name for the sofa…from Perch…not from me. I'm not that weird. Really…) over here, and the chairs over here, I could actually fit a huge wall bookcase there!  Eureka. Let the internet shopping begin.
I found a few. In this case size and style were the key. I wanted something at least six-feet wide to dominate the wall. And if funds were unlimited…and I mean totally unlimited…the natural choice would be a George Nelson wall storage wall.
But alas, funds are indeed limited.  Ideally, I would like something that fills up most of the wall and is possibly modular to refigure as needed. And of course something that looks very mid-century. For our library. Man, I like the sound of that.
Filed under:
Art
,
Books
,
Decor
,
Furniture
,
Uncategorized
Tagged:
bookcases
,
home library
,
mid-century modern blog
,
mid-century modern home blog