Weekend Show and Tell
Editorial Rating:

Average Rating:

(

0 votes

)
by

Brandy
—
last modified
Dec 11, 2011
Almost all Christmas shopping done, completed last night in bed with some homemade feijoada watching 'It's a Wonderful Life'. My idea of shopping heaven. But of course in my somewhat attention-deficit brain, I was flipping all around the internet and found some things I couldn't wait to share for show and tell.  Enjoy! This is called [...]
---
Almost all Christmas shopping done, completed last night in bed with some homemade feijoada watching 'It's a Wonderful Life'. My idea of shopping heaven. But of course in my somewhat attention-deficit brain, I was flipping all around the internet and found some things I couldn't wait to share for show and tell.  Enjoy!
This is called the 'Fractured Fairy Tales' wall display on Thomas Wold's eponymous blog. From what I can tell, he's some kind of woodworker/designer, maybe? I can't find and 'About' tab and that's a crying shame because he has some gorgeous pieces, many MCM inspired. I couldn't find out how to contact him if I wanted to buy his stuff (as if I could!).
You all witnessed my media cabinet transformation from an old Habitat for Humanity record player cabinet into a modern family room media center. However, had I seen this and had the bravery to actually submit the inquiry request to get the cost (it's a bit like those menus with no prices), I would have second thought the effort out into my $10 on. I love that this accomodates the moden flat screen TV and retailed that mid-century built in look from Wilkerson Furniture.  Love it.
I know that Pantone just declared the 'Color of the Year' as Tangerine Tango, but I'm just not there. (And who they are to declare colors of the year, I simply don't understand. Pantone does know color, but do they know fashion?) For me, I am still ridiculous hung up on the gray and yellow of (apparently) yesteryear. I do indeed believe gray is the new beige and I love it combined with this mustardy yellow. This will inspire our bedroom, if we ever get around to working on it. (Click on any of the images for the source.)
In the DIY category, I love these wood veneer pendant lamps from Poppytalk.  While not Brandy-level possible, not impossible either.
And because we can't be in December without a holiday show and tell, printable mid-century ornaments (on a pink tree, no less!). Love it. From Modern Kiddo.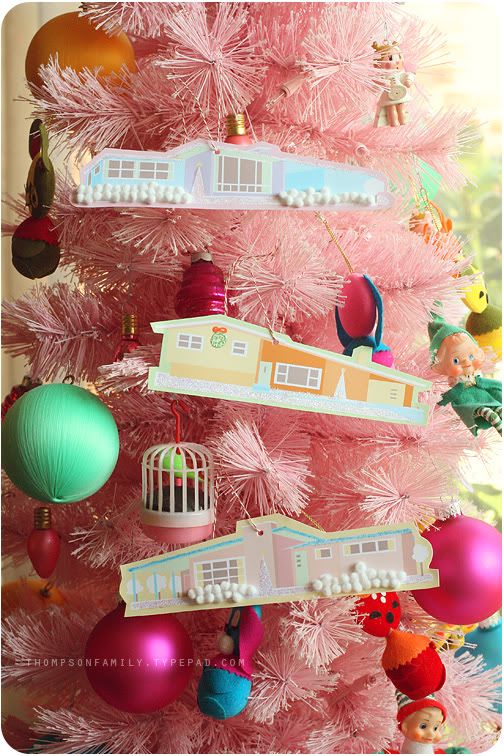 Filed under:
Bathroom
,
Blogs
,
Decor
,
DIY
,
Furniture
,
Uncategorized
,
Weekend Show and Tell
Tagged:
gray and yellow
,
mid-century modern home blog
,
thomas wolf
,
wilkerson furniture