Mid-Century Modern Art
Editorial Rating:

Average Rating:

(

0 votes

)
by

Brandy
—
last modified
Feb 25, 2012
Michelle recently suggested to me that I write a post about mid-century artwork.  I've been kicking it around in my mind for a few days because I don't necessarily feel like I have enough knowledge in that arena to say much of worth or even interest.  Yes, I love art and design.  And yes, I [...]
---
Michelle recently suggested to me that I write a post about mid-century artwork.  I've been kicking it around in my mind for a few days because I don't necessarily feel like I have enough knowledge in that arena to say much of worth or even interest.  Yes, I love art and design.  And yes, I was an art history major.  And yes, I know more about Early Christian and Byzantine manuscript illumination than I should.  (But oh…it so is beautiful.) 
And what I love about both art and history is the sense of context.  Yes, this is going to be one of THOSE posts…artsy fartsy and more conceptual than my average how to paint bathroom tile type post.  (However, it seems like you people like it, seeing that Pop Art is consistently my number one post ever. If you want a DIY project post, one's coming on the desk soon.  I promise we are doing some things around here, albeit quite minor.)  And as I've said before, I need to appreciate something beyond the aesthetic of it.  Not that I'm averse to beauty.  I just see beauty in simplicity and authenticity, hence my love of MCM architecture.  I think ornate things make me feel a little claustrophobic.  Less is always more, which is good because that's pretty much how our finances work.
But when it comes to MCM artwork, I needed to do some digging to understand.  I've covered off on Pop Art..Lichtenstein, Warhol, Hockney, (Okay, so maybe I do know a couple of things about mid-century art but there is a lot more than that completely beyond my grasp.)  I'd seen plenty of Alexander Calder in survey art history courses in school and his kinetic mobiles and sculptures are always the first thing that pops in my mind when I think of iconic artwork of the period.  Calder's mobiles also incorporated a variety of natural objects, birds, fish, leaves, natural materials being key to the mid-century modern aesthetic.  (I have also learned that Piet Mondrian inspired Calder to take his work in an abstract direction and while Mondrian's sensibility seems very mid-century he was actually more of an early influencer.)
Alexander Calder Mobile
 Piet Mondrian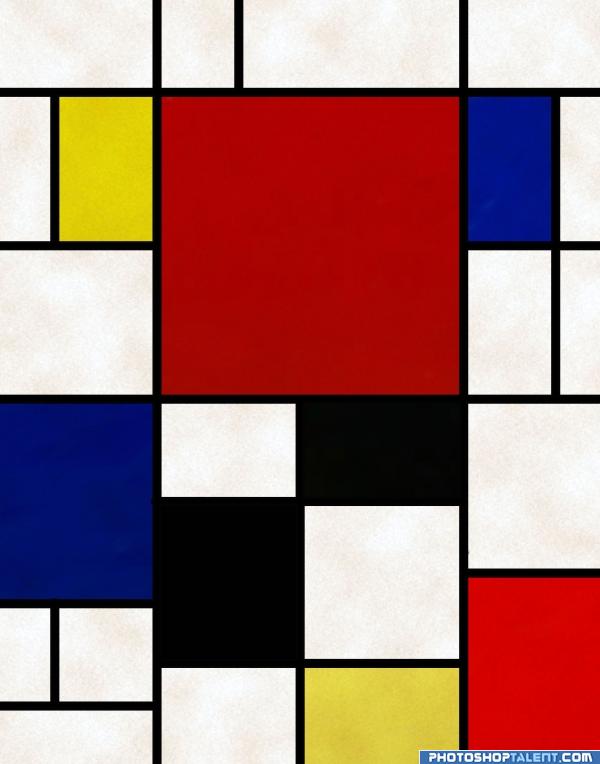 Other mid-century iconic artists include Alexander Girard, recently profiled on Houzz.com, called the greatest colorist and textile designer of our time.  He created textiles for the Eames and George Nelson in his post as the director of textile design for Herman Miller.  His art work was called 'environmental enrichment panels'. (Why use one word when you can use three, right?)  Heavily influenced by folk art, his work exhibits that characteristic whimsy and boldness.
And as long as this exploration is completely without direction (as all good explorations should be), let's turn to the Brutalist wall sculpture so ubiquitous of the time.  You know, those huge metal abstract wall pieces that hung over so many fireplaces in mid-century homes.  These sculptures are considered to be from the Brutalist School.  Now here's what's odd:  I can't find an explanation of Brutalism as an art form.  I can only find a definition of the Brutalist school of architecture, which is apparently a term coined in 1953, from the French béton brut, or "raw concrete", a phrase used by Le Corbusier to describe the poured board-marked concrete with which he constructed many of his post-World War II buildings…. Brutalist buildings usually are formed with striking repetitive angular geometries, and, where concrete is used, often revealing the texture of the wooden forms used for the in-situ casting.  (If any of you out there are Brutalist experts, please educate me on these metal sculptures.) 
Okay, I can see that.  I can see how these sculptures are repetitive and angular.  I wonder if the metal work is over any kind of wood form?  That would be kind of interesting.  Nonetheless, these do not appeal to me.  I don't 'get' them.  I am not ashamed to admit it.  I know lots of people do love them and I place no judgment, but I am not so much a slave to mid-century sensibility that I would want one above my fireplace just to say I had mid-century artwork.  The artist I most consistently find associated with this discipline is Curtis Jere. Photos below are of his work.  (Okay, the last one called Sea Urchin kind of appeals to me.)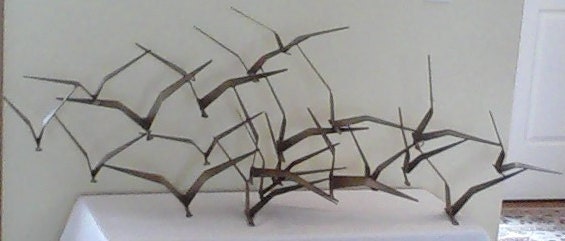 So I've been all over the map here.  What's the takeaway, common denominator, practical application of all this?  What defines mid-century modern (or MCM-inspired) art?  Here's what I think:  natural elements and shapes, a sense of movement, geometry gone slightly askew, a boiling down and simplified representation of objects that goes to the essence of it.  (Something I clearly cannot do with my description.)  I also like to think a sense of humor and whimsy and recognition that it's all pretty damn simple in this life.
And I always like to offer something relevant to our own MCM homes in this century.  There are so many mid-century modern inspired artists out there whose work can be had for a fraction of what one would pay for an authentic Calder or Jere or Girard. (Or a Hockney or a Warhol or a Lichtenstein.)  I have featured some in earlier posts and Weekend Show and Tells.  Some I have bought myself that hang in our home currently.  And of course, though not strictly mid-century, Parvez Taj pieces mentioned here and here.  My favorites with links to the artists site are listed below. (Most available on Etsy.  I love supporting Etsy artists.  Our budding artist Maeve has her own Etsy shop and blog too!)
Matte Stephens (currently hanging in our home)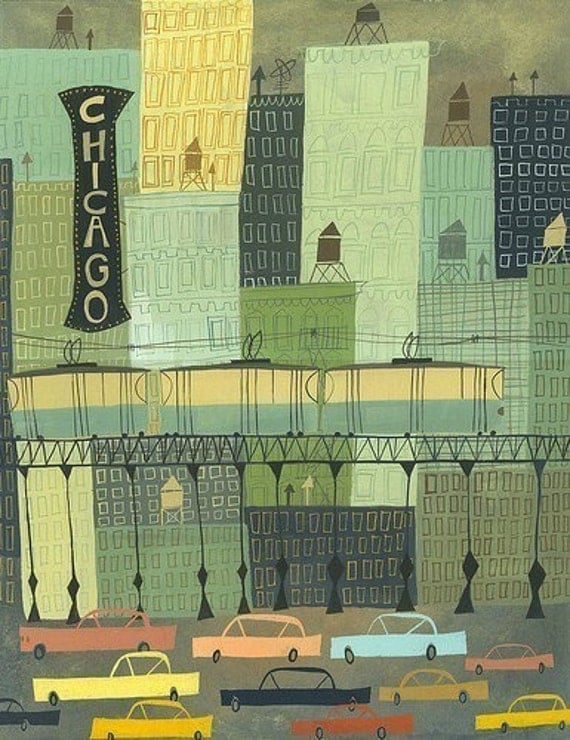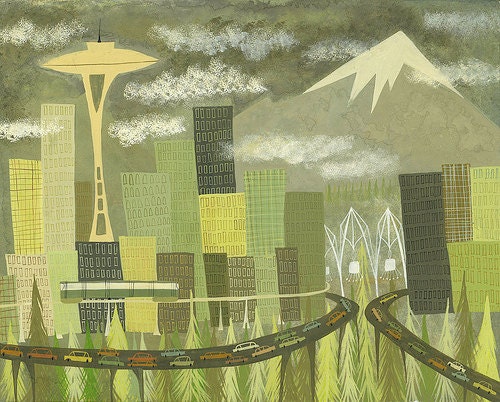 From Liz Lyon's store Visual Philosophy on Etsy.  MCM inspired pieces, plus some with my kind of tongue-in-cheek wit from geniuses like Groucho Marx.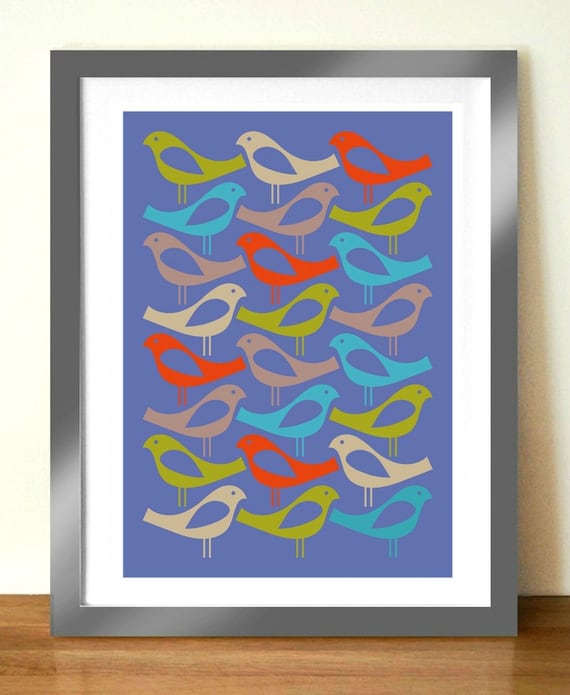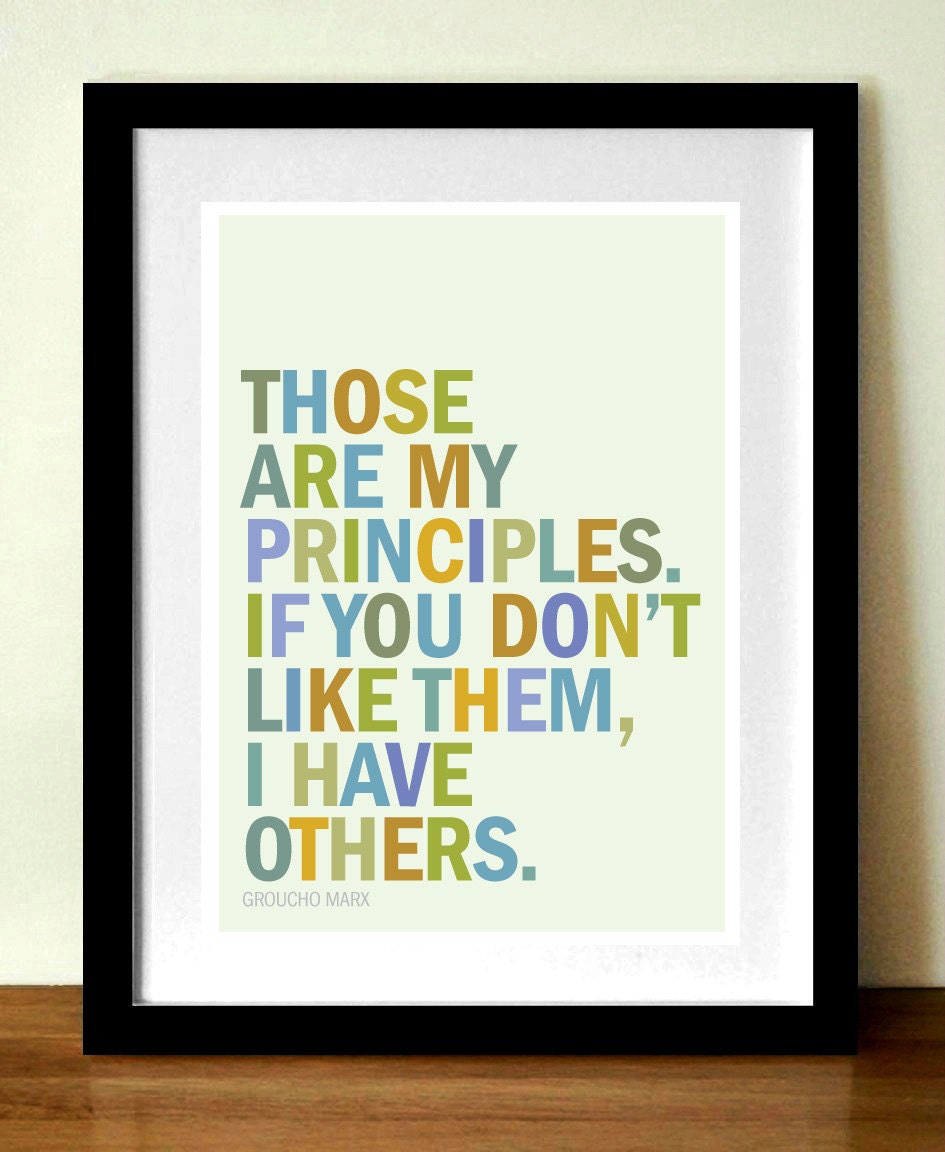 From Fat Eye Design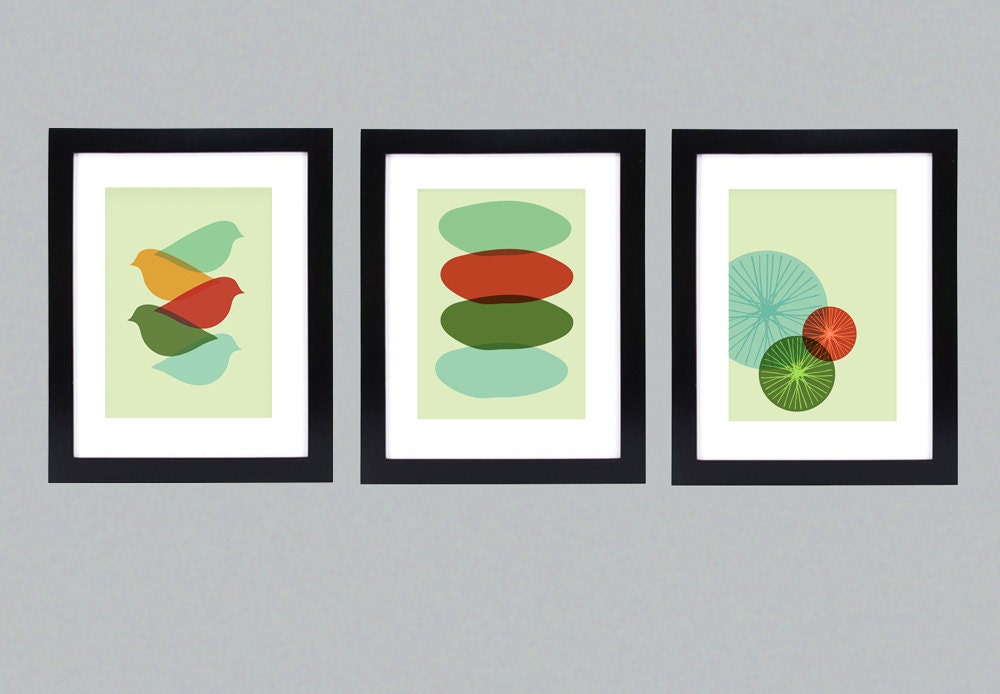 From Jenn Ski Studio.  (Lots of great prints for MCM kids rooms here!)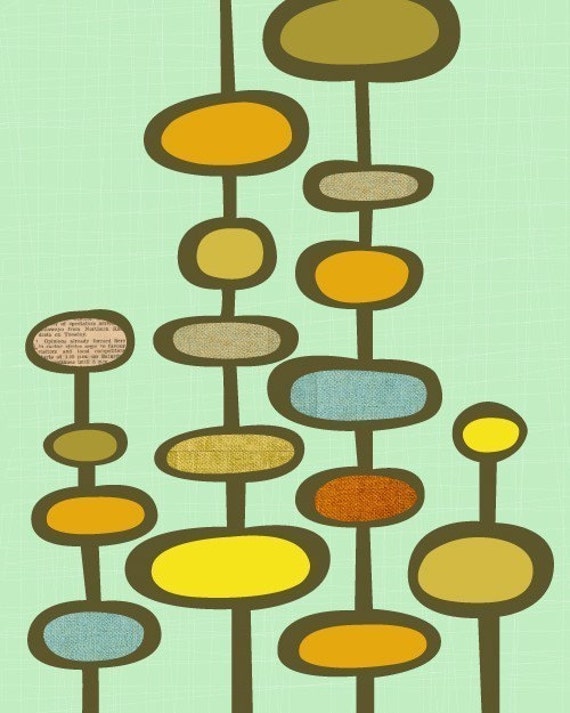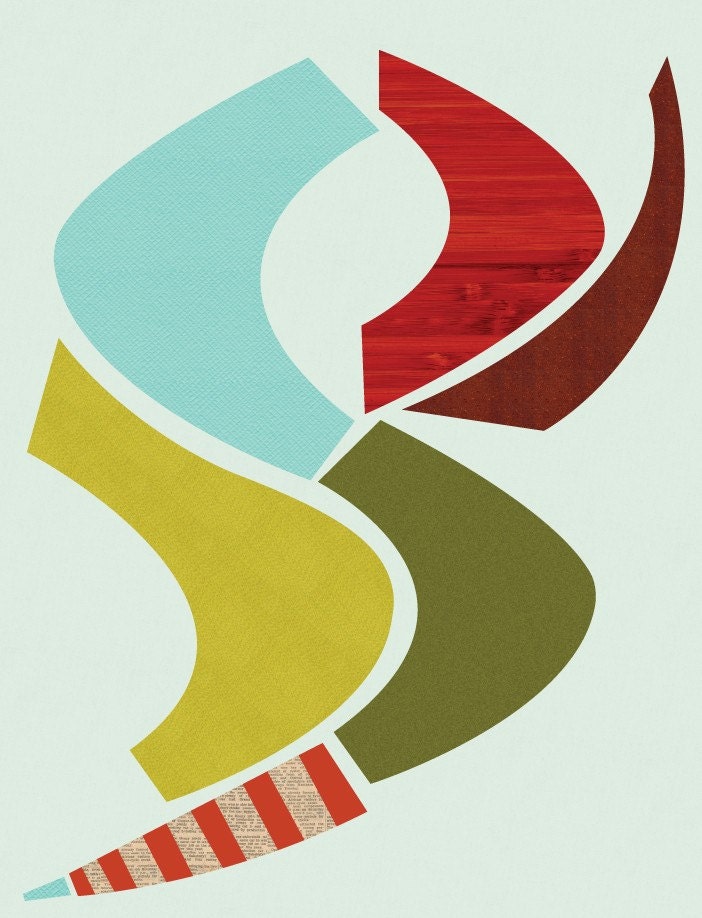 From Handz in the Czech Republic, I received this print from Michelle.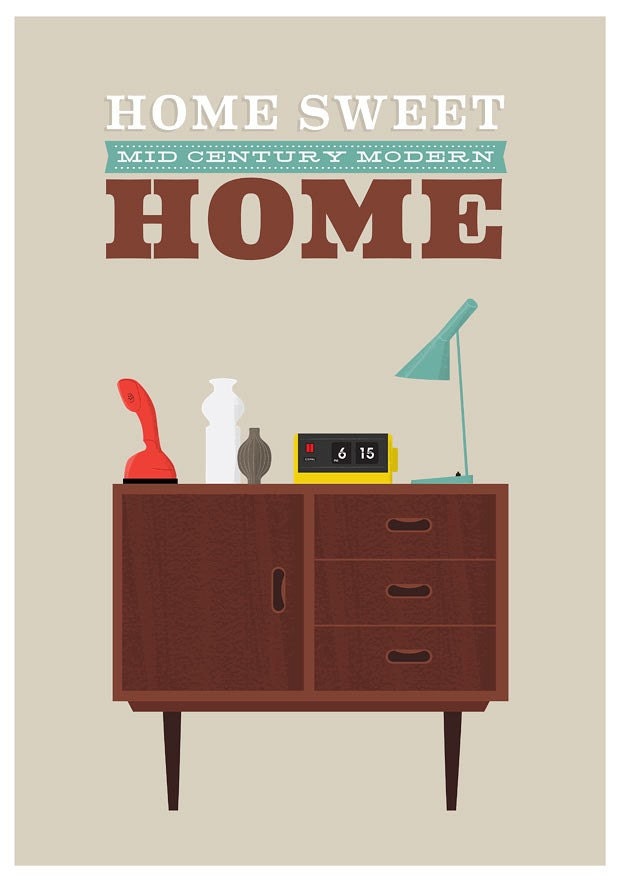 And finally…one of my all-time favorite artists who has a mid-century political commentary vibe is Barbra Krueger. Her work is difficult to find in print form, at least the pieces I like.  Her imagery is reminiscent of the perfect image of the 50s lifestyle over-written with in-your-face brutally honest commentary. (Talk about Brutalism, eh?)  And if I had more money than I knew what to do with, I would want this piece over my bed: