Weekend Show and Tell
Editorial Rating:

Average Rating:

(

0 votes

)
by

Brandy
—
last modified
Jan 15, 2012
As I sit here on a dark morning awaiting the promised snow in the Northwest, I comfort myself with the warm blanket of the internet and fantasies of things I want and admire. Enjoy! From Lagomorph Design (via Whorange), a chair that is combination space-age and mid-century. At first, I wasn't sure how I felt [...]
---
As I sit here on a dark morning awaiting the promised snow in the Northwest, I comfort myself with the warm blanket of the internet and fantasies of things I want and admire. Enjoy!
From Lagomorph Design (via Whorange), a chair that is combination space-age and mid-century. At first, I wasn't sure how I felt about this chair. Now, all I feel is desire. Aptly compared to a Creamsicle, it is delicious.
From the Toronto Interior Design Show, the six most influential designers include John Edelman from Design Within Reach shown below with his carved wooden stool based on the ergonomics of a Swiss tractor seat. Gorgeous. Although at $1,130 for the stool, I am not sure whose reach they are talking about.  Not mine.
All I am going to say about this next one is: Is it me or does this have weird potential? From Etsy, the Mood Rocking Bed. Called the ultimate bed for everything you do in bed. Hmmmm.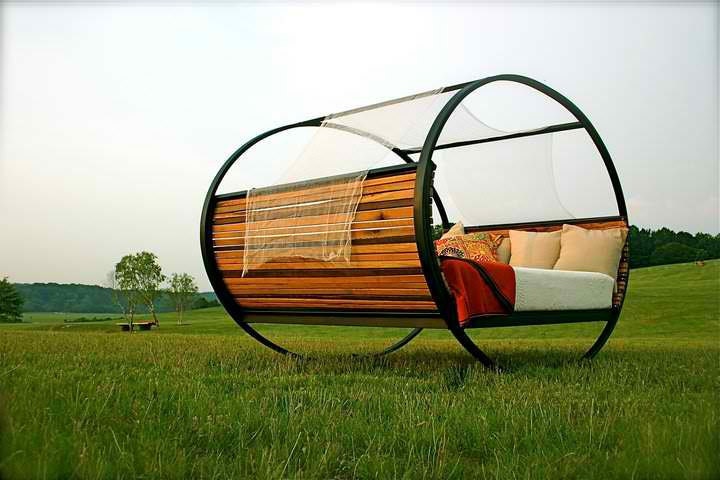 We have all officially gone Mad for Mad Men. Newsweek is reviving its 1960s design for the Mad Men issue. Brainchild of Tina Brown, of course.
And finally from Inmod, my search for the perfect duvet cover has ended with their 'design your own'. You all know I want to do the bedroom in gray and yellow (if we ever get to it) and I've not yet found the linens I want. This is cool beyond words.