Vintage Pyrex
Editorial Rating:

Average Rating:

(

0 votes

)
by

Brandy
—
last modified
Jan 19, 2012
Okay, other than watching a lot of TV when it snows, the other occupational hazard when one who works on the computer has to work from home, shut in by icy roads, is browse the internet. Of course, inspired by all the kitsch on The Wonder Years, I have spent a lot of time looking [...]
---
Okay, other than watching a lot of TV when it snows, the other occupational hazard when one who works on the computer has to work from home, shut in by icy roads, is browse the internet. Of course, inspired by all the kitsch on The Wonder Years, I have spent a lot of time looking at mid-century vintage stuff on Etsy. Just browsing, of course.
And then I got a bug. A weird bug. Pyrex. I saw some Pyrex on The Wonder Years and it sent me searching.  I remember my mom making macaroni and cheese or scalloped potatoes in a yellow one with a big daisy on the lid.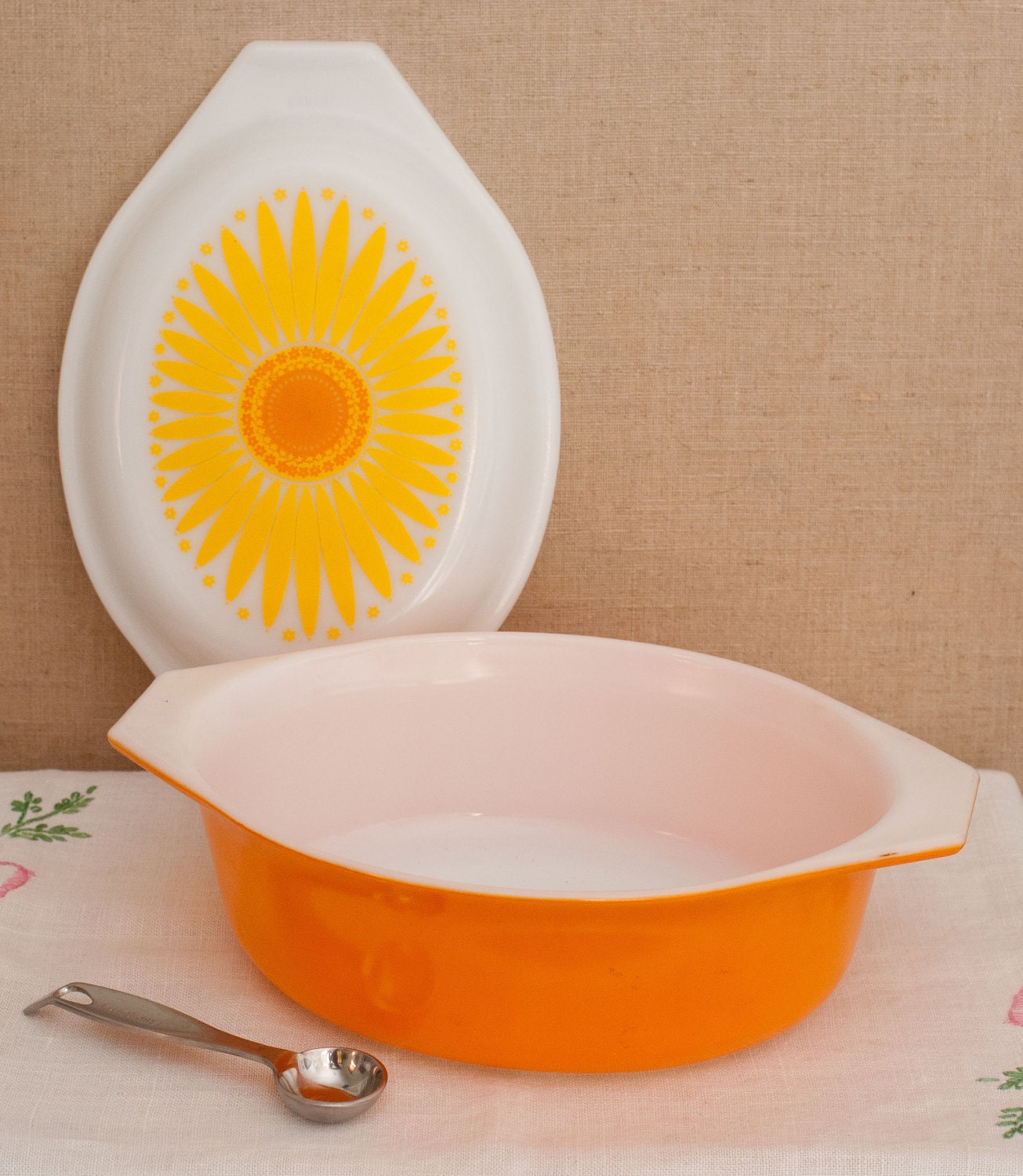 For some reason, I found myself strangely drawn to these milk-glass mixing bowls and baking pans. And with glass tops! How wonderful.  I can hear the clink of the lid on the pan as I type this. Apparently, plenty of people feel the same way as there are numerous sites and virtual communities and books devoted to vintage Pyrex collecting. Who knew? I even have gotten a little education on Pyrex.  (Brace yourself for total geekdom! From Classic Kitchens and More.)
Back in the early 1900′s, Corning Glass Works was working on a request from the railroads to produce lantern glass that would not break when the hot glass was struck by rain or snow. In response to this request, Corning developed globes made from low-expansion glass that could withstand the abuses of weathering and handling which readily broke the flint glass globes. Ironically, the shatterproof lantern globes generated were so good that Corning's managers witnessed a decline in sales of replacement globes. This super-tough "fire glass", as it was called, was resistant to temperature fluctuations, chemical corrosion and even breakage.
In July 1913, a series of events involving Bessie Littleton, the wife of the company's newest scientist, forced Corning managers to focus their attention on the consumer venture. Apparently, Mrs. Littleton had used a Guernsey brand casserole only twice when it fractured in the oven. Knowing the strength of the glass her husband worked with on a daily basis, she implored him to bring home a substitute from the Corning Glass Works plant. He returned the next evening with the bottoms of two sawed-off battery jars made from low-expansion glasses. Mrs. Littleton cooked a sponge cake in one of the surrogate baking dishes. She noted several remarkable findings: • The cooking time was shorter • The cake did not stick to the glass; it was easy to remove with little adhesion • The cake was unusually uniform • The flavor of the cake did not remain in the dish after washing • She could watch the cake bake and know it was done by looking at the underside.
Mr. Littleton brought his wife's creation to work the following day.  Laboratory researchers inspected the cake, which was a "remarkable uniform shade of brown all over." The men deemed it delicious and very well baked. Thus began a two-year process to perfect this new invention. The notion of baking in glass was a whole new concept to the public. In 1915, a wondrous new line of "glass dishes for baking" appeared in the nation's hardware, department and china stores. On May 18, 1915, Boston department store Jordan Marsh placed the first PYREX bakeware order. 
Who doesn't love a science experiment that becomes a household name in cooking products? Plus, with a catalog of decades and decades of design, Pyrex is artwork in the kitchen. And nothing says a mid-century kitchen like some vintage Pyrex. So, of course, I had to have it. After wasting more time than I like to admit, I landed on the Verde pattern.  Okay, so it's not a pattern, but more a color line, it suits my taste just fine.  I bought some mixing bowls and baking/storage trays for less than I would pay for nice stuff at Williams-Sonoma.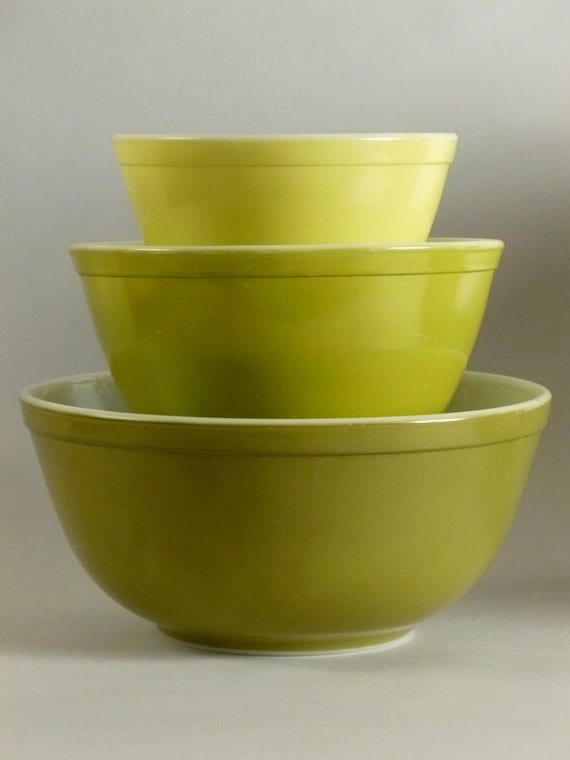 I can't wait for them to show up! I investigated how to care for these products and found some great advice on High Plains Thrifter.
First, some DON'Ts….
DON'T put your Pyrex pieces in the dishwasher. Just. Don't.
DON'T clean the colored outside portion of your Pyrex with abrasives or cleansers with bleaching agents (ex. Comet, Bon Ami, some Soft Scrub versions, oven cleaner, etc.). The white insides can handle a tougher clean, but the colored parts cannot.
DON'T stack wet Pyrex. It can stick together in the most terrible fashion and pulling pieces apart can cause a piece (or worse, both!) to break. Sadness will ensue, believe you me.
Some DO's….
DO buy a can of Bar Keeper's Friend and a pack of Mr. Clean Magic Erasers. Both are multi-tasking wonder products that are both bound to be your new BFFs in the kitchen.
DO try cleaning your Pyrex in warm, soapy water with a non-abrasive sponge before moving onto any other method.
DO use Bar Keeper's Friend to get out stains on the inside or non-colored parts of your Pyrex. Sprinkle a bit of the powder on a wet cloth or sponge, then rub it in gently. Let the paste sit for up to a minute before rinsing off with warm water.
DO use a Magic Eraser to safely remove baked-on crud or stains from the colored parts of your Pyrex. Be gentle! Not a lot of elbow grease is necessary.
DO test (in an inconspicuous spot!) any other types of cleaners, chemicals or abrasives before going all out.
DO clean your Pyrex regularly. It's amazing how much dust and grease and other nasties will find their way to the bottom of your bowls, casseroles, etc. Give pieces that haven't been used in a while a little soap & water bath.
Have you gotten the Pyrex bug?  What patterns are your favorites? (God, listen to me. Pretty soon I will be inviting you all over for a Tupperware party!)