Modern Design and High Performance AV
Editorial Rating:

Average Rating:

(

0 votes

)
by

Guest Blogger
—
last modified
Jun 11, 2011
Audio video (AV) equipment is not exactly held in high regard as a design feature. We tolerate the black and gray component boxes because of the entertainment they provide, but few people want a Blu-ray player or AV receiver as the centerpiece of a room's décor. Fortunately, manufacturers have smartened — Continue reading …
---
Audio video (AV) equipment is not exactly held in high regard as a design feature. We tolerate the black and gray component boxes because of the entertainment they provide, but few people want a Blu-ray player or AV receiver as the centerpiece of a room's décor. Fortunately, manufacturers have smartened up to this concept and technology is available that will all but make electronics and other entertainment gear disappear.
TV is pretty much a given somewhere in the house. Ever-thinning flatscreens have eased the demand for floorspace and mounting innovations allow large TVs to hang on the wall with virtually no physical footprint. But sometimes that's not enough. For those who want a truly invisible TV until the moment Grey's Anatomy starts, might consider a customized motorized mount by Future Automation, a UK-based company that will engineer the ideal solution to fit your minimalist desires. The Picture Lift Mechanism shown below is a perfect example or how a TV can be concealed behind original artwork.
Now that the TV is out of sight until the next episode of NCIS, we can focus on what to do with those pesky AV boxes that stream our cable, DVDs and other multimedia content. Generally, they to be placed near the TV so proper connections can be made. Not so when IOGEAR's Wireless HD Kit is installed. By having a receiver on the TV and transmitters on the components, users can put component boxes in a closet or stashed away somewhere else and still maintain a connection to the TV. No cable clutter and no metal boxes to compete with your Saturday Evening Post plate collection.
With TV and component boxes stashed away, it's time to tackle audio. Fortunately, there are a slew of architectural in-wall speakers to choose from that will all but make sound disappear save for a barely-noticeable grille set into the wall. The installation may require a bit of hole-cutting in the wall or ceiling, but for those pursuing discreet AV, it's a minor inconvenience.
For true music and movie fans, no audio system is complete without a dynamic subwoofer, but sometimes digging in the walls is not an option for these bass behemoths. So what's a person to do? Paradigm, a Canadian manufacturer recently came out with a stashable sub that can be connected wirelessly and placed on a wall, under a couch or wherever your design creativity leads. The MilleniaSub's unique shape and white or black finish options might even make it attractive enough to put out for people to see.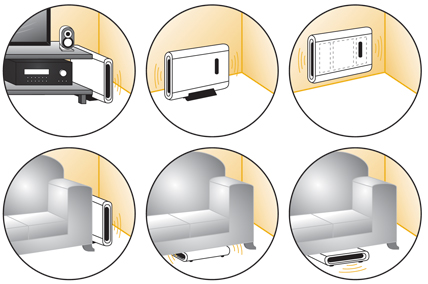 Having a high-performance AV system in your home doesn't require you to have wires snaking around the walls, component boxes on display or hulking speakers that make as loud a design statement as they do with a reproduction of Lady Gaga vocals. When considering these options, you'll want to stay away from the big box stores and find a custom AV shop that can consult on what is best for your design needs. In fact, many AV professionals have pre-existing partnerships with interior designers (and vice versa), so that might be a good place to start.
With the right gear and installation techniques, distinctive design and high-performance AV can live happily ever after.