Copenhagen Design Week 2011
Editorial Rating:

Average Rating:

(

0 votes

)
by

Jaime
—
last modified
Sep 14, 2011
This is a special report from our super world-traveling friend Susan Serra, CKD from Bornholm Kitchen and author of thekitchendesigner.org. Copenhagen Design Week, a collection of design events, talks, and exhibitions all over Copenhagen,was held September 1-6th, with the theme "Think Human." Think Human is an expression of today, yet an old Danish design philosophy [...]
---
This is a special report from our super world-traveling friend Susan Serra, CKD from Bornholm Kitchen and author of thekitchendesigner.org.
Copenhagen Design Week, a collection of design events, talks, and exhibitions all over Copenhagen,was held September 1-6th, with the theme "Think Human." Think Human is an expression of today, yet an old Danish design philosophy that has its roots in human-friendly solutions to product development. Code 11, an exhibition of (primarily) innovative Scandinavian interior design products states its priorities as: "design of high quality, peculiar ideas and crooked thoughts." In this case, crooked = AMAZING!
Armchair by Harald Hermanrud from dkds.dk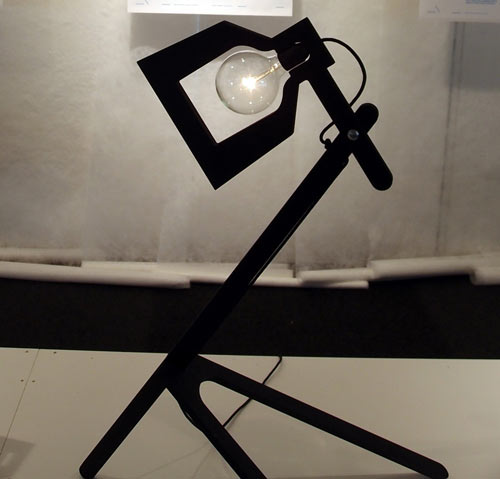 Backlight by Sofie Osterby from dkds.dk
Unnamed student from kts.dk
Milla84 by Lars Ejlskov from dkds.dk
From Steenfatt – part of the Sydform competition
Tube chair by Ellinor Ericsson – part of the Sydform competition
Knitted Chair by Miriam Ortwed – part of the Sydform competition
Walking The Chair by Thomas Wahlstedt – part of the Sydform competition
Shoe by Clara Sjodin – winner of the Sydform competition
---
Share This:
Twitter
|
Facebook
| Discover more great design by following Design Milk on
Twitter
and
Facebook
.
---
© 2011
Design Milk
| Posted by Jaime in
Home Furnishings
,
News & Events
|
Permalink
|
No comments