Passive House by ZeroEnergy Design
Editorial Rating:

Average Rating:

(

0 votes

)
by

Marni
—
last modified
Nov 22, 2011
Stephanie Horowitz of Boston architecture firm ZeroEnergy Design designed this wonderfully charming and modest two bedroom, 1200-square-foot home in Little Compton, Rhode Island. ZED designed a sleek, simple, gable roofed structure, and proposed the Passive House standard, which is a building performance standard that yields an extremely low-energy home. The clients, whose extended families owned large, drafty, [...]
---
Stephanie Horowitz of Boston architecture firm ZeroEnergy Design designed this wonderfully charming and modest two bedroom, 1200-square-foot home in Little Compton, Rhode Island. ZED designed a sleek, simple, gable roofed structure, and proposed the Passive House standard, which is a building performance standard that yields an extremely low-energy home.
The clients, whose extended families owned large, drafty, energy inefficient homes, was enthusiastic about building an environmentally conscious residence.  The generous number  of south-facing windows maximize solar heat gain in the winter, using the polished concrete floor to absorb the heat and re-radiate it into the space.
A simple mud room with room for plenty of winter coats and boots.
While the front and back are clad in a natural, horizontal wood siding, the side is a rich barn red, perfect for its silhouette.
The open floor plan of the living and dining space features a dining nook that bumps out of the southern side of the space.  Since family and friends often visit, the nook is large enough to sit the family and any of their guests.
The red wall in the living room makes a huge impact.
The bedrooms are located at either end of the home and receive either morning or afternoon light.  Doesn't it look like the perfect place for a nap. Love that square window up top.
There's a loft too.
And it leads up to this charming kid's room with slanty, sky-lighted ceiling.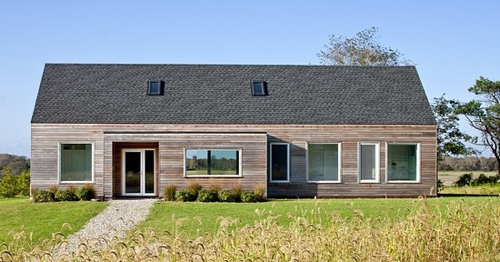 The north-facing folding glass door opens up to the agrarian view out over abutting farm lands.
Photos by Greg Premru.
---
Share This:
Twitter
|
Facebook
| Discover more great design by following Design Milk on
Twitter
and
Facebook
.
---
© 2011
Design Milk
| Posted by Marni in
Architecture
|
Permalink
|
No comments