Introducing MILKwall
Editorial Rating:

Average Rating:

(

0 votes

)
by

Jaime
—
last modified
Jun 21, 2011
I am so excited to finally be able to introduce you to a product I've been working on with LOFTwall most of the year. MILKwall by Design Milk for LOFTwall is a Design Milk-designed custom LOFTwall that was inspired by the Small Dot pattern designed by Charles and Ray Eames in 1947. I wanted to [...]
---
I am so excited to finally be able to introduce you to a product I've been working on with LOFTwall most of the year. MILKwall by Design Milk for LOFTwall is a Design Milk-designed custom LOFTwall that was inspired by the Small Dot pattern designed by Charles and Ray Eames in 1947. I wanted to create a mid-century meets modern day design that would complement either a home or an office. I am so pleased with the result — I was going for something that reflected my own personal style, a style around which I've built the Design Milk brand.
The wall features a textured teak laminate panel and a fabric panel covered in your choice of black or cream Maharam fabric in Eames Small Dot 006 Document Reverse 001 Document. Also included are black, white, and translucent white standard LOFTwall panels. You can build any number of custom configurations, just check out LOFTwall's website for more details. They also make a sliding door kit — wouldn't these make great as sliders?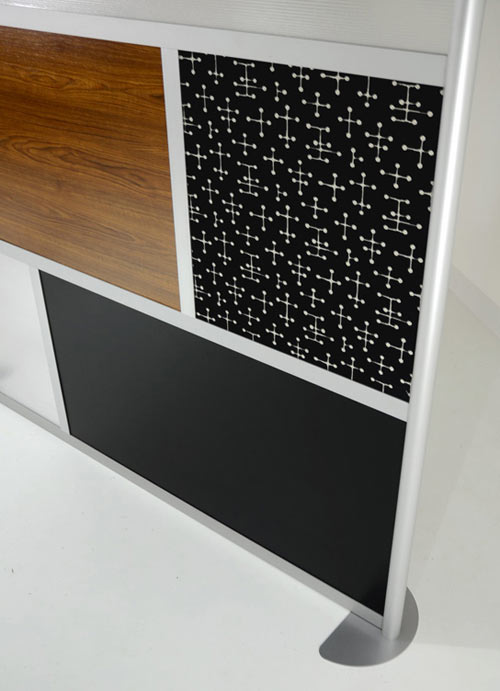 I'm also proud to say that this special divider is made in the USA and the anodized aluminum frame is manufactured from 75% post consumer and industrial aluminum. You can order one (or two or three) here.
---
Share This:
Twitter
|
Facebook
| Discover more great design by following Design Milk on
Twitter
and
Facebook
.
---
© 2011
Design Milk
| Posted by Jaime in
Architecture
,
Home Furnishings
,
Interior Design
|
Permalink
|
1 comment