Common Pond Plat House - construction almost complete
Editorial Rating:

Average Rating:

(

0 votes

)
by

lavardera
—
last modified
Apr 06, 2008
---
Its been some time since we last reported on the Plat House being built at the environmentally sensitive development, Common Pond, in Georgia. Last time we saw it the roof was going on and the rough "framing" was almost complete. Well the inside and outside are nearly complete now and the last details are being finished up on site.
You may recall from the previous posts that this was the first Plat House built from SIPs panels. That has gone well and as you can see there is little in the outward appearance of the house that reveals the energy efficiency of the SIPs construction.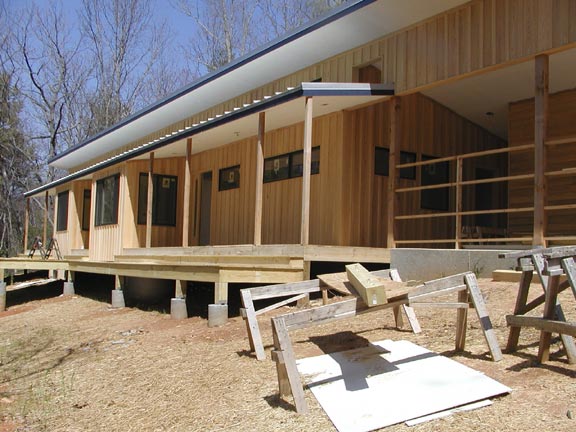 Here we see the side of the house facing their view, with the decks. I was told that the final grade around the decks will be filled to eliminate the code requirement for railings which will leave the views unobstructed. The beautiful siding that has been used is cypress boards in a true board and batten pattern. This sets the batten strips on a close repeat as the width of actual boards is much smaller than the spacing of battens placed on sheet siding materials.
click through the link below to read more and see more photos.


In the photo browser below you can see some interesting shots of the fit out of the interior. The owner's have opted for a beautiful pine flooring. Pine is a soft wood, yet it was very common for floors in the past none the less. My house has pine on the second floor, and since we are without shoes there most of the time its worn well. You can also see some of the interior doors in a couple of the shots. They are fully glazed with a reeded pattern glass - very nice.



All in all it is another unique Plat House. I'm continuously amazed at the individual expressions created by each customer of what is essentially the same house. Each one plays out with unique materials and varied priorities to make a unique home for each owner.
Technorati Tags: house plans, modern design, modern house, Plat House