A New Way To Watch TV: Peel
Editorial Rating:

Average Rating:

(

0 votes

)
by

Jaime
—
last modified
Sep 02, 2011
  Peel is a new sleek product designed by Yves Behar that might change the way you watch TV. The Peel Fruit is a small, architecturally crafted device that, when paired with a the free Peel app, turns your iPhone of iPod touch into a remote control. Not only that, but it features recommendation technology [...]
---
Peel is a new sleek product designed by Yves Behar that might change the way you watch TV. The Peel Fruit is a small, architecturally crafted device that, when paired with a the free Peel app, turns your iPhone of iPod touch into a remote control. Not only that, but it features recommendation technology so you don't have to waste time flipping channels to find what you're looking for.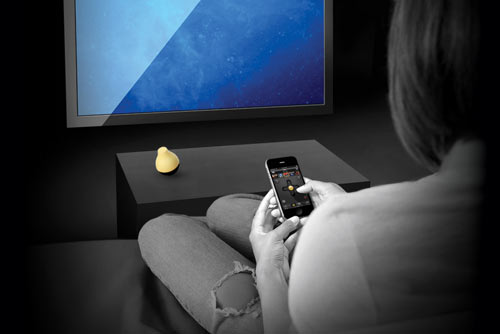 The Peel Fruit is available for $99 at peel.com. Download the Peel app for your iPhone or iPod Touch.
---
Share This:
Twitter
|
Facebook
| Discover more great design by following Design Milk on
Twitter
and
Facebook
.
---
© 2011
Design Milk
| Posted by Jaime in
Technology
|
Permalink
|
No comments