Double Bay House by Level Orange Architects
Editorial Rating:

Average Rating:

(

0 votes

)
by

Jaime
—
last modified
Jul 14, 2011
Architect Carl Salim and designer Reema Bisher of Level Orange Architects designed a home for a young family that responded to "their passion for raw materials, clean space and risk." From the architects: The Double Bay Residence was designed to nourish the client's desire for visual silence and imperceptible spaces. Raw concrete, rabbit netting, solid [...]
---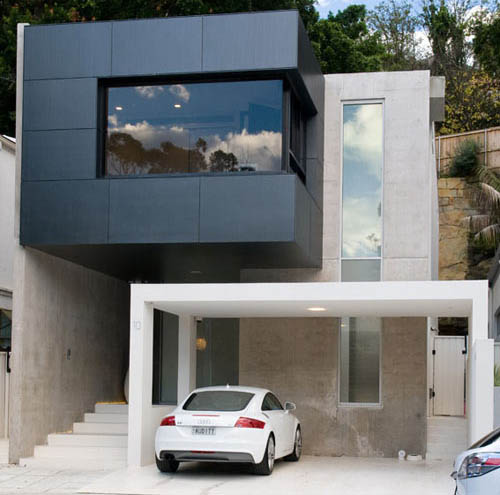 Architect Carl Salim and designer Reema Bisher of Level Orange Architects designed a home for a young family that responded to "their passion for raw materials, clean space and risk."
From the architects:
The Double Bay Residence was designed to nourish the client's desire for visual silence and imperceptible spaces. Raw concrete, rabbit netting, solid white concrete floors, Caesar slab bathrooms meet the brief highlighting the lack of fuss that tiles, bricks door knobs and handles impart.

A concealed kitchen was designed to hide the cooking station and equipment. The kitchen bench goes uninterrupted as it continues to the outdoor area and plunges into the pool. The master bedroom occupies a clear glass ensuite alluding to space and consistency. A spiral staircase sits as a bedside sculpture, above it a private dressing room to house the clients "art of fashion".

Designing and constructing a house with artistic merit on a narrow site, cutting back a natural sand stone wall, Shotcreting for stability and replicating the sandstone façade although challenging, was met with determination for this young architect and proved rewarding for the Clients.
Architect: Carl Salim, Level Orange Architects
Senior Designer: Reema Bisher
Designer: Fionna Ward
Architect in Waiting: Joseph Khoury
Builder: Technical works
---
Share This:
Twitter
|
Facebook
| Discover more great design by following Design Milk on
Twitter
and
Facebook
.
---
© 2011
Design Milk
| Posted by Jaime in
Architecture
|
Permalink
|
No comments