Get Out! The Ultra Mini Pool
Editorial Rating:

Average Rating:

(

0 votes

)
by

Anne
—
last modified
Jun 08, 2011
I just learned an American expression: "The McMansion." For those outside the US, this expression refers to truly oversized, mass-produced properties you possibly only find in the US. And so, this unique design is clearly for the opposite type of property: one with limited outdoor space but with the same amount of ambition. Outdoor bathing, [...]
---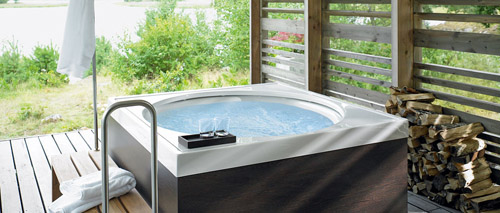 I just learned an American expression: "The McMansion." For those outside the US, this expression refers to truly oversized, mass-produced properties you possibly only find in the US. And so, this unique design is clearly for the opposite type of property: one with limited outdoor space but with the same amount of ambition. Outdoor bathing, the sensation of a good splash, really makes a summer become real. Equally on a normal day after work, outdoor bathing entirely changes your stress level and mood. Sadly, outdoor tubs and Jacuzzis are notoriously unattractive. So, I would really love this type design to become widely available.
The Blue Moon by Duravit is a round tub in a square setting. This tub believes it is a pool…and probably with good reason: the Blue Moon whirlpool looks very much like a pool; and with its water depth of 1.7 feet, it feels like one. And, like many advanced designs in the outdoor market, it is multi-purpose. The pool/tub has a top you can unfold and transform the pool as a table or deck. You can use it in very small spaces as it measures 4.5′ x 4.5′. To add to the experience, it has mood-setting colored lights.
---
Share This:
Twitter
|
Facebook
| Discover more great design by following Design Milk on
Twitter
and
Facebook
.
---
© 2011
Design Milk
| Posted by Anne in
Interior Design
|
Permalink
|
No comments