2012 Modern Calendars
Editorial Rating:

Average Rating:

(

0 votes

)
by

Caroline
—
last modified
Dec 05, 2011
This Typodarium desktop or wall tear-off calendar is amazing. It features 366 different typefaces from 252 designers that live in 32 different countries. Each page features all of the information about that particular typeface design and where it can be licensed. The calendar can be purchased from Slanted. Calouette's 2012 Modern Circles Wall Calendar is [...]
---
This Typodarium desktop or wall tear-off calendar is amazing. It features 366 different typefaces from 252 designers that live in 32 different countries. Each page features all of the information about that particular typeface design and where it can be licensed. The calendar can be purchased from Slanted.
Calouette's 2012 Modern Circles Wall Calendar is printed by hand in the USA in 4 different colors. The calendar comes unframed and can be drawn or written on, or framed if you choose. Available for $28 on their website.
Avril Loreti created this 2012 calendar and tea towel rolled into one. It's brightly colored with handwritten brushstrokes. The calendar tea towel is available for purchase in her Etsy shop for $25.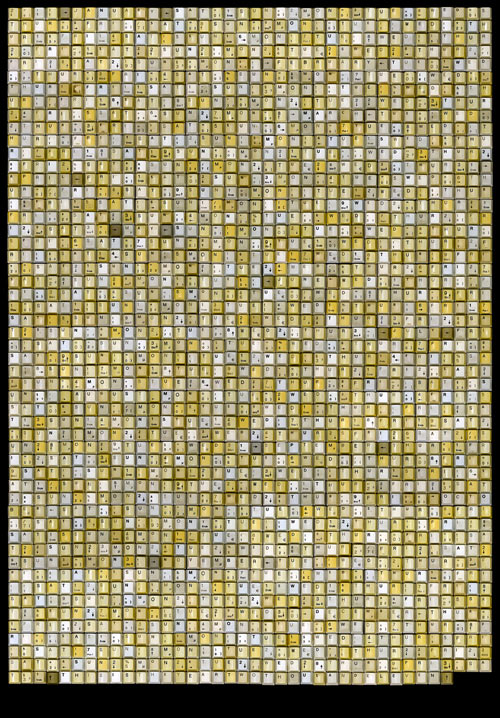 The 2012 Typographic Wall Calendar by German designer Harald Geisler began as a project in 2009 and is currently funded by a Kickstarter campaign. The calendar features 2,012 hand-set and photographed computer keys that spell out each day of the year. The calendar is printed on high gloss paper with a UV coating so you can write on it. The 2012 calendar is $35 and is available for purchase on his website.
These hand-printed calendars feature the work of Jim Flora, an illustrator made popular for his cartoonish album covers in the 40′s and 50′s. You can choose between three calendars: Swingin' Sax, Boogie-Beat Drummer, and Stardust Moon. Each design sells for $12.50 or all three for $37.50.
The 2012 edition of Cats Let Nothing Darken Their Roar is a limited run of 700 copies and is available for $45 on their website.
Abstract painter Michelle Armas designed this calendar print that features her Trellus painting. The calendar comes signed and is available in her shop for $30.
The always fun Bubble Calendar is large at 4 feet long and lets you pop a bubble for each day. Available on their website for only $20.12.
This large (23″ x 35″) wall calendar from Melissa Van Hoose features squares in a color gradient grid that remind me of paint swatches. It can be purchased on Etsy for less than $35.
The three-dimensional Surge Calendar is created from one sheet of paper that you assemble. It was designed by Yusaku Shimoyama and sold via the MOMA store for $10.95.
The International Wall Calendar by Nava shows five different languages and features a minimal color palette. Available for $29 at Fitzsu.
This small, black and white calendar is hand-printed by Michelle Lam of Petit Paperie and available on Etsy for $13.
Edu Barba has designed this black, red, and white poster-style calendar in Spanish. The calendar is $15 and is available in other languages as well.
The Jumping Point Calendar by Michael Domberger gets more colorful by the day as you punch each day's dot out to reveal color beneath. Available through the MOMA store for $39.95.
The Studio Hinrichs 365 Typography Calendar was started over 10 years ago and showcases 12 original fonts with a description about it and the type designer. The calendar comes in Super size for $55 and Desk/Wall for $35 at Ken Knight Design.
The 2012 Invisible Calendar by SashaPure appears to be just a simple notebook of plain white paper. At further glance you discover that it's a calendar that has the dates printed with a colorless coating. It is intended to have you write in the important information while leaving the unimportant dates "invisible." To order, please visit SashaPure.
The Crispin Finn design duo creates everything in red, white, and blue, including their 2012 Year Planner. The screen-printed calendar has ample space to write each day and the weekends are clearly identified with a blue header. Available for £17 on their website.
Natasha Mileshina of Bubbo-Tubbo designed this calendar of geometric shapes and bright colors. Each page is printed on matte recycled paper and hung from rope. The calendar is $15 and available via Etsy.
This limited edition wall calendar by Paper Boat Studios was inspired by a Spirograph set from the 1960′s. The letterpress design calendar features hand-drawn images and is perfect bound with perforated pages to make tear-off easy. Available for $30 in their Etsy shop.
The minimal black and white illustrations featured in Pawling Print Studio's calendar reflect the patterns of traditional textiles that they were inspired by. The four-page calendar is available for $25.
Merci-Bleh-Bleh's Shapes Vs. Shapes wall calendar is a fun, bold calendar choice that features primary colors and modern shapes. It is sold on Etsy for $18.
This is a single page calendar from Etsy seller snugstudio that features graphic shapes to represent the first letter of each month. It is available for $19.90.
Two Trick Pony designed this Year Of Type calendar using red and white inks on chipboard. Twelve different type styles are used on this screen printed 5″x9″ calendar and sells for $24.
This small, modern desktop calendar by Monkey Mind Design has geometric shapes and patterns in bold overlapping colors. It comes with a paper easel stand and is being sold on Etsy for $12.
The Ryan McGinness To-Do List Pad calendar is made for the busy creative person that not only likes to make lists but likes to draw as well. Ryan McGinness has been self-publishing this calendar for years now and each page features one of his sketches on it. The design is simple with a lightly gridded background and printed with 100% black ink. The calendar can be purchased for $24.95 through Hand-Eye Supply.
The Doodle Calendar at BODIE and FOU has an overall simple design with a scribbled background in slate or blue. The screen printed calendar is made in England and available for £27.
And last, but never least, is our old favorite, the Vignelli 4′x3′ Stendig, available for $30 at Unica Home.
---
Share This:
Twitter
|
Facebook
| Discover more great design by following Design Milk on
Twitter
and
Facebook
.
---
© 2011
Design Milk
| Posted by Caroline in
Art
,
Home Furnishings
,
Style & Fashion
|
Permalink
|
4 comments