COFFEE TABLE
Editorial Rating:

Average Rating:

(

0 votes

)
by

THE BRICK HOUSE
—
last modified
May 23, 2011
Even though we just had a ginormous sale to move out all the crazy furniture accumulation (which happened "somehow" through no fault of my own – how dare you think that) I might have picked up a few new pieces recently. Maybe. Probably. Assuredly. It's a sickness? Or an incredible talent? Let's not put labels [...]
---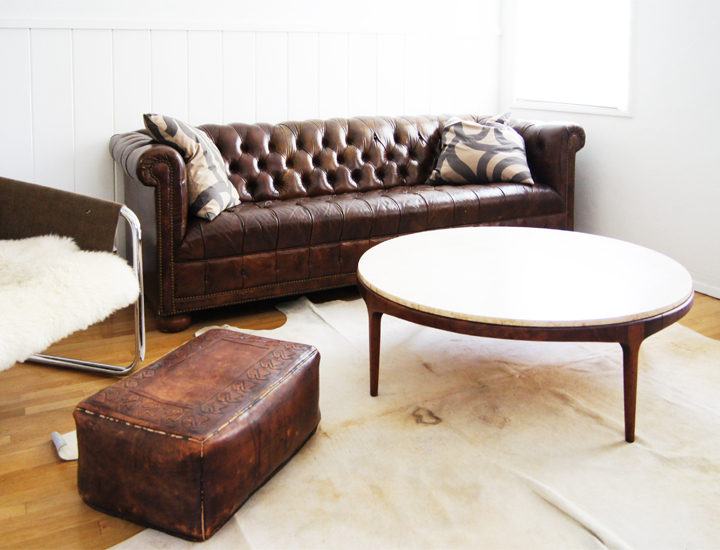 Even though we just had a ginormous sale to move out all the crazy furniture accumulation (which happened "somehow" through no fault of my own – how dare you think that) I might have picked up a few new pieces recently.
Maybe. Probably. Assuredly.
It's a sickness? Or an incredible talent? Let's not put labels on it.
So, in a round about way of getting to the point – I found another coffee table for the den. This one makes number three million of the den coffee table options or something. It's round, it's from Craigslist, it's Italian, it's travertine and it adds just a touch more brown and taupe to my colorless den. Glass coffee table tops? They just don't seem to last in this high traffic, high mess area.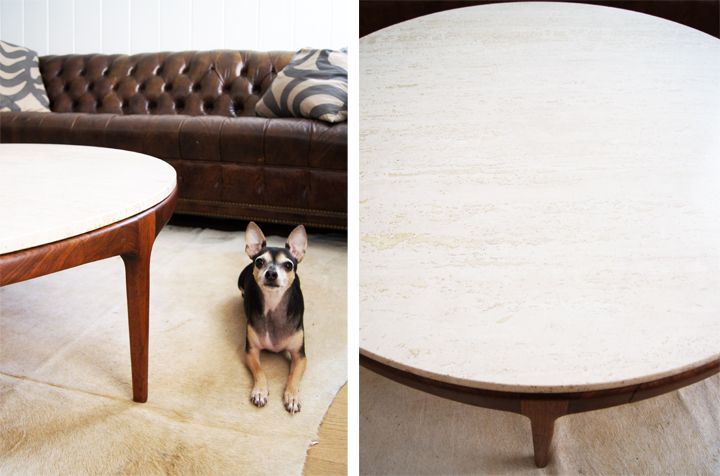 Chihuahua for scale.
Beautiful flawless travertine top, which weighs eight thousand pounds give or take.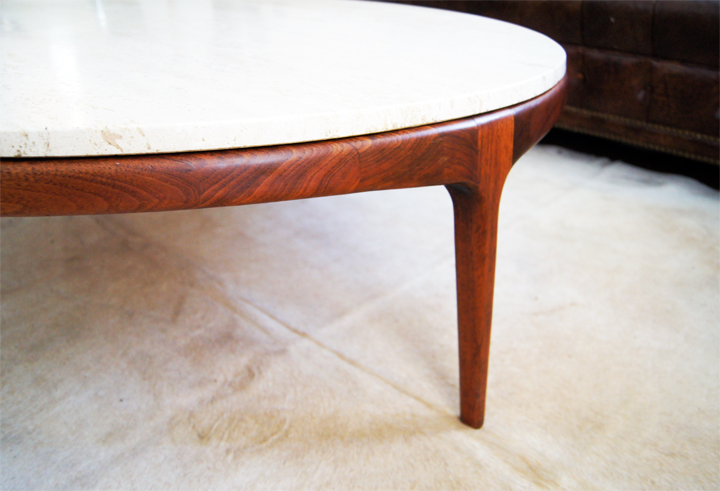 I spent all Sunday caressing, sanding, oiling, buffing and restoring the walnut base to it's original glory. Cleaned up pretty nice, if I do say so. Very nice.
The cowhide still won't relax  (it needs a steam). No painting, no reupholstering, no replacement for the shelving unit, no lighting and no art installation has happened. Obviously. Chesterfield? Looks like it's staying for the long haul. Haven't had a single urge to replace it – which is unbelievable – but that thing is a good comfy beast.
Everything is of course all brown and dreary and waiting patiently for the rest of the room to be addressed. One day brown town will be conquered. But, like everyone else in the entire world, we've been super busy with less than blogworthy boring stuff eating up our time and meager resources. Trying to slowly get motivated to work on the house and restore it back to it's presale condition, even though everything has turned to anarchy and weeds and madness. Better to live in a little bit of denial and take a small breather, methinks.