PHOTO | CAMP
Editorial Rating:

Average Rating:

(

0 votes

)
by

THE BRICK HOUSE
—
last modified
Feb 29, 2012
PHOTO | CAMP . FIELD GUIDE One day. One workshop. Your photos. Made better. Saturday, March 24th . Los Angeles ………………………………………………………………………………………………………………………………………………… CAMP (aka Laure & Morgan & all our mad skills) want you to say hello! to better photos. PHOTO | CAMP . FIELD GUIDE is a one day introductory workshop designed as a cheat [...]
---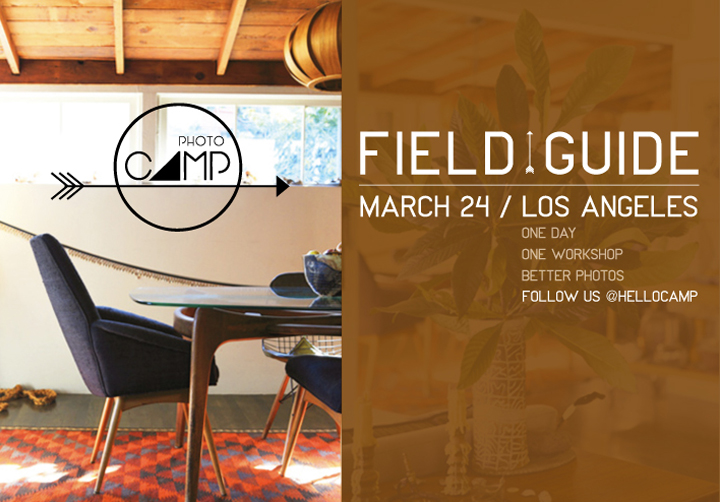 One day. One workshop. Your photos. Made better.
Saturday, March 24th . Los Angeles
…………………………………………………………………………………………………………………………………………………
CAMP (aka Laure & Morgan & all our mad skills) want you to say hello! to better photos.
PHOTO | CAMP . FIELD GUIDE is a one day introductory workshop designed as a cheat sheet to making your existing photos look great. Learn all those simple tricks and tools that turn standard blah photos into incredible OH YEAH images.
Trust us. We're professionals.
Never used Photoshop? No big deal. Don't own an SLR? Who cares! All experience levels and all digital cameras welcome. Laure and I will walk you step-by-step through the process and go-to tricks of editing photos by using the photos you already have. Have a ton of photo questions? Confused by cameras? Bring it on, we can help. Everyone leaves FIELD GUIDE with a set of their own publication ready photos, a workshop reference book, techniques for getting the most out of that camera you already own and the know how to make better photos from then on.
We're keeping this workshop casual and limited to 15 people, so, if you need help improving your photos for your shop, your blog, your amateur bird watching club or whatever else, let us show you how to get that pro look even without that pro equipment.
Want more CAMP?!