Wireless Light Switches + Floor Outlets = Tighter & More Insulated Home
by Chad Ludeman
—

last modified

Jan 04, 2012 02:37 AM
Editorial Rating:

Average Rating:

(

0 votes

)
by

Chad Ludeman
—
last modified
Oct 15, 2010
Earlier this week we posted on cutting labor costs associated with Cellulose insulation installs. It occured to me in some of the comments that we have never posted on our "magical" electrical strategy to help improve the insulation and air tightness of our homes. The truth of the matter is that we actually don't use [...]
---
Earlier this week we posted on cutting labor costs associated with Cellulose insulation installs. It occured to me in some of the comments that we have never posted on our "magical" electrical strategy to help improve the insulation and air tightness of our homes. The truth of the matter is that we actually don't use any magic (especially the kind shown on the right). Simply a bit of common sense and a sleek wireless lighting system. I will explain.
A bit of background on how this originated
After the 100K project, we started to really focus on how to improve air tightness and insulation values in our walls. We weren't sure if we would keep using SIPs which can making running electric difficult.  We also weren't sure if we wanted an interior or exterior air barrier, or even both. This got us thinking a lot about those wires, light switches and outlets in our walls that were taking up valuable insulation space in our exterior walls and also creating weak spots in our air tight drywall layer.
One of the most valuable things I learned while teaching myself Manufacturing Engineering in college (please don't stick to only the books your profs recommend for you kids) while going for my Industrial Management degree was that "the best way to improve a slow or error ridden process or component was to eliminate it." This jewel of knowledge came to me one day. All we need to do is eliminate those pesky wall outlets and light switches to improve the efficiency of our wall assemblies! OK, now how do we do this affordably?
Eliminating outlets in your walls
Let's start with the easier of the two, eliminating outlets. This was relatively easy once we thought about it. Simply take your wall outlets and move them to the floors. Simple. Easy. Done. Yes, this costs a bit more in floor outlet material and labor, but you only need to do it on exterior walls. This keeps the additional cost very low, especially in row homes with only two very short exposed walls. Here's a shot of one of ours in the recent Skinny Project below.
Eliminating light switches in your walls

This guy didn't come to us as quickly. Luckily we remembered one decent product from Green in Boston a few years ago. That valuable trip was sponsored by Bolt Bus, Nic's Aunt in the Boston burbs and our ability to stretch two, one-day floor passes into full 3-day passes. The product I am referring to is the Verve Living System for wireless control of residential lighting.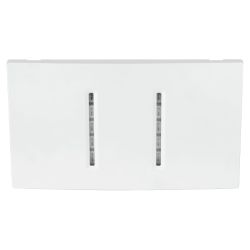 There are many expensive and complex commercial wireless lighting systems out there, but the bright people at Verve have packaged some of that same technology into an economical residential package with just the right amount of functionality. The basic system incorporates a fancy 10-channel controller where you can wire up to 10 lighting circuits (it can also do ceiling fans, outlets and now wireless thermostats). Once the lights are wired to the controller, they can be easily programmed to be controlled by one of Verve's wireless switches which can simply be adhered or screwed to any location in your home. The switches are powered by the motion of clicking them so there are no batteries to replace ever. All wiring from switches to the actual lights are eliminated, so the labor savings in installation account for the extra cost in materials from Verve for the most part. Our electricians actually love the system due to reduced time of install and we love it because it eliminates all wires and leaky switch boxes in our exterior walls. We've found that our clients also love it as they can rearrange where the switches are located, how they are programmed and even buy more if they want.
That's it. After searching the Verve site for this post, I found a few new products we have been waiting for from them, so hopefully we'll have a new post in the near future on added functionality and uses for their system.