ART & STUFF
Editorial Rating:

Average Rating:

(

0 votes

)
by

THE BRICK HOUSE
—
last modified
Jun 10, 2011
We had to move around some stuff to accommodate a few new pieces, which hopefully I'll get around to thinking more about soon. A casualty of the updates in the bedroom was the womb chair. It hadn't fit so well in the den's previous incarnations, but now with the shorter chesterfield and missing wall unit, [...]
---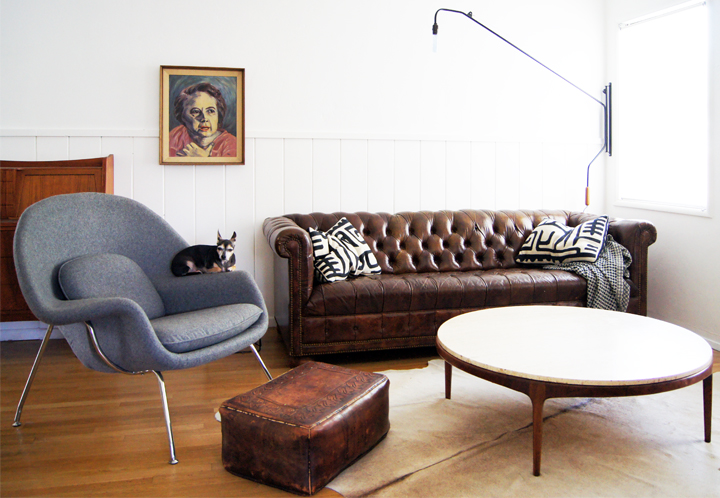 We had to move around some stuff to accommodate a few new pieces, which hopefully I'll get around to thinking more about soon. A casualty of the updates in the bedroom was the womb chair. It hadn't fit so well in the den's previous incarnations, but now with the shorter chesterfield and missing wall unit, this thing fits like a champ. Well, a champ sans the ottoman; the ottoman is surprisingly tall and sadly too big for this small space.
The womb chair is possibly the perfect TV watching chair. So comfy. So lounge-y. So pretty. It's like a La-Z-Boy with actual aesthetic style.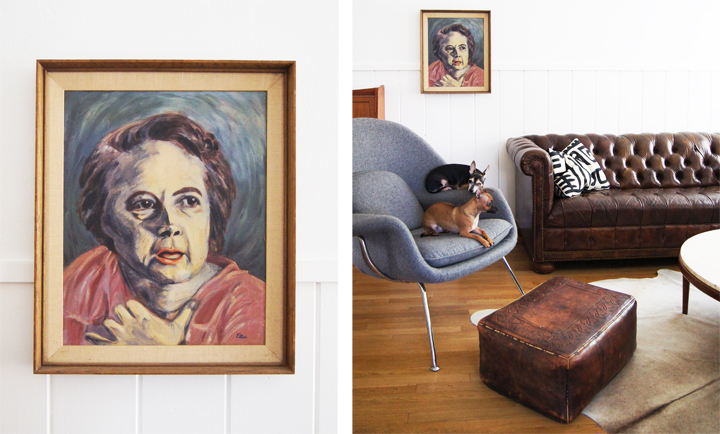 Slowly an methodically, I've been trying to get the den details right. So, why not toss a portrait of a coral lipped gasping lady into the mix?
I procured her gaspyness off Summer during the big sale and it was love at first open-mouthed neck grab.
I'd been looking around for something to throw up on the walls and when the womb came in she just sort of meandered in here as well. I enjoy imagining that she is incredibly offended by what's on TV, which knowing our taste, is probably pretty offensive.
I'd still like to add a fiddle leaf fig, some more art, a few accessories, maybe paint the top potion of the wall a light gray, add some new pillows, hang the tv and get the desk in order. Lots more still to do as always.
I tend to spend most of my time in the den, working on the computer and such, so I think it's probable that all the extra exposure has made me laser focus in on this room and overly adjust things to try and get it just right (desperately want this room done and over with so I can relax and stop worrying about it). Apologies for den-palooza as of late, but it's so hot outside that it's killing my motivation for outdoor projects.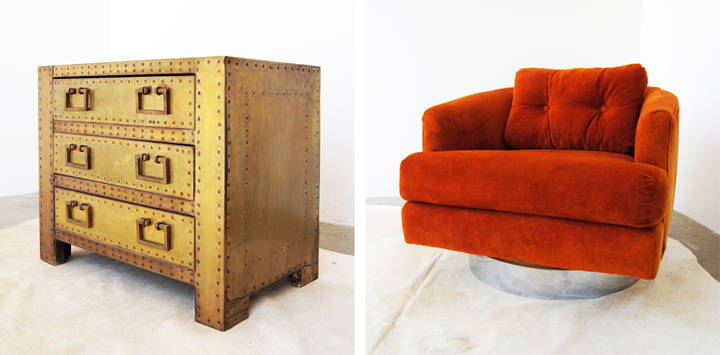 Also, it's Friday so that means a couple new things are up in the BHM SHOP. Firstly, an incredible and super rare Sarreid Ltd. brass chest from the 1970′s and Spain. Secondly, a sassy rust colored Milo Baughman swivel club with chrome base and extra comfortablness. Check out these and soon to end items HERE.
I'm actively attempting to keep the less than exciting shop posts to a minimum. Summers are rough around here, they are stupidly hot and energy robbing and make me want to hide inside and ignore all the house projects. Of course things have also gotten super busy and any free time is spent working, trying to cool off or getting as far out of town as possible. Looks like the summer lull might be in full effect for realzzz.
Have a great weekend homies! Eat something super terrible for you and kiss a baby animal. ON THE MOUTH.