HEADBOARD 2.0
Editorial Rating:

Average Rating:

(

0 votes

)
by

THE BRICK HOUSE
—
last modified
Nov 01, 2012
Ages ago I tried to deal with the great headboard shortage of the guest bedroom by getting a cushy queen sized Ace style pillow  headboard fabricated from vintage fire tarp, shredded foam and starry-eyed dreams. As discussed previously, the end product wasn't exactly what was hoped for and rather than the perfectly formed comfy headboard [...]
---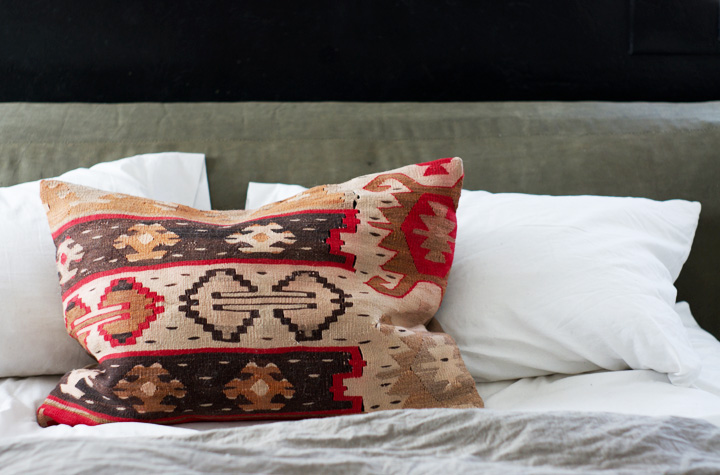 Ages ago I tried to deal with the great headboard shortage of the guest bedroom by getting a cushy queen sized Ace style pillow  headboard fabricated from vintage fire tarp, shredded foam and starry-eyed dreams. As discussed previously, the end product wasn't exactly what was hoped for and rather than the perfectly formed comfy headboard I'd hoped for, there was instead a sadly saggy and overly deep lump of crap.
Sometimes things don't work out.
Learning curved.
Anyways, the main issue with version 1.0 was that the shredded foam settled and began bulging out the entire form into a rotund beanbag style lump. So, to resolve that kink, I decided to reduce the headboards depth from 12″ to 6″ and had a solid piece of upholstery foam cut to fit and then stuffed inside.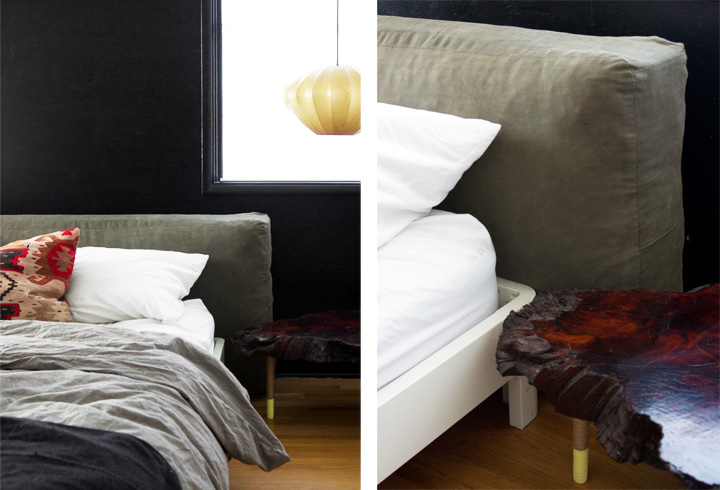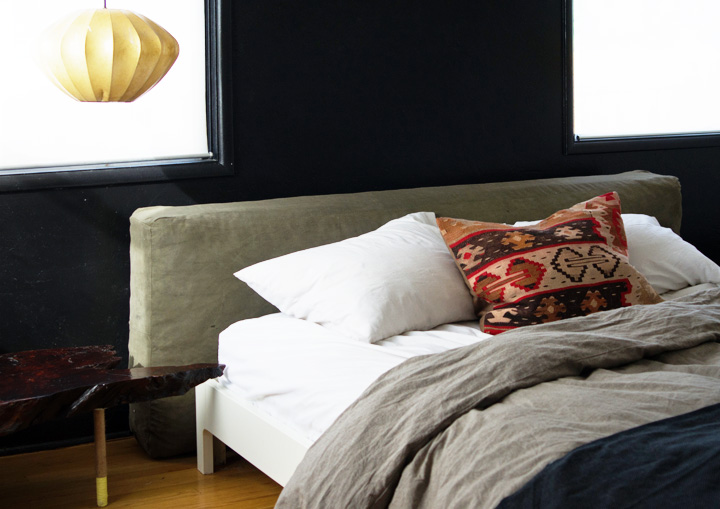 Version 2.0 is firm and proud. No more sad shapeless lump with that solid 5″ thick foam form stuffed up in there.
FYI, that thick custom cut foam was kind of pricey at $98, but I tried to consolidate costs by having my local auto upholstery guy order the material as well as resew the upholstery form so it would fit snugly around the foam.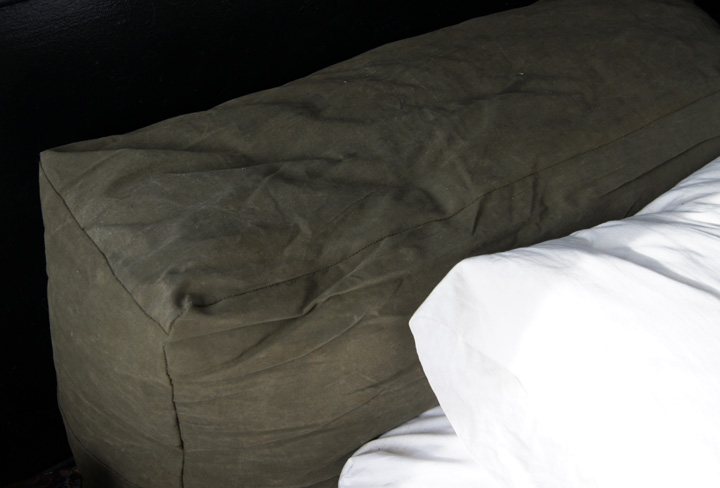 BEFORE
(12″ deep and saggy Version 1.0)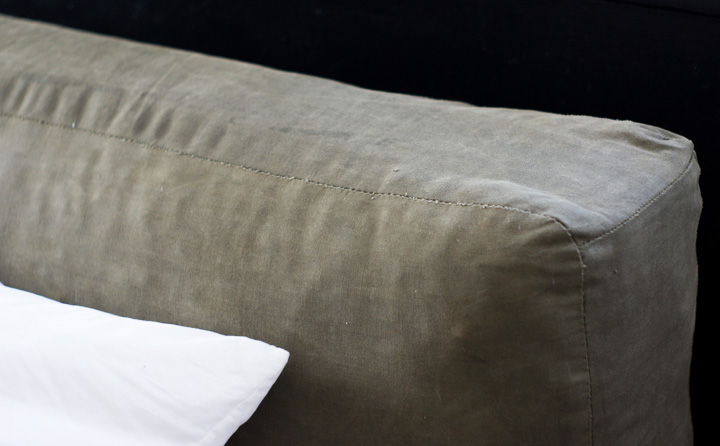 AFTER
(6″ deep and firm Version 2.0)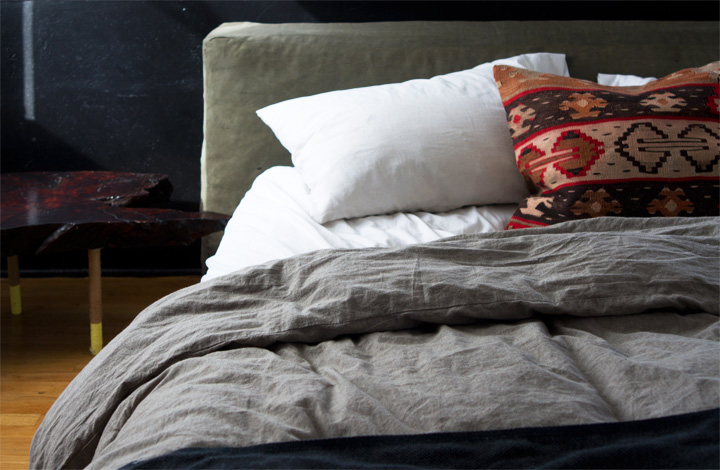 Version 2.0 is generally better and so much closer to the original design.
I'm just not sure if I'm loving it.
After living with it for a bit, some kinks have developed that need addressing. Simple changes like a softer fabric, smaller scale and wall mount would be a start. I'm just about fed up with the bed frames willy-nilly wandering and constant need for repositioning.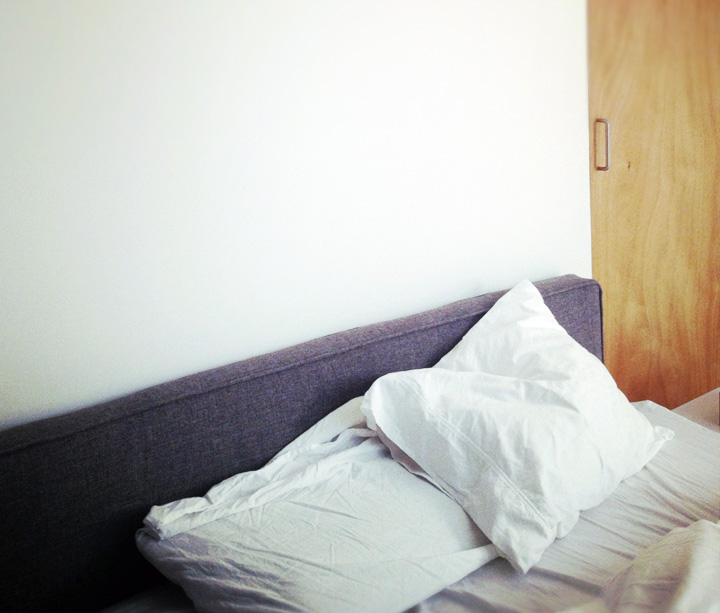 Version 3.0 might be heading in this general direction.
I spotted this skinny gray beauty at Anonymous Architects Eels Nest House during a photo shoot and haven't been able to get it out of my head. Oh, so no big deal, but conveniently enough my master bedroom still totally needs a headboard.
Looks like version 3.0 is a go.
Well, you know. Eventually.