HEADBOARD
Editorial Rating:

Average Rating:

(

0 votes

)
by

THE BRICK HOUSE
—
last modified
Apr 25, 2012
The problem with having a queen size bed and a penchant for vintage furniture, is the apparent lack of queen sized headboard options pre-1970 or affordable new headboards that aren't terrible. So, that meant for the past four plus years we've been riding headboardless against cold plaster walls while our pillows continuously crept into that [...]
---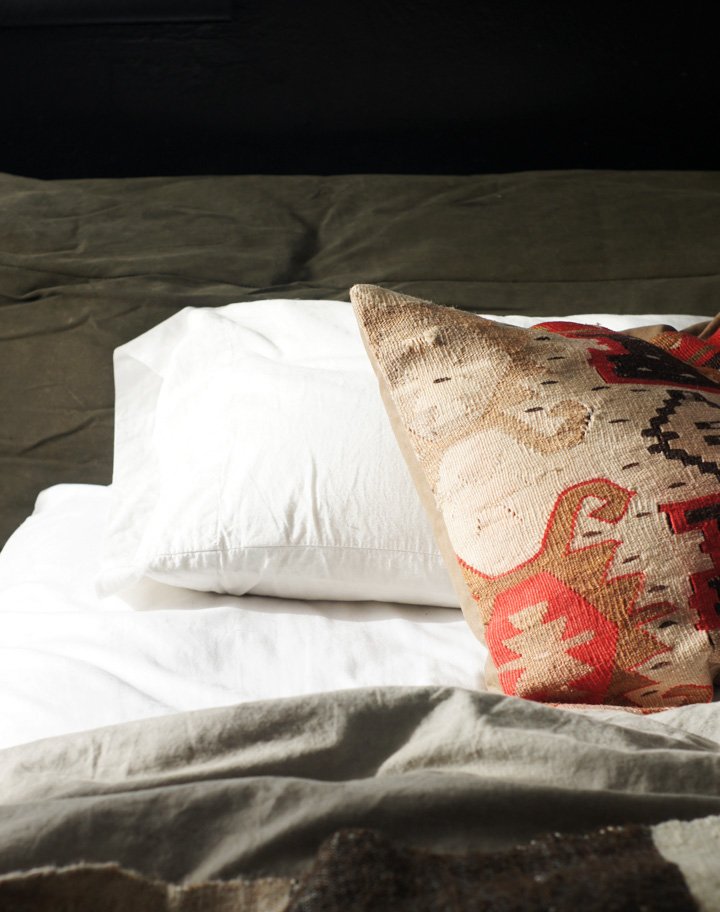 The problem with having a queen size bed and a penchant for vintage furniture, is the apparent lack of queen sized headboard options pre-1970 or affordable new headboards that aren't terrible. So, that meant for the past four plus years we've been riding headboardless against cold plaster walls while our pillows continuously crept into that seemingly bottomless pillow-eating crack and pretty much everything was terrible.
Enough is enough.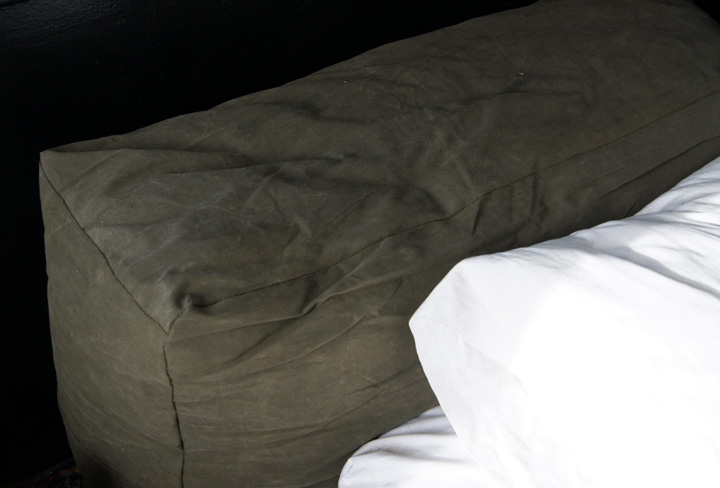 After staying at The Ace awhile ago and enjoying the comfort of their cushy headboards, I thought, "hey, I can DIY a big pillow thing for a headboard. Look how warm my head is! Look how my pillow stays in place! This is the answer to all my problems!"
Then I remembered how much I hate sewing. (So much)
Good thing my favorite crotchety canvas fabricator dude LOVES sewing and also had some vintage fire tarp laying around, you know, the exact same stuff I used for those sling chairs.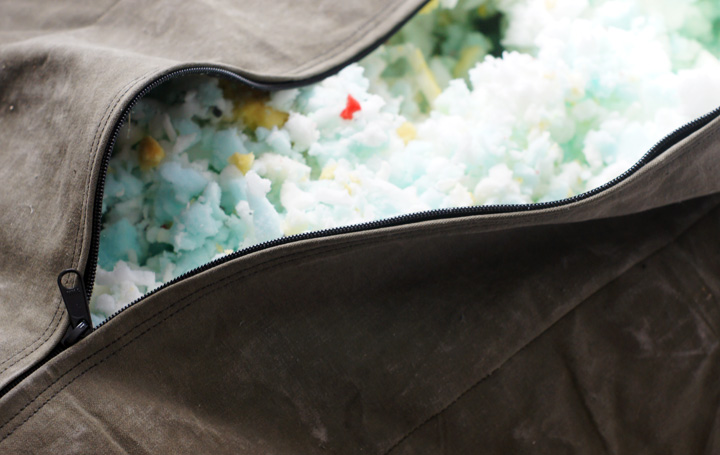 Um, I call this DIY delegating? I mean, I'm so happy I hired someone to sew this, but if you love to sew, the shape couldn't be simpler. So…anyways…
I gave him some dimensions, a few reference photos and about $100 and he made me a giant box pillow headboard type thing out of used fire tarp in about a week. After getting CRAZY expensive quotes on solid foam, I ended up ordering 30 pounds of shredded foam (at about $1 a pound – FYI) to stuff it with. Then, boom, giant cushy headboard.
The dimensions I went with are:  72″w x 28″t x 12″d.
Even though I overbought foam for the calculated cubic feet needed to fill those dimensions, it didn't end up being enough foam to stuff the thing tightly…and…maybe…I regret how deep I designed this thing to be.
It's too deep!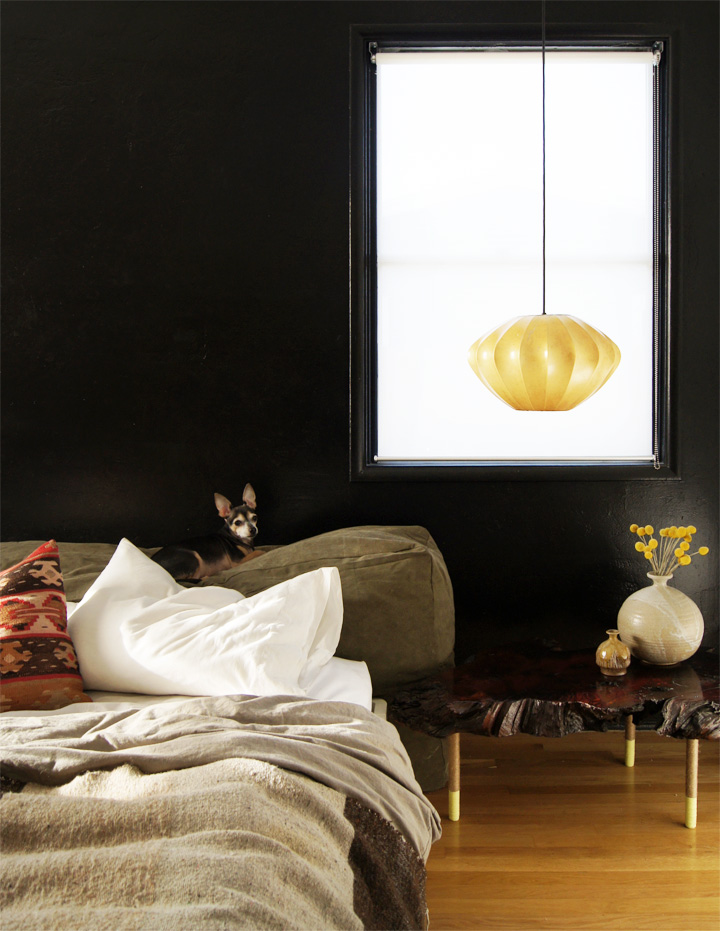 At 12″ deep, the whole headboard bulged out way more in the middle (once stuffed) than I had anticipated. This bulging situation also ended up pushing the bed way too far off the wall. So, I am going to have my canvas dude fix it to be way less deep. Like 8″ instead of 12″. So, that means the foam thing won't be an issue?
Yup? I think.
Narrower means it'll be plenty stuffed and closer to the wall and then all will be right in the world. Hooray.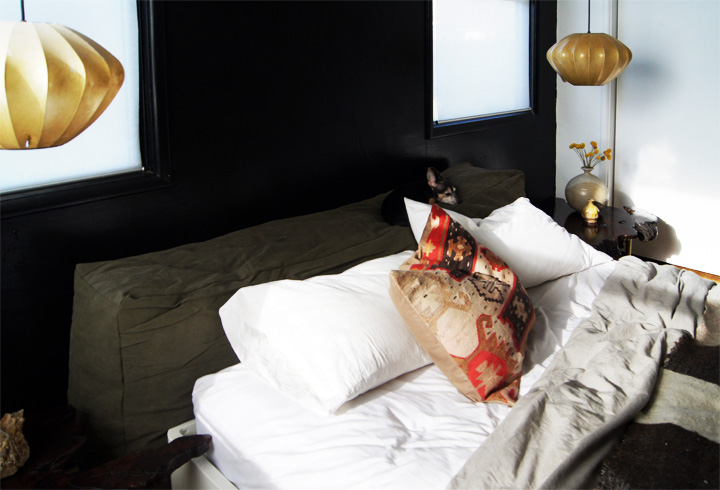 For a first run prototype, this worked out alright in the end. Admittedly, there are some kinks to fix and I would like to try making another one of these in a different type of fabric for our master bedroom.
Say what? Fire tarp isn't super soft?
Nope. Not at all.
But it looks AWESOME.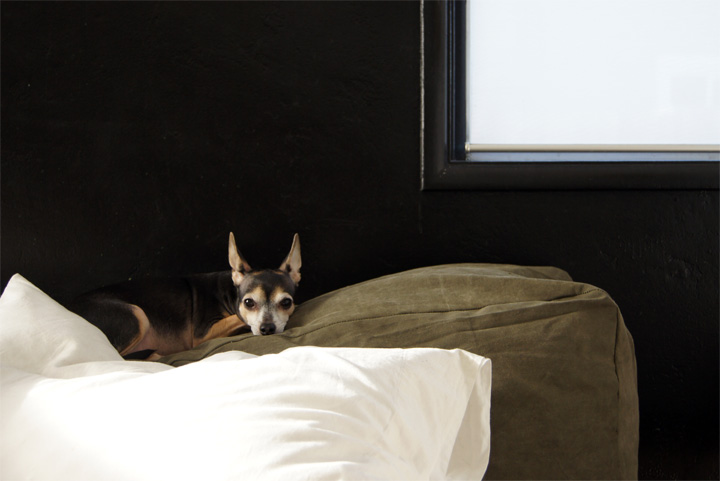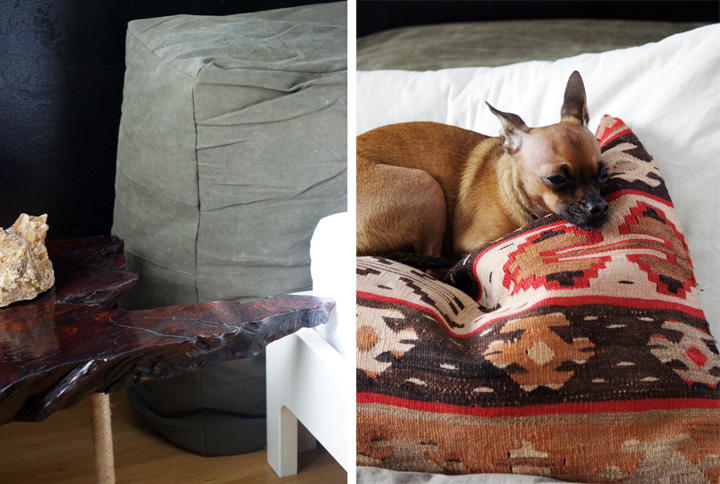 Funny thing is, for all it's issues, I just can't get Iggy off this thing. He is in love with it. IN LOVE. But Bowie? Well, he's not so convinced and prefers to stick with itchy kilim pillows.
What a nerd.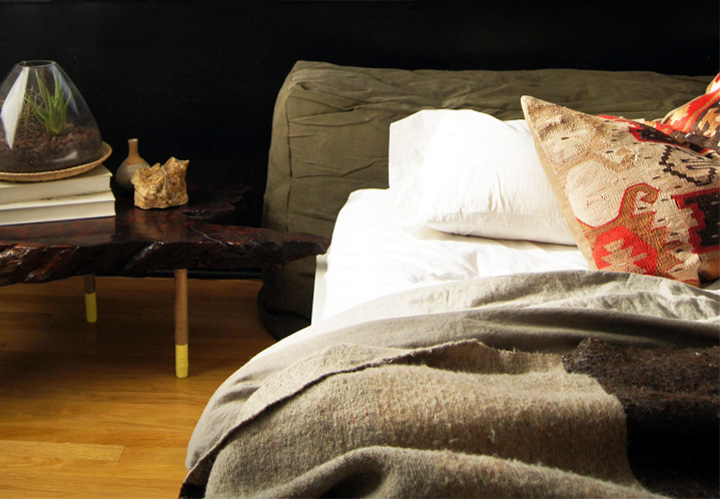 Headboard version 1.0? Still a bit buggy.
Version 2.0 in the works.
All in all, if you have a bed and no headboard this could be a nice solution. It's totally customizable, totally affordable to make (or have made) and totally soft on your noggin.