THRIFTY! WALL SCULPTURE EDITION
Editorial Rating:

Average Rating:

(

0 votes

)
by

THE BRICK HOUSE
—
last modified
Jun 05, 2011
I've been hunting around for some over the fireplace "artish" options for an interior I've been helping out with and recently ran into this vintage 1970′s torch cut wall sculpture on my thrifty rounds. Well, I wasn't totally sure it'd work but the size was right, the idea of a brass wall hanging was interesting [...]
---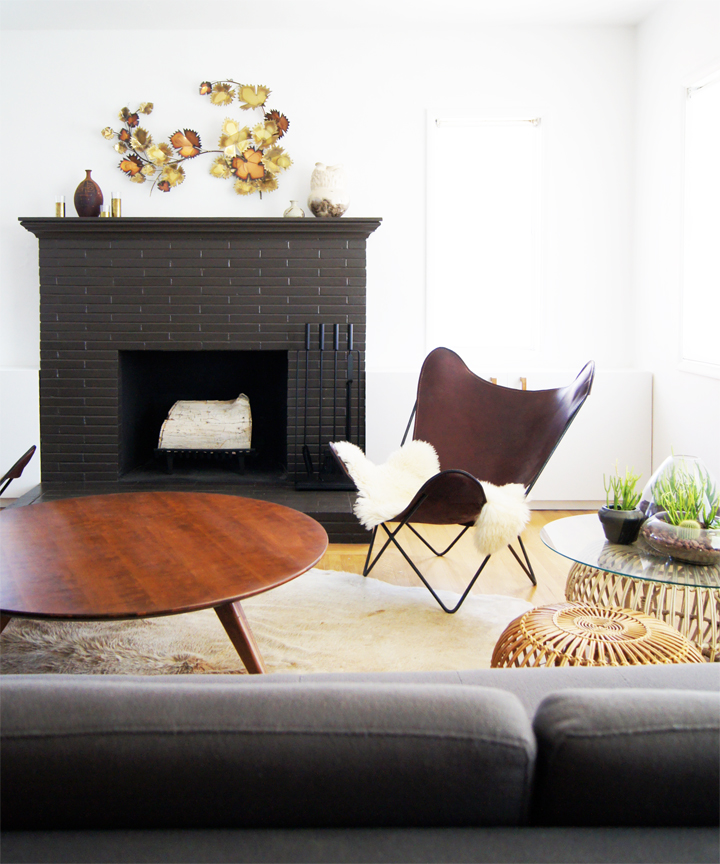 I've been hunting around for some over the fireplace "artish" options for an interior I've been helping out with and recently ran into this vintage 1970′s torch cut wall sculpture on my thrifty rounds. Well, I wasn't totally sure it'd work but the size was right, the idea of a brass wall hanging was interesting and the low price made it a "just grab and try it out" kind of thing. Unfortunately, it ended up not working out so well with the insanely awesome chandelier that's the true focal point of the room. The two big metal pieces clashed and the leaves lost.
These things happen. Sometimes you take a chance and it ends up being so very wrong. Oh well, at least it points out the right direction.
So, I had this thing sitting in the house, all the while looking for an over the fireplace "artish" option for my living room as well. I wanted something more fiber and funky but pickings have been slim and nothing perfect has popped up. Then I was thinking a brutalist type wall sculpture would be good option and possibly easier to find…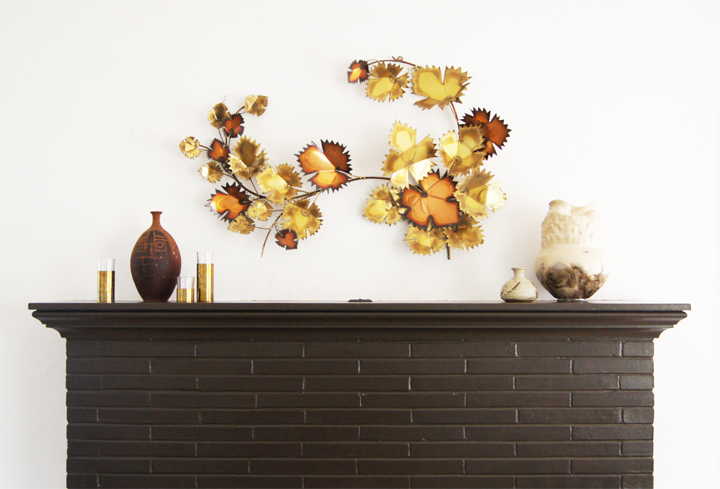 Yeah. These big leaves ain't so brutalist. They are as brutal as a puppy kiss or a nice hot shower. Like maybe I should be going to a wine tasting or something.
BUT – I think I love the idea of a brutalist brass wall sculpture.
Of course, it will have to be a wall sculpture that is perhaps not as autumn themed or swirly as this bad boy. I think this is actually a fun and funky piece and a great scale at 40″ wide. In the right house it would look incredible, but I think the rigid architectural and minimalist masculine tone of the living room makes this curly bit of whimsy feel a little out of place.
Some day I will replace you fireplace mantel. Some day.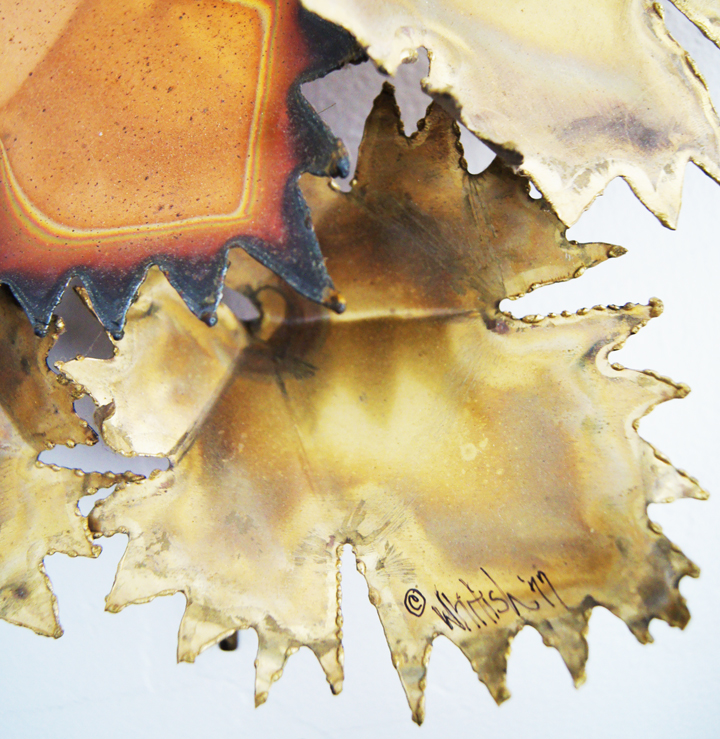 Sorry, metal artist Whitish from '77. I like you, but I think this might be a temporary relationship…you know, until I can trade up to something a little more brutal.
Thank you for pointing out the right direction, though. Trust that it's not you, it's me.
So…don't let the door hit you on the ass on the way out (when I find the right thing of course – you can hang out here for now).
++++++
BTW – I feel like a lame-o narcissist, but since this happens to be my bloggity and I only get to say this once a year – it's my 29th birthday today! You guys got me a work crew? To help with the landscaping? No? Crap.
Oh jeeez, typing that made me realize that my fancy free twenties are almost over. Must take advantage of this last year to go silly nuts. Getting serious is for your thirties, right? I'm just going to say yes and worry later.