FIBERS
Editorial Rating:

Average Rating:

(

0 votes

)
by

THE BRICK HOUSE
—
last modified
Feb 27, 2012
BOOM. Suck on that. Dreams do come true. So much fiber-y art has entered my life recently that it's like a Cinderella story made of dusty yarn from the 70′s. Beautifully lush stringy old yarn. With the loss of its chandelier, the dining room has been going through a slow transformation that includes – obviously [...]
---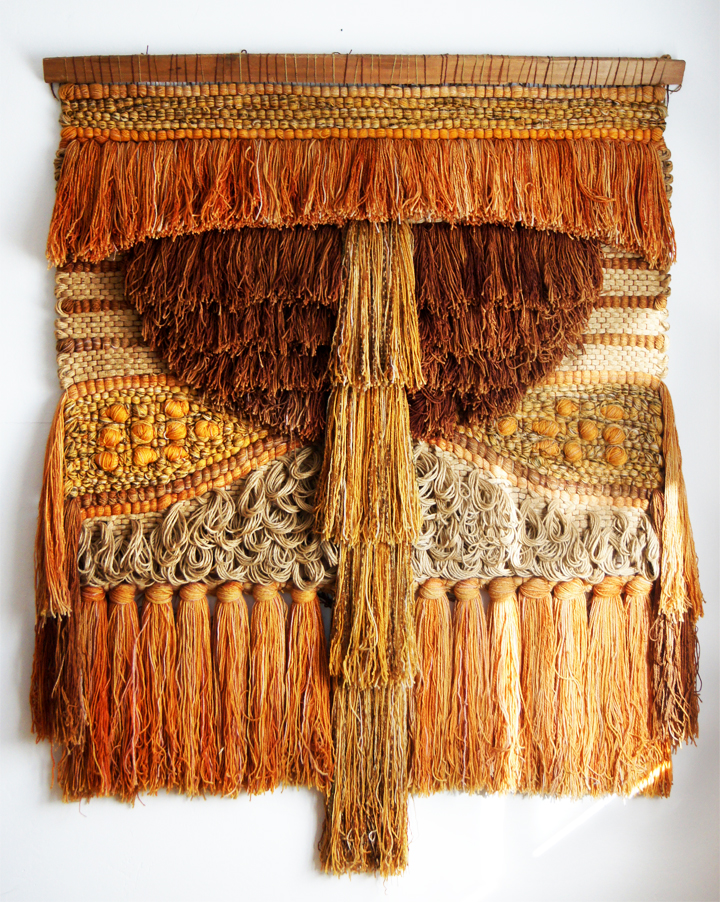 BOOM.
Suck on that.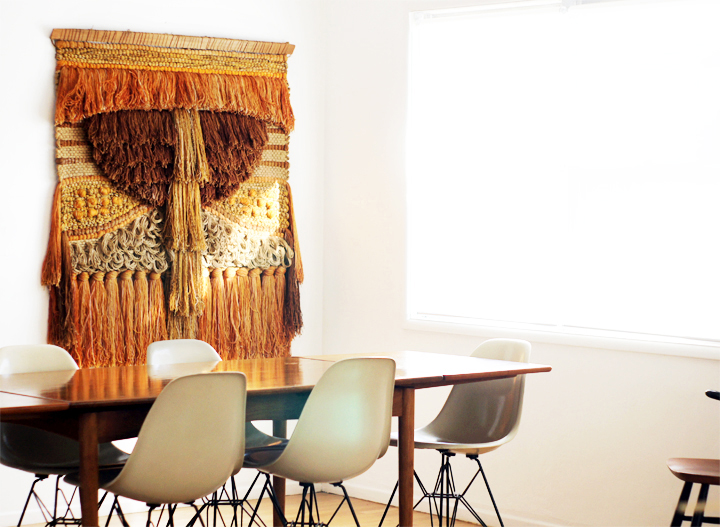 So much fiber-y art has entered my life recently that it's like a Cinderella story made of dusty yarn from the 70′s. Beautifully lush stringy old yarn.
With the loss of its chandelier, the dining room has been going through a slow transformation that includes – obviously – new lighting and just maybe a new dining table? Possibly thinking about going for some custom style action? 'Cause I'm fancy? Or super picky? Or whatever.
Yuppers. Big dining room redo. Eventually.
Till then, this gigantically glorious wall hanging will have to hold down the fort.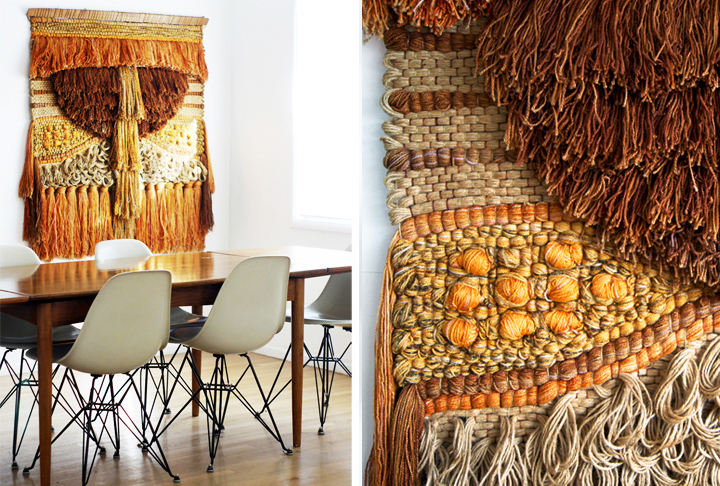 Whoa whoa whoa. Slow your roll.
Tell me you didn't think this was the only fiber art wall hanging thing happening around here?
No. Way.
Because when I get obsessed, I get obsessed. Perhaps you noticed that little 's' in the post title?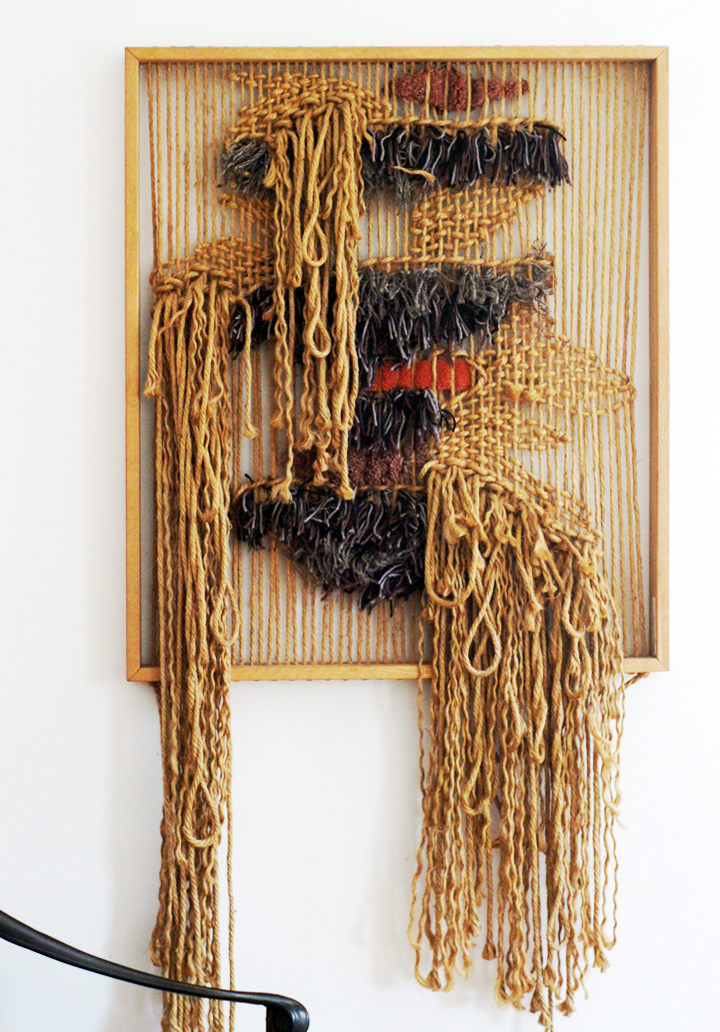 DOUBLE BOOM.
In your face.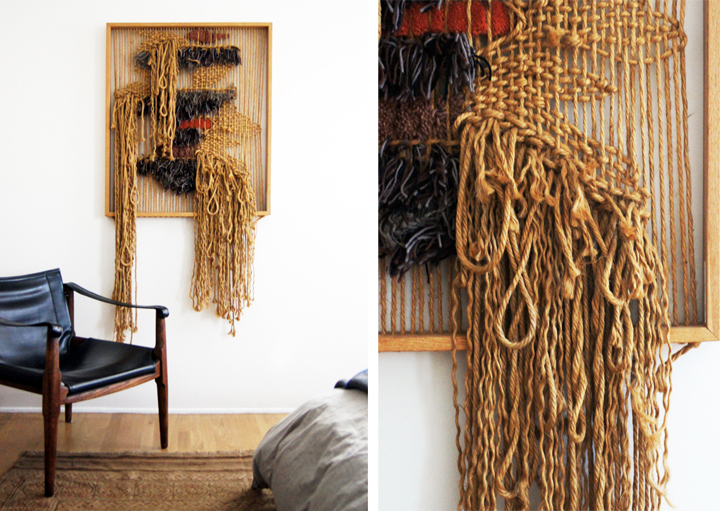 It's like this thing is so crazy good that the frame can't handle it! Not at all! Stupid frame!
All that beauty is overflowing with goodness. Jute-y ropey goodness.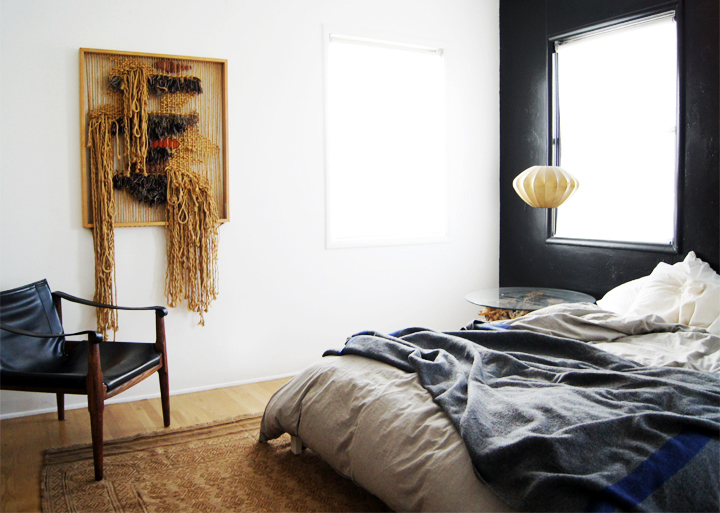 Try to ignore the messy bed and that seemingly new 'rug' like rug on the floor. I'm apparently such a busy lady that I can't be bothered to make my bed for photos or discuss this 'rug' situation. But don't you fret lover, that 'rug' will be covered in a forthcoming post.
For now?
NO distractions from the fibers.
With these two transcendent works of aesthetic textile-ish glory installed in the dining room and the guest bedroom alike, I believe we've finally reached the limit of fiber art the house can safely hold. No, wait, I'm wrong. There's still that Don Freedman piece, which now lives in the kitchen and that other simple weaving in the hall. But who's counting? Not you.
Don't count them.
Just. Don't.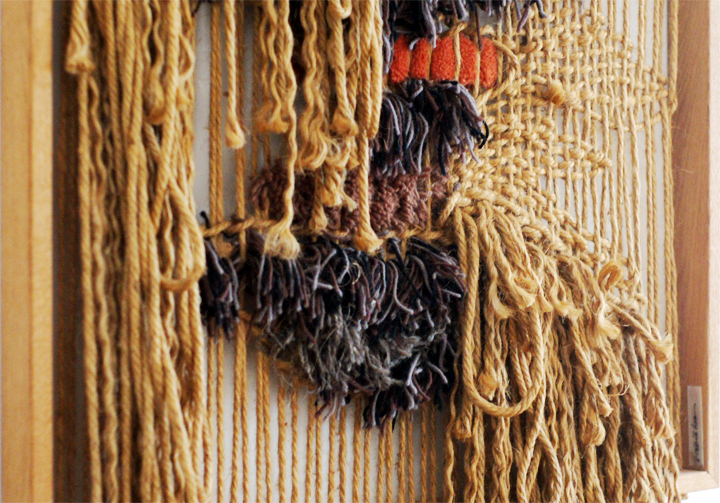 So. Provenance? AKA, where did these come from?
The dining room behemoth was once owned by all around super nice person Kathleen Ryan. She emailed a few photos after reading about the great fiber search. Of course I fell instantly in love and we then worked out a mutually beneficial trade. By the way, trading vintage stuff is probably my favorite thing in the world to do. I can happily deaccession something I no longer have space for while someone else gets to do the same. Win win!
The guest bedroom's sassy ropey weaving was found some time back during a trip to Palm Springs. We went out for a little shopping fun and stumbled on this baby at a consignment shop in Cathedral City. I grabbed that sucker off the wall and never looked back.
FIBERS!