CHALLENGE
Editorial Rating:

Average Rating:

(

0 votes

)
by

THE BRICK HOUSE
—
last modified
Sep 21, 2011
Uh oh. So, I'm building a dollhouse and this is probably going to be me in a few weeks. Or maybe this. I'm stocking up on turtlenecks. The dealio is that Emily recently put together the 'I'm a Giant' dollhouse decorating challenge. Yes, that's dollhouse, not a real house challenge. I never happened to be [...]
---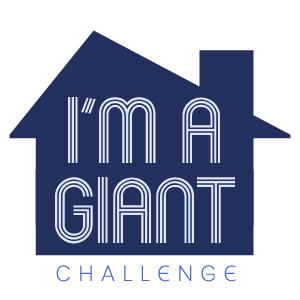 Uh oh.
So, I'm building a dollhouse and this is probably going to be me in a few weeks. Or maybe this. I'm stocking up on turtlenecks.
The dealio is that Emily recently put together the 'I'm a Giant' dollhouse decorating challenge. Yes, that's dollhouse, not a real house challenge.
I never happened to be one of those girlie girls while growing up, you know with dolls and such – so, in all honesty this whole dollhouse idea completely terrifies me. I mean, when I think of dollhouses (which is pretty much never) I guess I thought of them like this?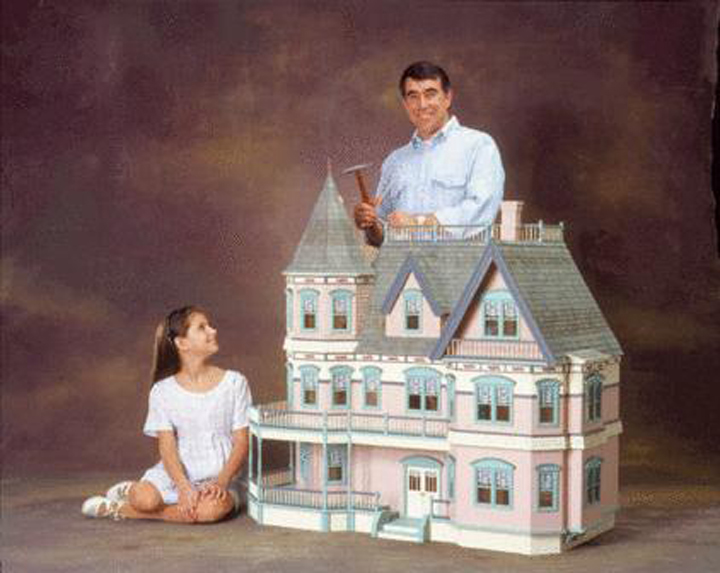 (You can actually buy this – marked down from $579 to $579? Awesome. BTW, the instant semiotic break down I got from this advertising image is giving me the super willies)
Apparently though, I'm an idiot. There appears to be a thriving community of folks who love modern "miniatures" (is that the right term?) and get hardcore about scaling down designer furniture and architecture to petite sizes. I'm pretty much going through all of Mini Modern to figure out how this works.
The first thing I figured out is that this stuff gets expensive. I mean, like crazy expensive.
This thing is $855
OMG. Jacobsen House!
Ooooh, container houses?
What!?Well, these are amazing but wow…dollars.
OK, these people are amazing. I'm amazed. Look at this.
Whoa, so this modern dollhouse stuff is really incredible and really pricey, but now unfortunately I'm obsessed. Just on a practical level, this stuff is so much lighter and easier to store than the furniture I lug around my house.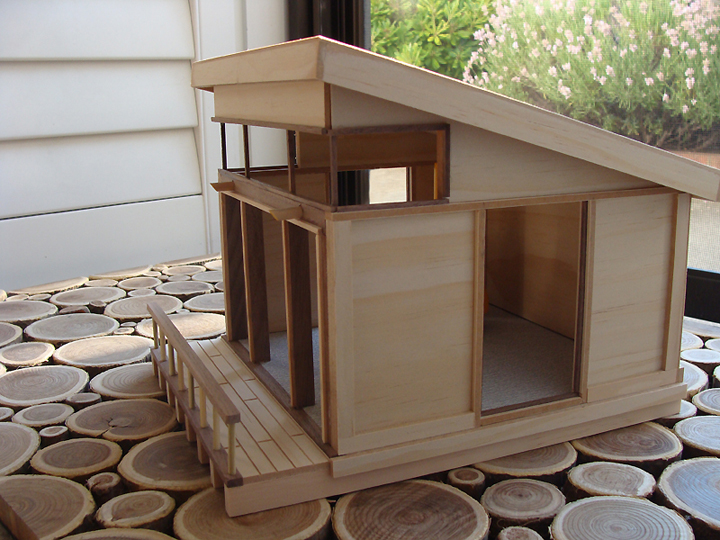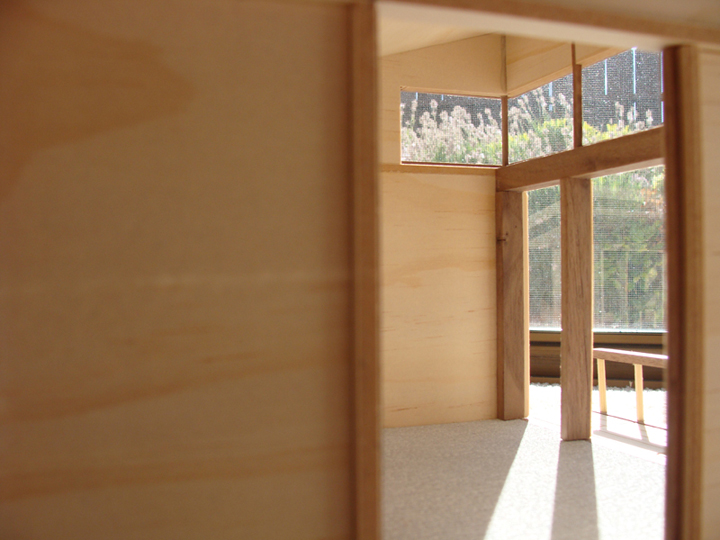 Looks like even CB2 has a little modern house. Images via Mini Modern.
Too bad it's not in a 1:12 inch scale (look at me learning about scale and stuff).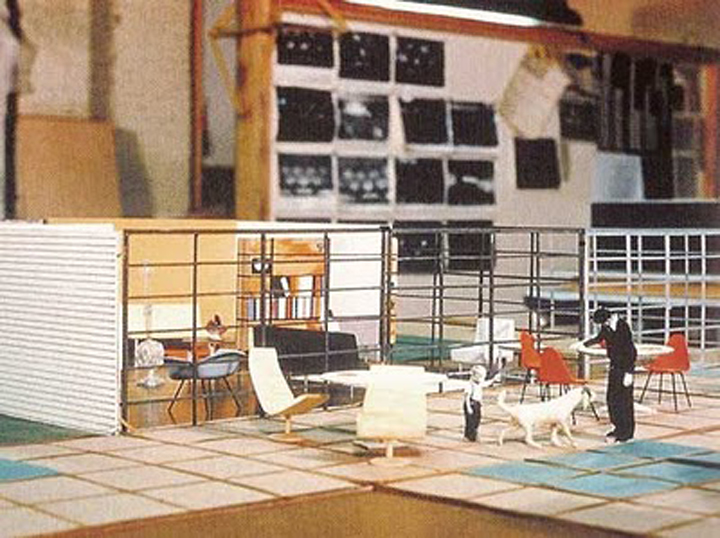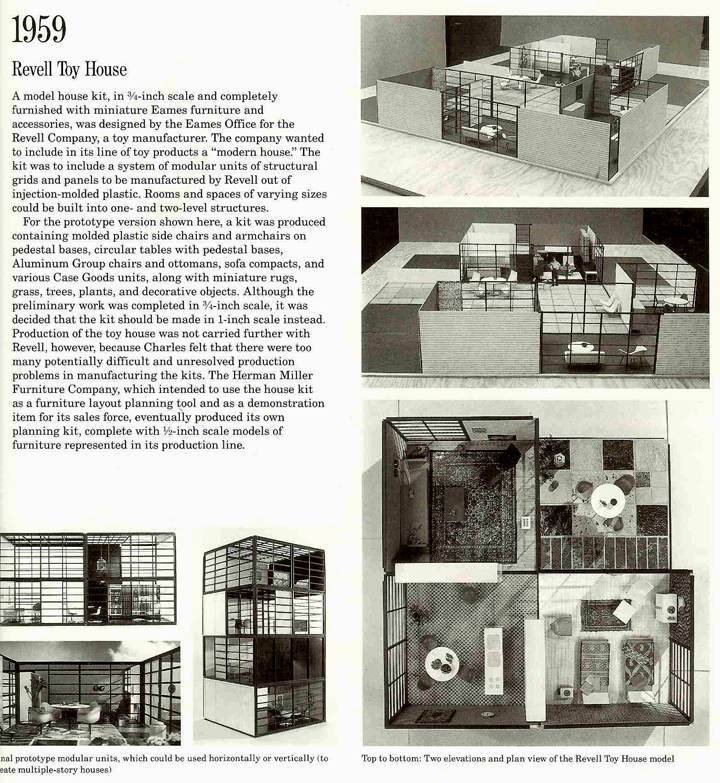 Hey now. Even Charles and Ray Eames designed a never produced dollhouse for Revell in 1959 that I pretty much just want to copy. Modular dollhouse. Mmmmhmmmm. Tasty.
…and slowly getting to the challenge part…
Blogging bloggers who are blogging throughout their challenges include:
Emily Henderson from Style by Emily Henderson
Morgan from this blog your reading
Erin from Design for Mankind
Orlando from Homme Maker
Corbett from Girl Domestic
Jenny from Little Green Notebook
Nicole from Making it Lovely
Kirstin from Simply Grove
Over the next few weeks we are going to be building or decorating or throwing together some little mini abodes that aren't limited by "reality". Like the houses can be created from anything – kit dollhouses, vintage ones, cardboard boxes, made of kitten farts – whatever. The interior treatments are equally open to interpretation.
I haven't started my house yet since I still need to find or build or "kit bash" something for my little modern space. I want to figure out how to keep this very frugal, because seriously, I'm not even sure how to do this mini stuff yet – but in my head I'm already getting overly ambitious and considering building out Donald Judd's five story Spring Street space…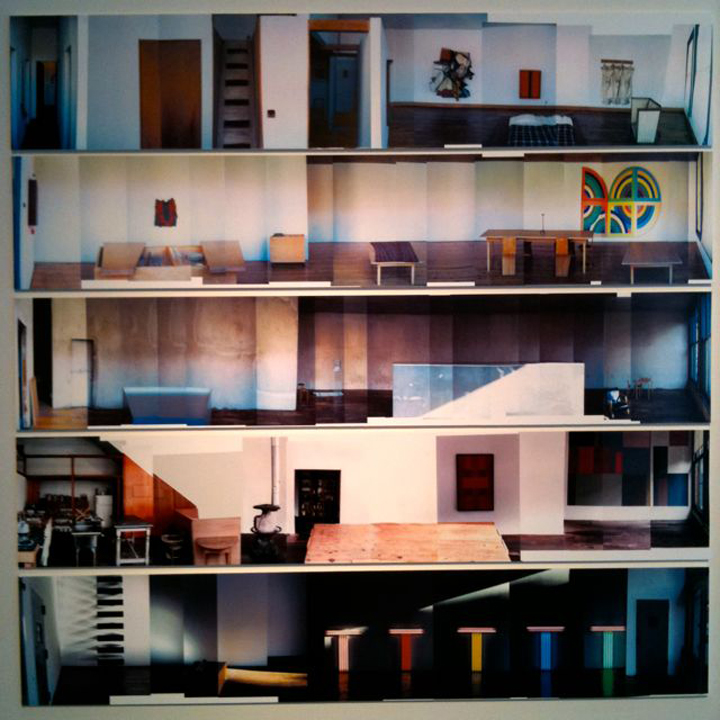 So, that's where my heads at.
The other thing is that anyone and everyone is encouraged to participate along with the big challenge and we are going to have widgets that you can upload your progress photos to as well. Maybe you like mini stuff or always wanted to build your fantasy space. Maybe you have some kiddo's in your life that need a Christmas gift. Maybe you can show me how to build little wee furniture, because I don't think I'm going to find a 1:12 scale version of a Judd dining set anywhere.
Whatever reasoning works for you, come and join in on the mini fun.
We are going to post our weekly progress and the goal is to have all our houses finished and revealed on December 15.
…and now I'm having a panic attack. I need a house. I need like a little saw? How do you cut this stuff? Where do you get little wood? Oh, I am not prepared at all to be crafty. Oh no. OK. This is going to be great and fun and weird and I need a hobby. Yes? YES. Any tips are appreciated and I'd love to see what you crafty savvy guys build…because I obviously need help…
Also, if you'd like to participate but maybe want to grab a more traditional kit dollhouse, the folks at Melissa and Doug have a discount deal for 15% off all hardwood dollhouses from The House That Jack Built.
Melissa And Doug : Code: DH15
Hmmmm.
What I might really want to design out is a like a kooky vintage a-frame cabin. Does that exist somewhere? In my dreams?