MORRISON HAIR
Editorial Rating:

Average Rating:

(

0 votes

)
by

THE BRICK HOUSE
—
last modified
Feb 22, 2012
Awhile back I posted a bit of a preview of a design project that Laure and I have been working on and after finalizing a few finishing details we headed down to Morrison Hair in Laguna Beach to do a big photo shoot of the finished space and stylish staff. James and Rachel Morrison couldn't be [...]
---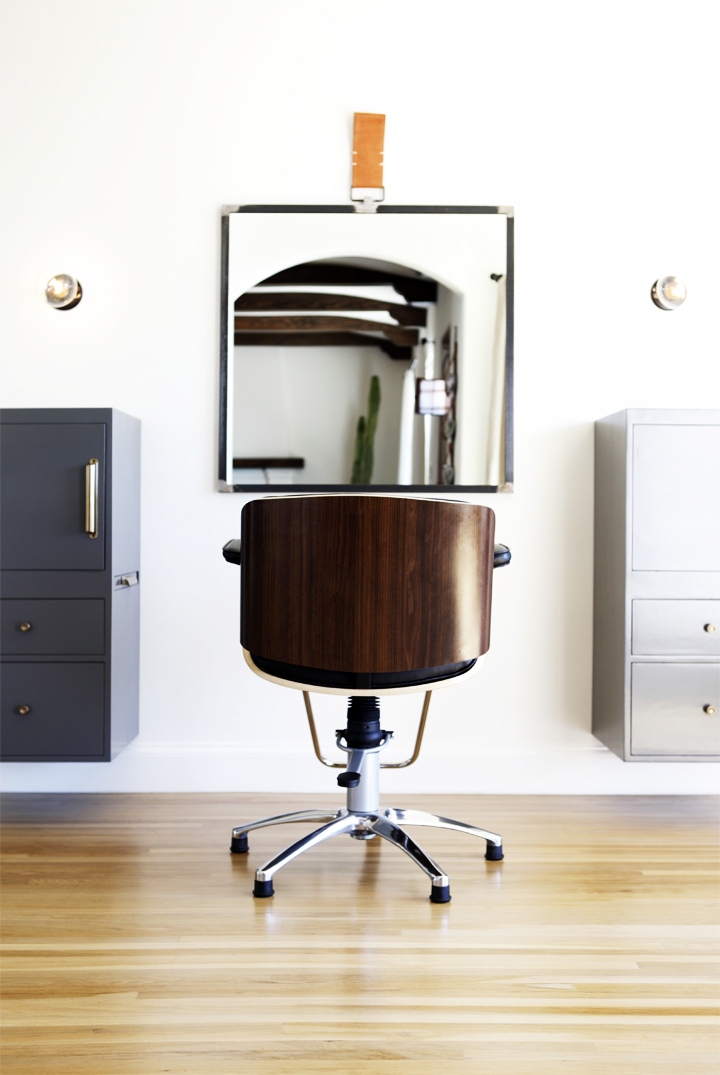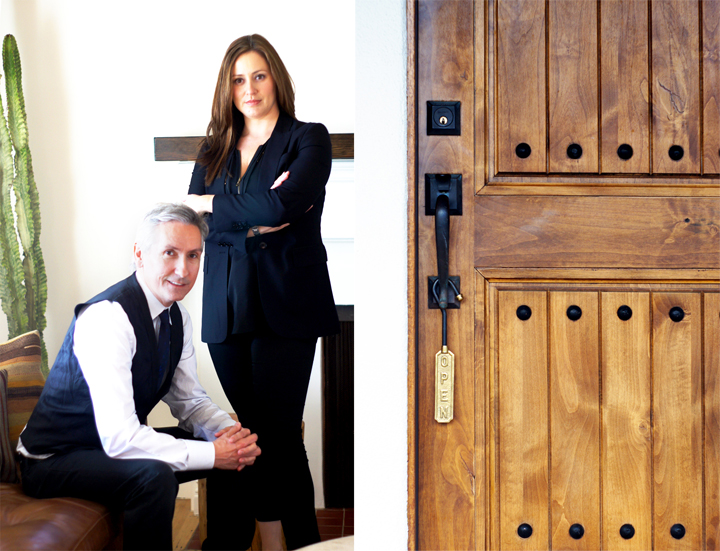 Awhile back I posted a bit of a preview of a design project that Laure and I have been working on and after finalizing a few finishing details we headed down to Morrison Hair in Laguna Beach to do a big photo shoot of the finished space and stylish staff.
James and Rachel Morrison couldn't be better or more talented folks to work with and we loved that their big dream was to create a salon that felt more like a warm comfortable home than a standard commercial space. In terms of the overall design, we wanted to combine a bit of modern lux, California boho, industrial and rustic details, unique vintage pieces with a nod to James Scottish roots and the buildings architectural past. The salon is located in a renovated 1920′s Spanish bungalow with fantastic original architectural details and killer ocean views. I mean really, the process of helping Rachel and James pull together a comfy and stylish interior wasn't that much of a stretch.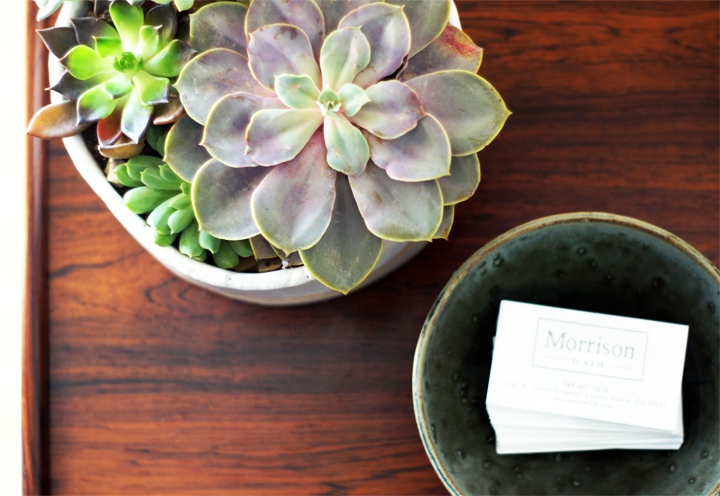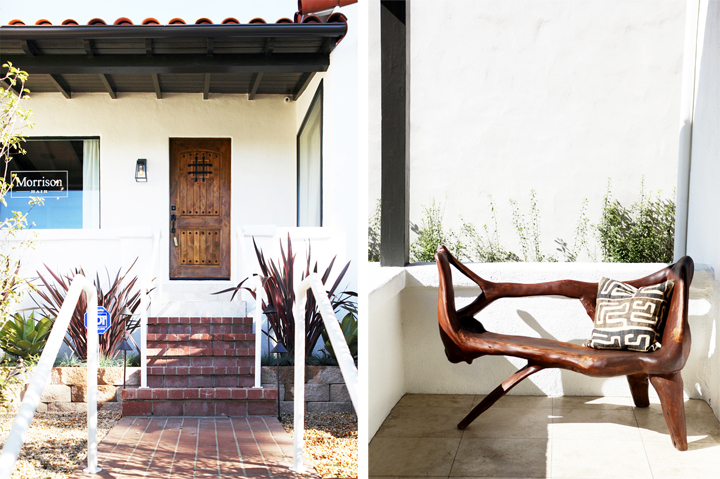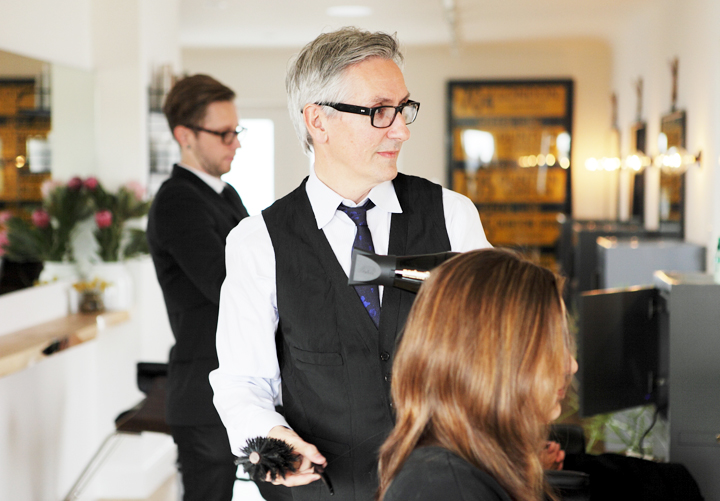 Admittedly, one of the biggest perks of helping out at the salon was getting fancy haircuts. Although, now I'm ruined for all other salons seeing as I only want  James to cut my hair forever. He's that good.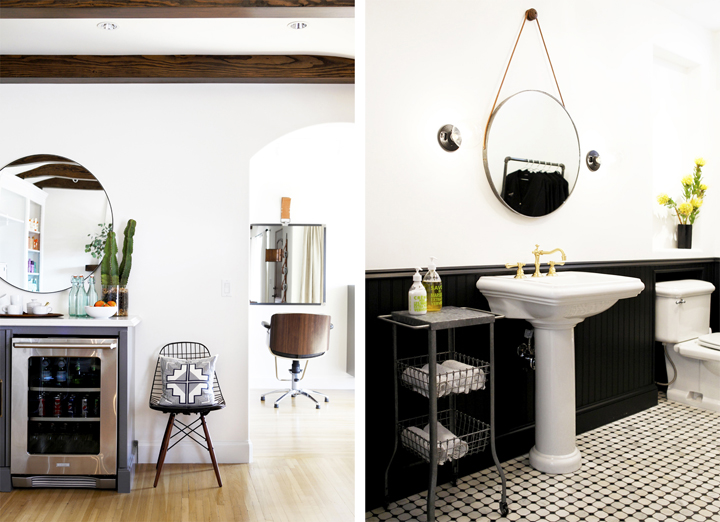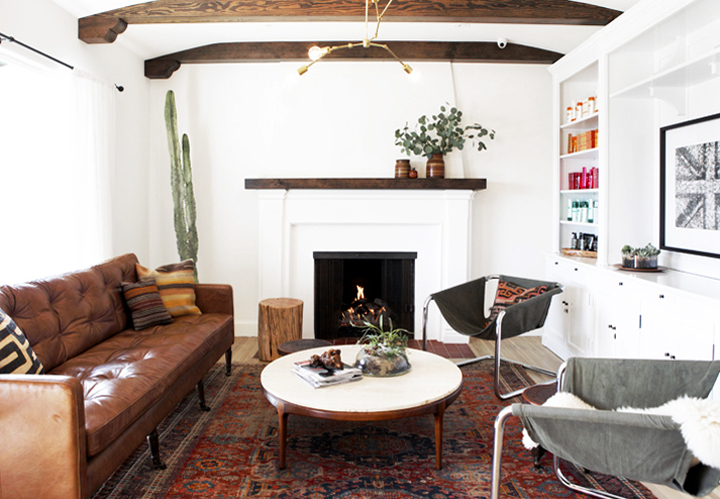 Some folks were curious about where my Adelman chandelier ended up and I've had a number of email offers come in to snatch it up, but the lamp now resides in the salons main waiting room. I love seeing it lit up while driving by since it looks AMAZING from the street.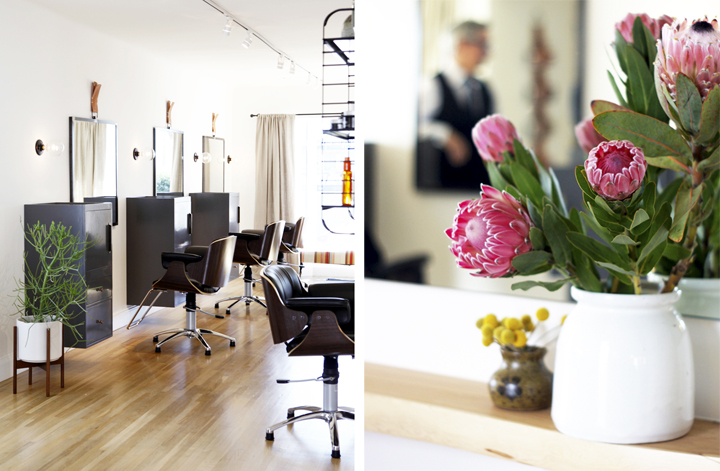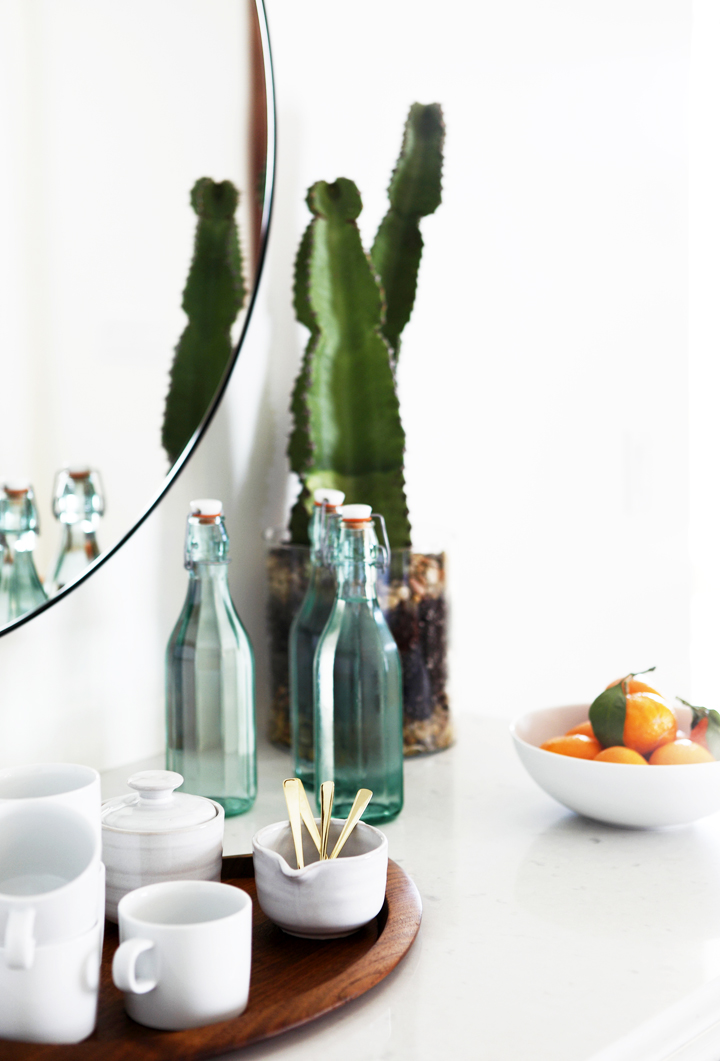 There's a selection of drinks and treats at the beverage bar for customers to indulge in that includes some seriously good coffee – loads of which we heartily partook of on those long installation nights.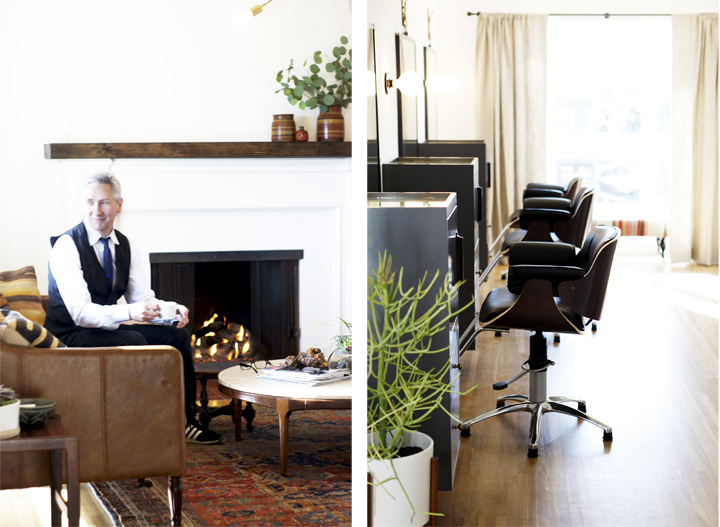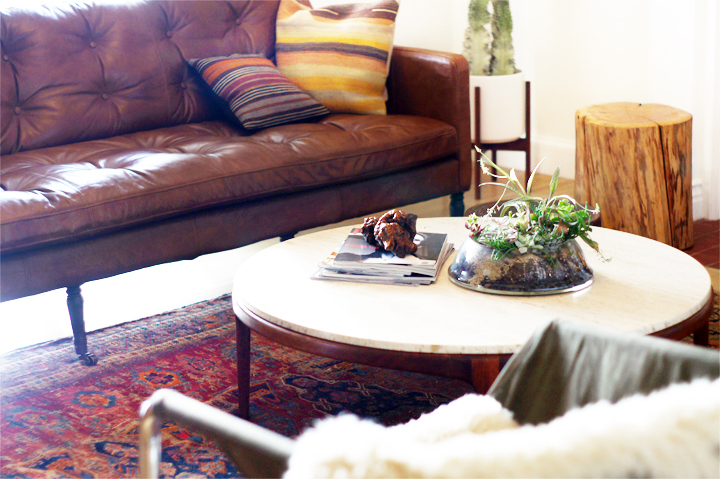 We asked our friend Bianca to make us a very special succulent planting for the main waiting area and if you look closely…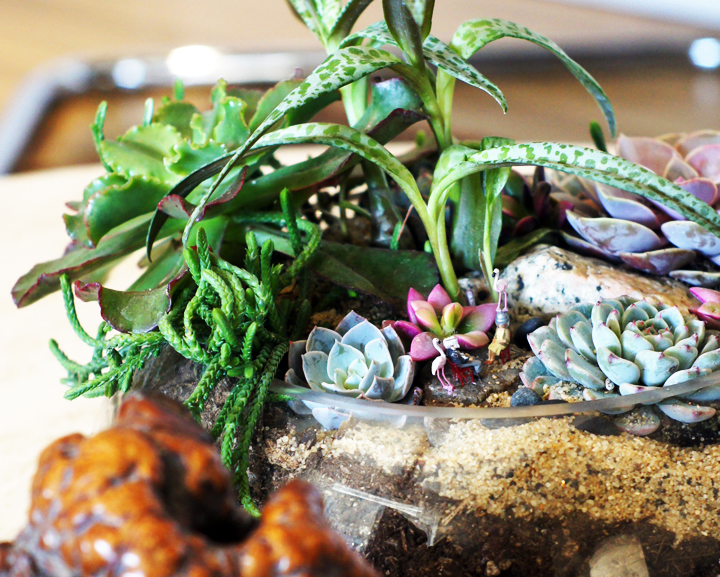 …it reveals a miniature scene of two flamingos styling up some hair-dos.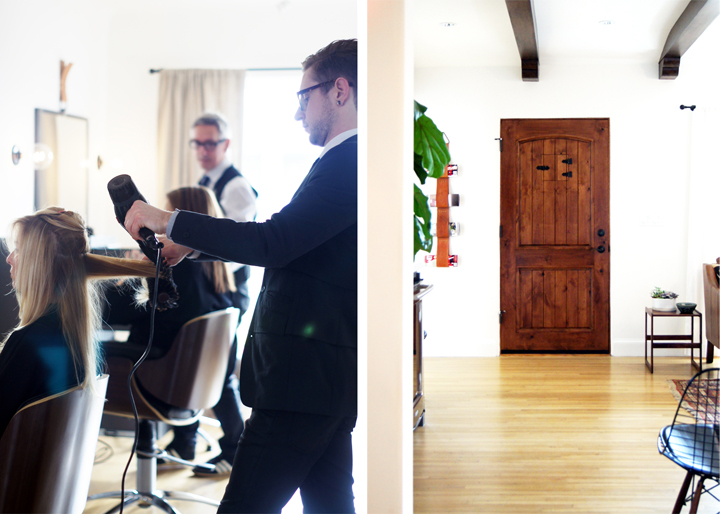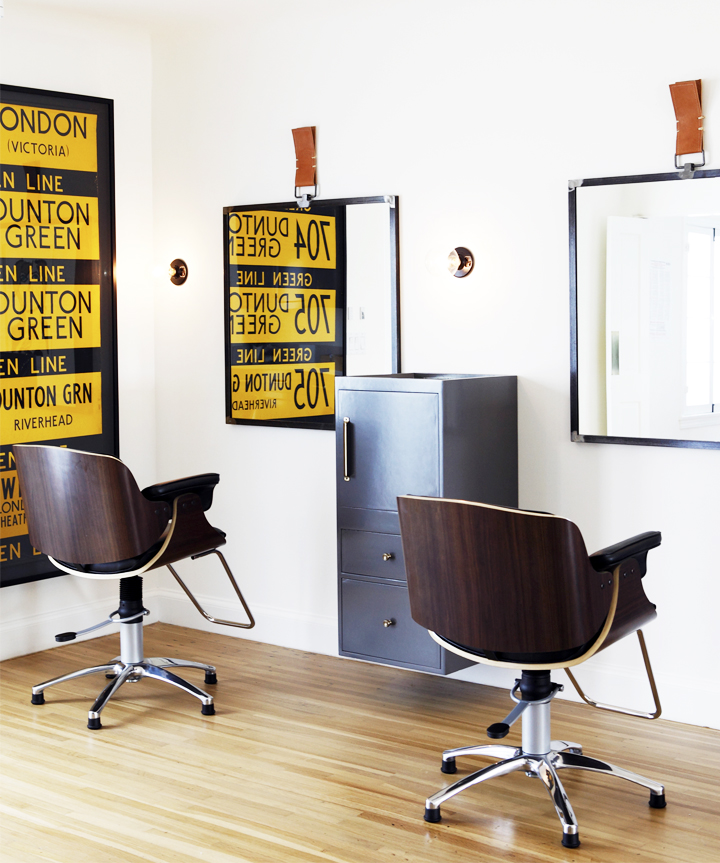 These gorgeous leather strapped mirrors were sourced from Casamidy's AltaVista line.
They are perfect and I want them to be all over my house.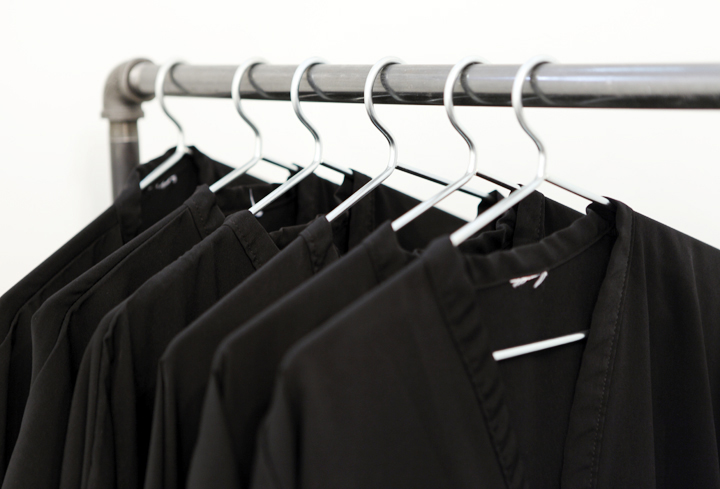 An industrial clothes rack with simple metal clothes hangers hold the salon's robes for customers to change into. I love this solution, so simple but still sleek.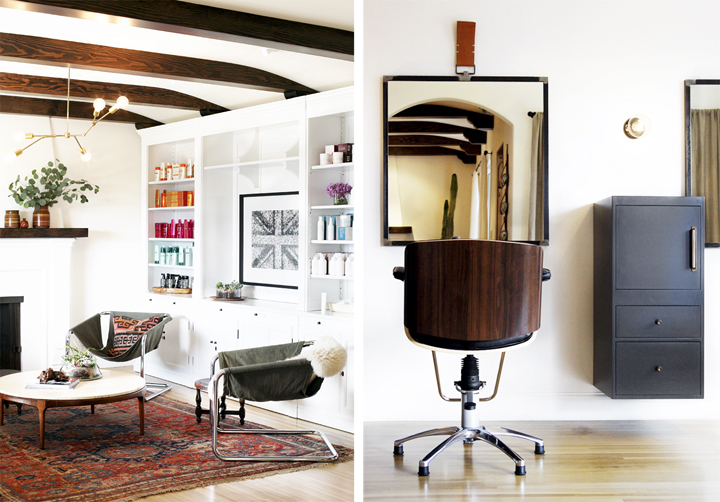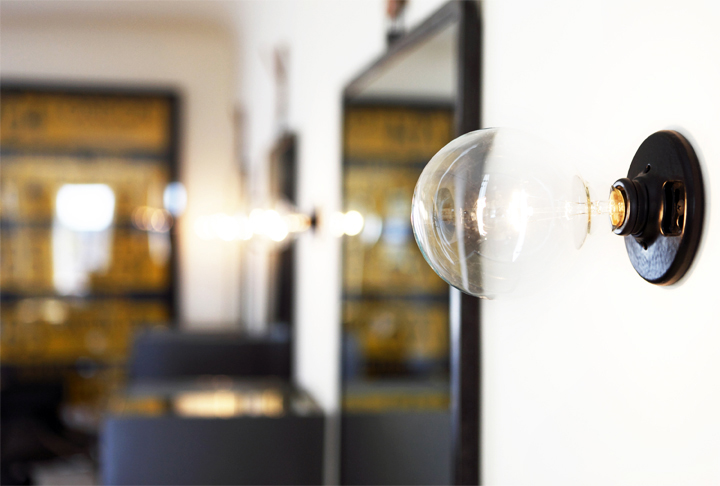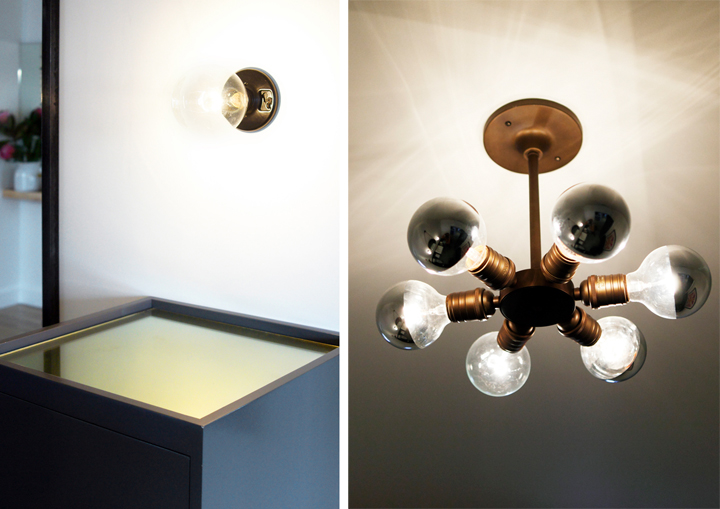 Besides the Adelman chandelier in the main waiting area we used a number of exposed bulb fixtures throughout the salon, including these simple and super budget friendly painted porcelain light sockets with extra large clear bulbs at the work stations and a Satellite pendant from Schoolhouse Electric with some half chrome beauties in the restroom.
One other custom detail that turned out better than we ever could have hoped, was the brass sheet inserts that line the top of each stylists work station. The brass adds an unexpected bit of shine which reflects a flattering warm light and ties in with the brass hardware used throughout the salon.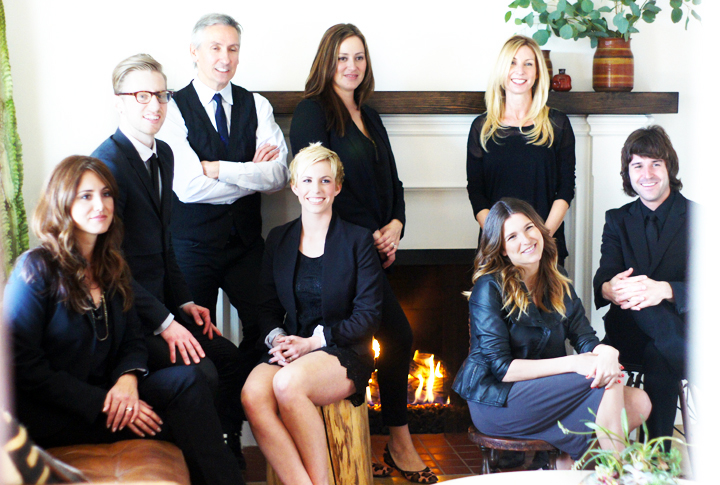 I grabbed a quick candid snapshot of the Morrison staff getting their portrait shot by Laure.
They all have perfect hair all the time. It is incredible.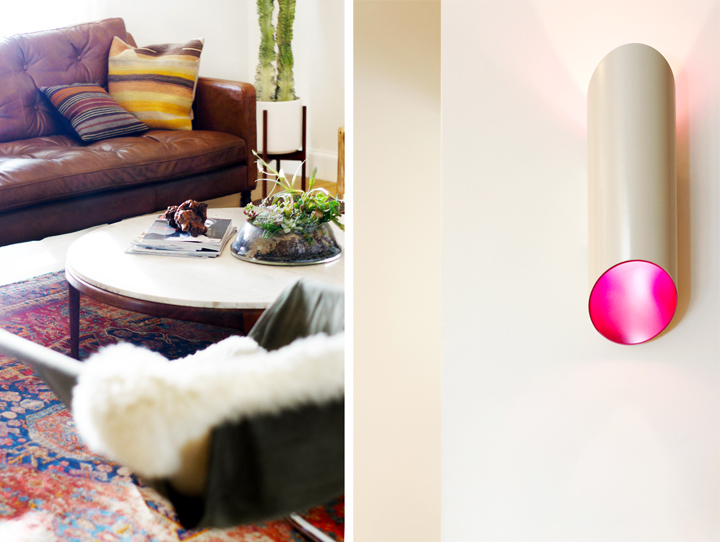 This Tom Dixon light is the business.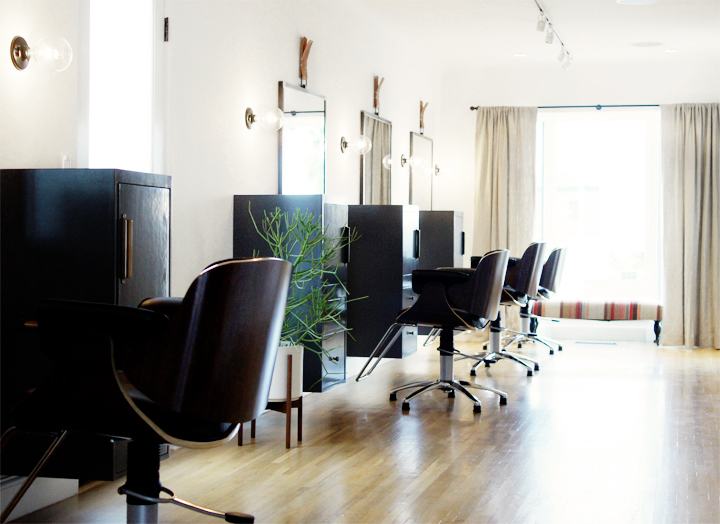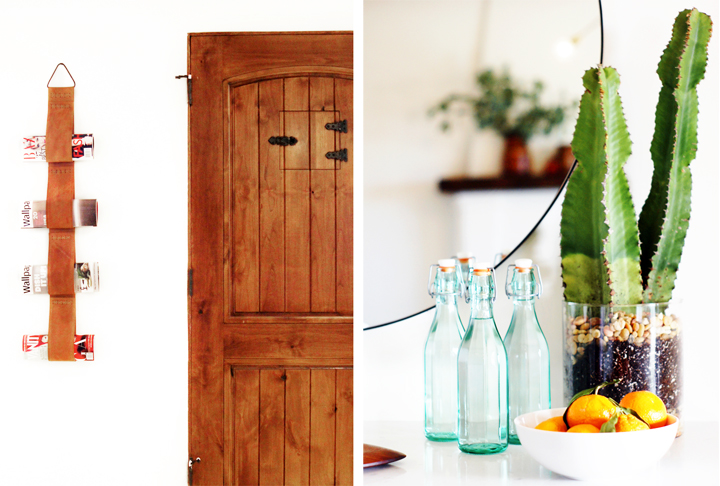 Casamidy leather magazine holder is also the business.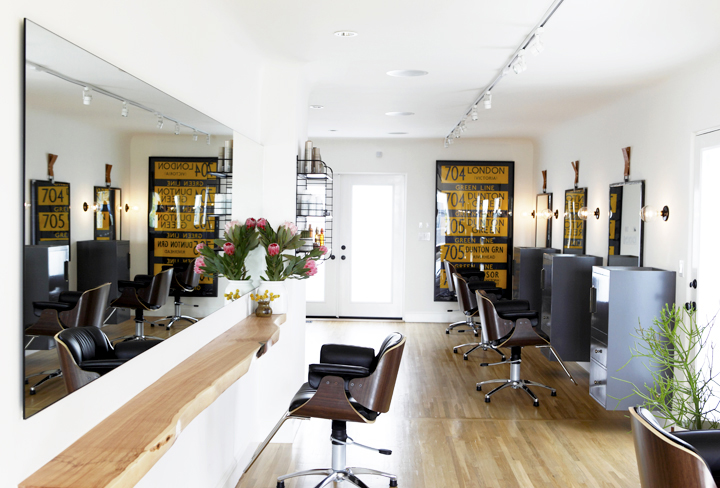 For the dry bar we asked the incredible woodsmith Dusty Wheeler to fabricate and install a floating eleven foot raw live edge slab of Alligator Juniper, which turned out to be smoother than glass and possibly the most beautiful slab of wood ever seen anywhere. Dusty also fabricated and installed the brass inserts for the work stations and built an amazing wood top for the shampoo room storage cabinet, which also turned out to be better made than anything I've ever owned.
Dude has skills and is easily the nicest fabricator to work with. I want to keep him a secret so that he remains available to work on every project I ever do, but also know he's too talented to hoard to myself and do truly want him to stay busy and help out as many folks as possible. I can't recommend Dusty highly enough.
*Um. I do need him for other projects, soooooo, calling first dibs.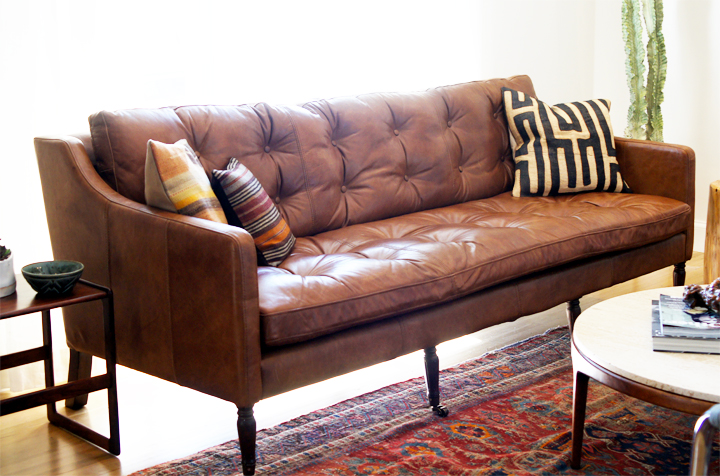 This leather bit of heaven is from HD Buttercup.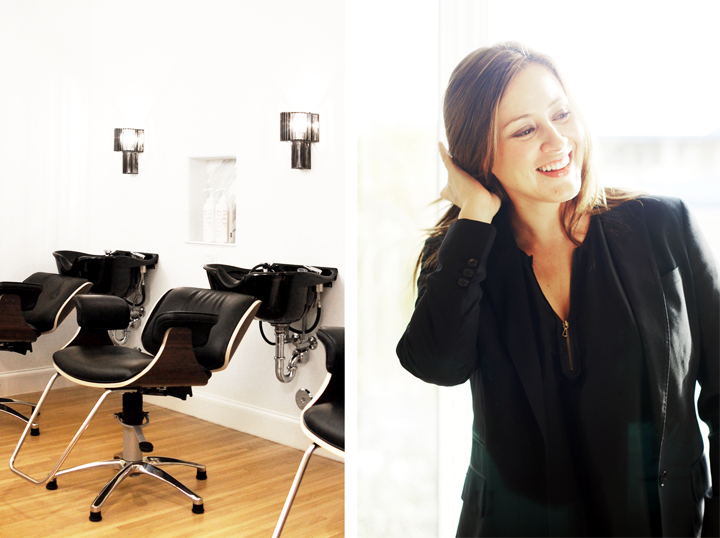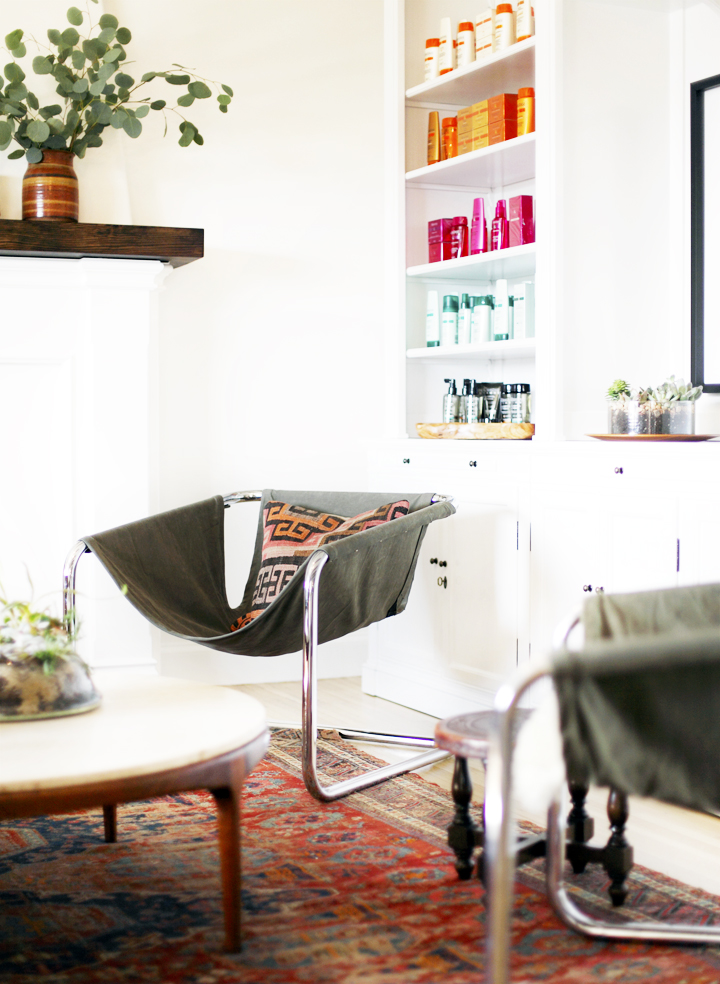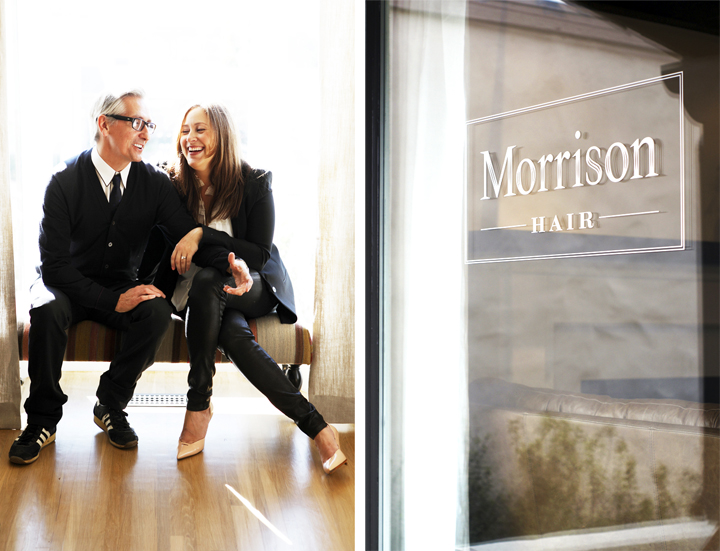 James & Rachel are goddamn adorable.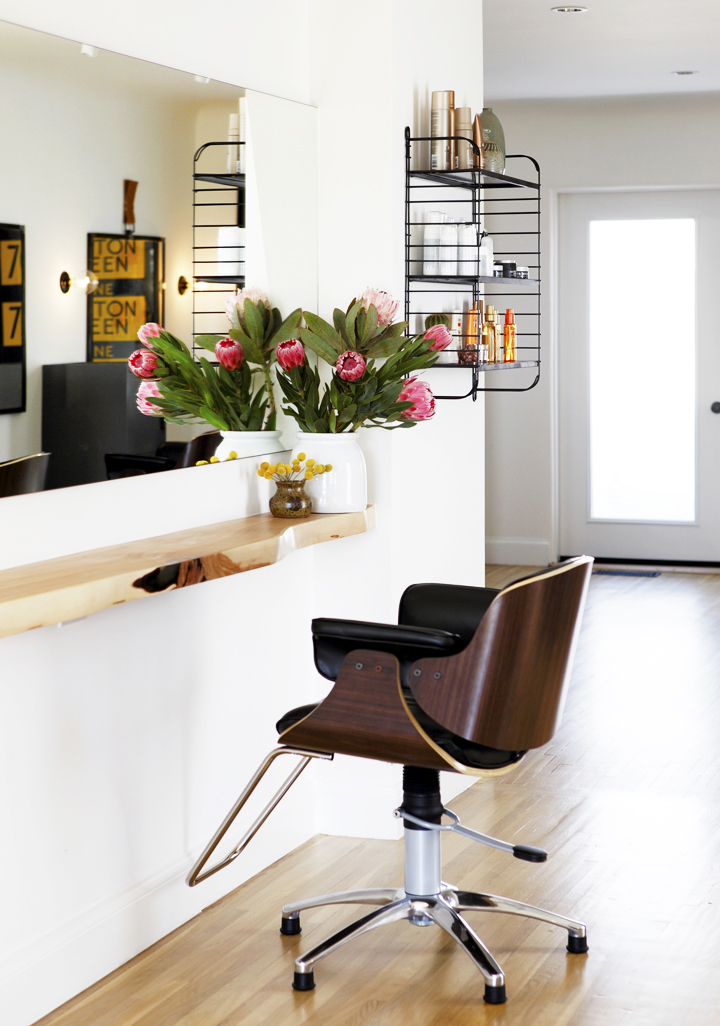 Everyone who comes in can't help but stroke the dry bar.
It's that gorgeous.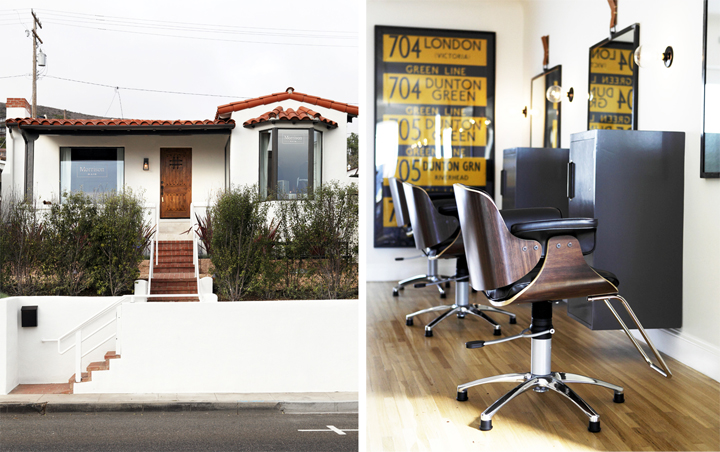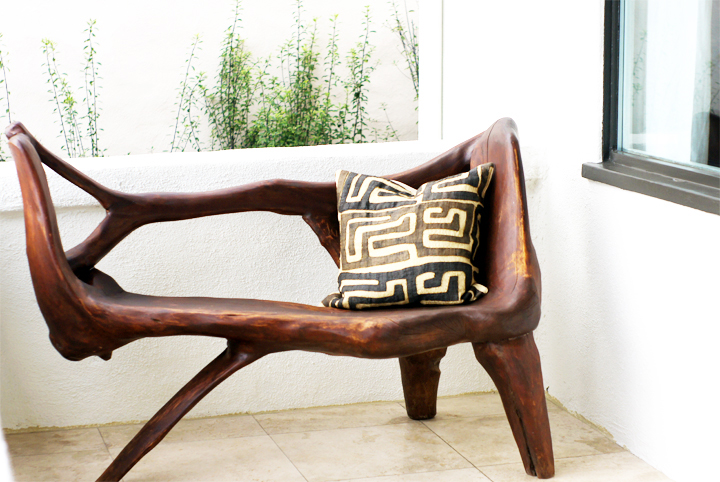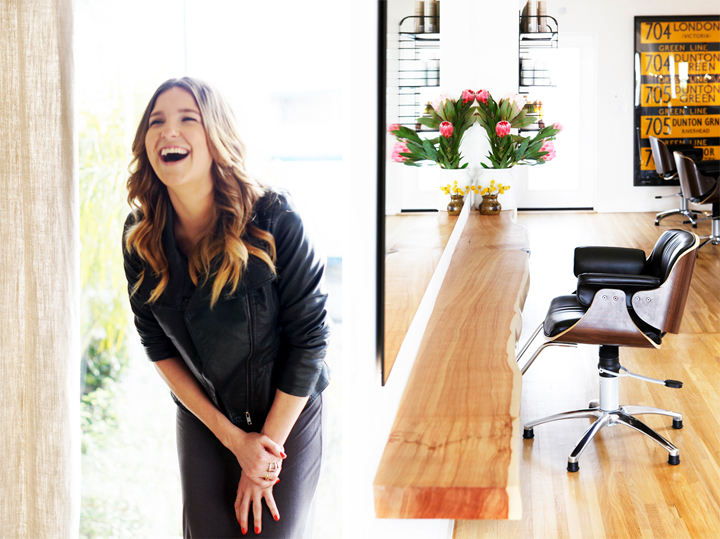 The interiors of Morrison Hair turned out to be everything Laure and I hoped it would be and much more. This was such a creative and fun project to be apart of and we loved working with Rachel and James and the entire staff at Morrison to create a space they enjoy and feel at home in.
I couldn't be more proud of how it all came together or more excited about upcoming projects with Laure and the lovely Morrison family.