SIDE YARD
Editorial Rating:

Average Rating:

(

0 votes

)
by

THE BRICK HOUSE
—
last modified
Jun 29, 2011
Knocked down all the knee-high weeds but everything is still a horrid mess. Being full on freaky for furniture, I wanted to check out how the table looked in the side yard (and at least free up some storage space). I kind of feel like it might be too nice to leave out here…but maybe [...]
---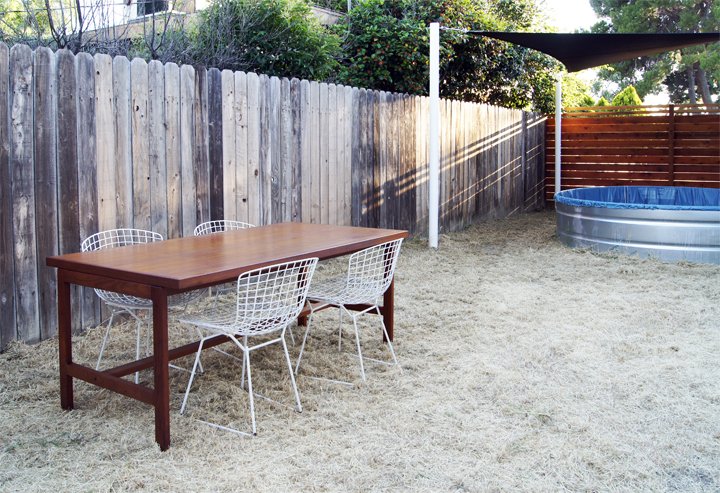 Knocked down all the knee-high weeds but everything is still a horrid mess.
Being full on freaky for furniture, I wanted to check out how the table looked in the side yard (and at least free up some storage space). I kind of feel like it might be too nice to leave out here…but maybe that's all the ghetto looking surroundings working their magical guilt.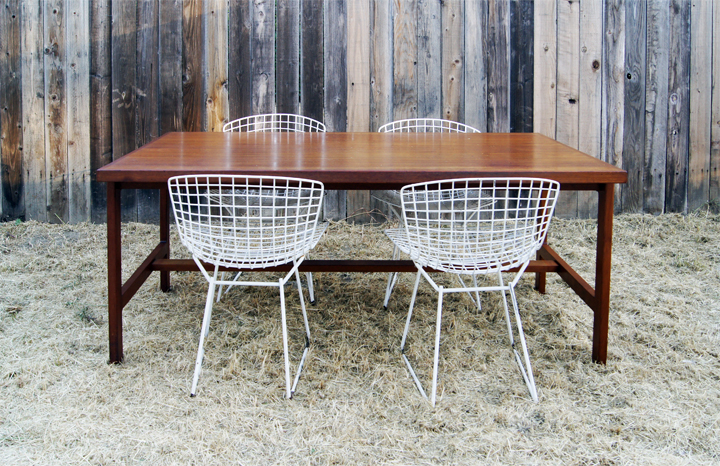 The ground is super uneven and it'll definitely be a long time before that final "look" is achieved. We still have a bunch of stuff to do to get this area looking and functioning like that fancy virtually landscaped yard.
Wait? But what things?!
Things like this:
SIDE YARD TO DO
+ Rototill soil
+ Level/grade dirt
+ Drip irrigation
+ Plumb/filter pool
+ Run electrical
+ Weed barrier
+ Weld metal edging
+ Decomposed granite
+ Concrete paver walkway
+ Stain/seal fence
+ Plants
+ Tree
+ Lighting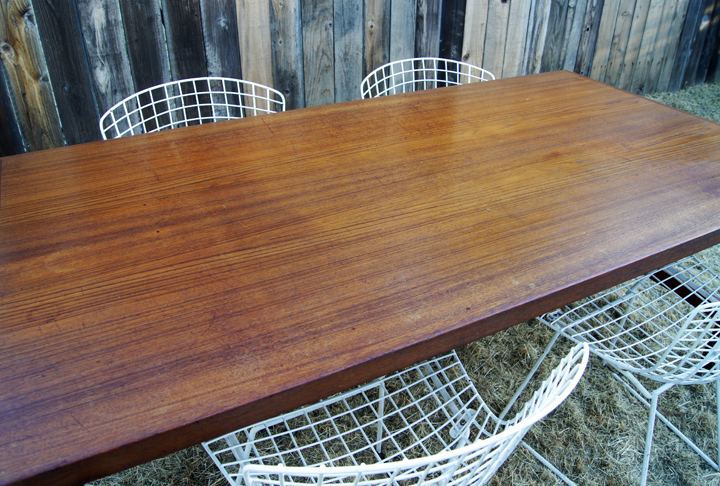 Look at that beat up table top. This thing was ridden hard and put away wet. The teak will do well outdoors though.
I've got a ghetto tarp covering up the table to protect it from the harsh sun for now, but it still needs a nice weather resistant cover to keep it from getting too abused. At least I know rain won't be an issue. Thank you wicked dry desert climate!
+++++
In other unrelated thoughts and boring stuff:
I've been working on the show with Laure again, as well as tirelessly on the shop and other sneaky ventures. Summer time means that it's 8,000 degrees in the desert and working on the house is a physically torturous and sweaty nightmare. Admittedly, I've been phoning shit in around this old blog as of late, but in all honesty, I just got nothing. No great ideas, no fun content, no big projects I can share. I'm exhausted and totally uninspired and the house is a disaster pit that I just awkwardly walk around while trying to ignore random piles of laundry.
Otherwise, it seems that I've been straying away from blogs and spending more time on twitter and instagram and other micro-blogging (I hate myself for even typing that) formats which are easily accessed on my phone. As I'm traveling more and spending less and less time at a computer, these little venues feel like an immediately accessible option and are seemingly where more and faster interaction is taking place.
So, to you – you fine summer loving and attractive folks – here are a few things I've been asking around about:
How do you deal with crappy uninspired creative lulls?
Have you noticed a shift in the way peeps are interacting with blogs and the blogging community (please punch me for writing blogging community)?
Anyone feeling slightly burnt out? Please say it's not just me feeling completely cray-cray crazy lately.