POTENCE STYLE DIY LAMP
Editorial Rating:

Average Rating:

(

0 votes

)
by

THE BRICK HOUSE
—
last modified
Jun 02, 2011
The Potence lamp by Jean Prouvé is one of those elegantly minimalist lighting solutions that appears easier to construct than it actually is. Well, for me at least. I tried and failed, MISERABLY, to build an affordable DIY version for our bedroom and eventually gave up hope. Then? This email popped up brimming with pictures [...]
---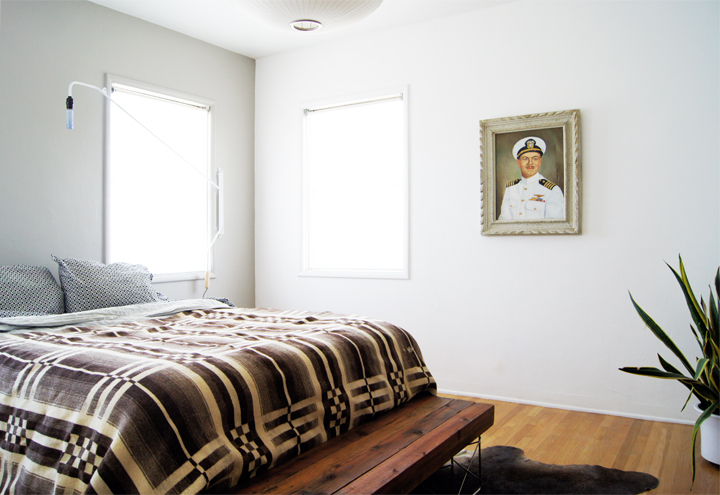 The Potence lamp by Jean Prouvé is one of those elegantly minimalist lighting solutions that appears easier to construct than it actually is. Well, for me at least. I tried and failed, MISERABLY, to build an affordable DIY version for our bedroom and eventually gave up hope. Then? This email popped up brimming with pictures of a homemade version of the Potence that blew me away. Logan of ONEFORTYTHREE had written a comment long, long ago when I first posted about trying to build one of these thangs -
"Logan on February 1, 2011: I like the lamps but you've inspired me to try and make that wall lamp. It looks cool but too expensive to consider buying. If I can, YOU can! cause I'm a self-taught DIY'er too."
Then? He totally f*cking did it. Like a DIY champion. Also, nope – turns out I can't.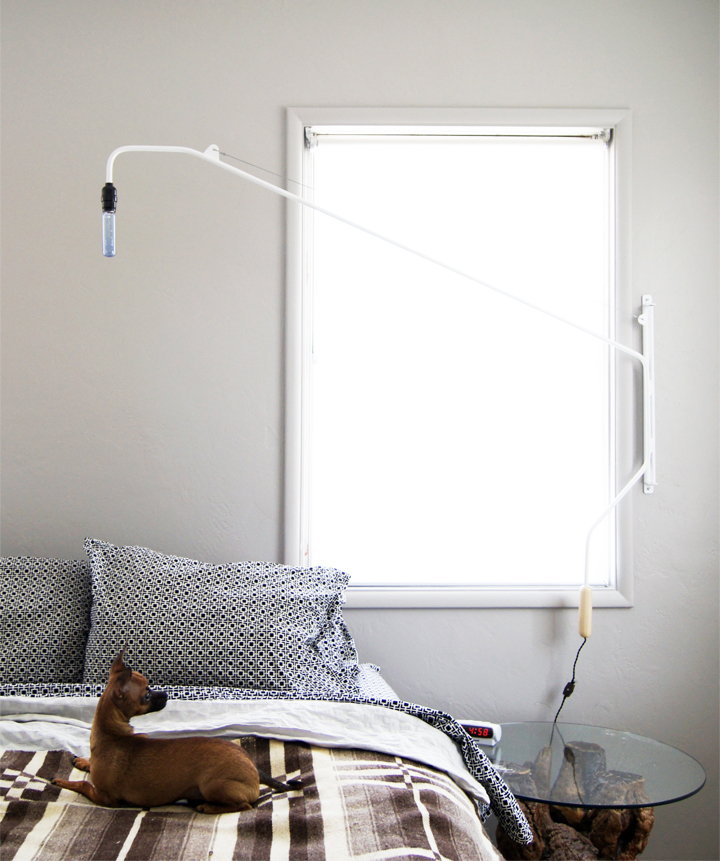 BOOM.
Did I mention that I kind of slobbered all over his emailed pictures and was like ohhh, ahhhh, woooow, you are a master fabricator, you are amazing, it turned out so great, mine failed so miserably…wink wink, nudge nudge.
So, Logan had been building a few of these tester lamps for friends and family while figuring out kinks and streamlining the fabrication process. I somehow ended up being lucky enough to get my hands on not one but TWO of the prototype versions. By unashamed groveling, perhaps?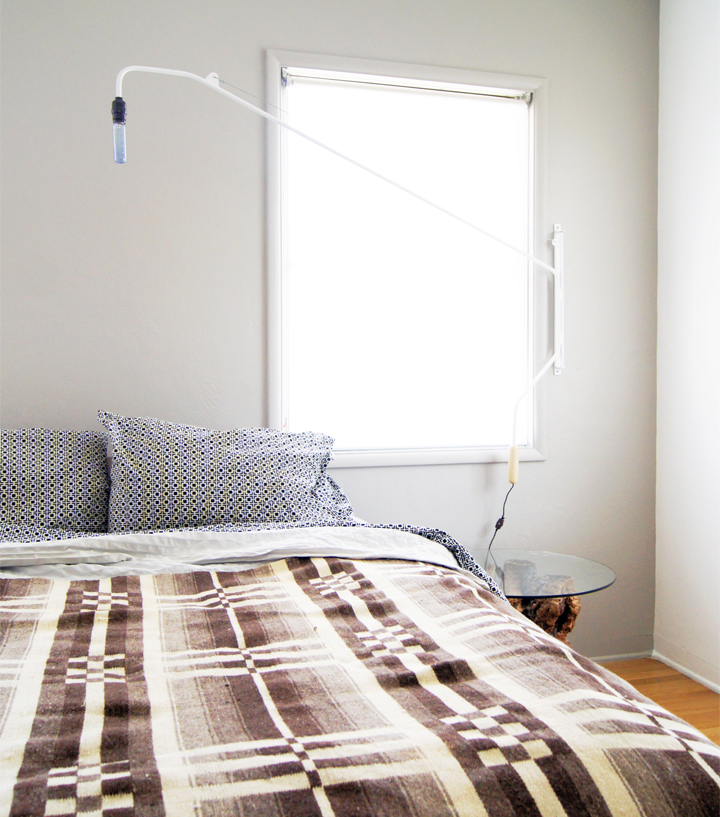 One white version for the bedroom – which can swivel and swing to illuminate whichever area your heart desires.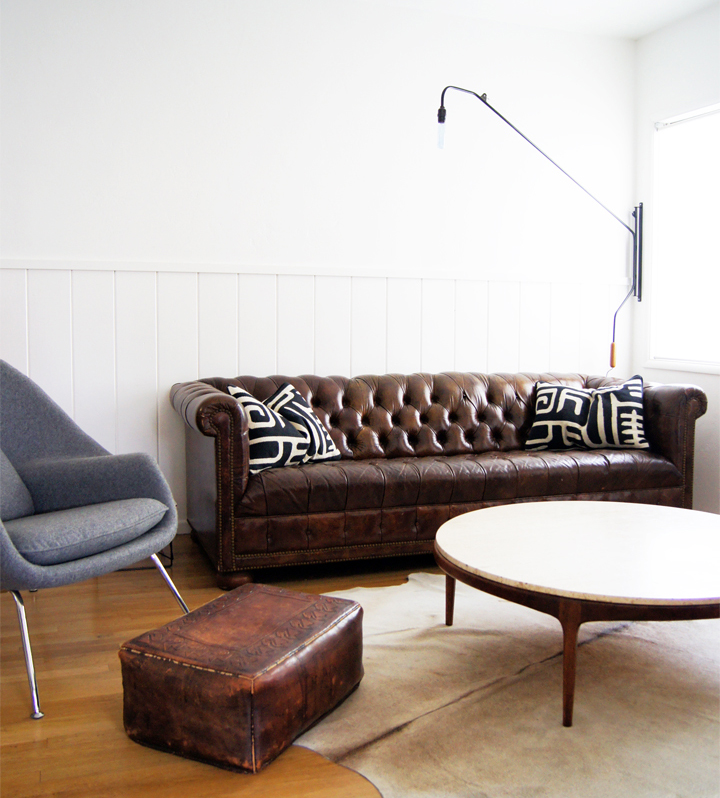 And one black version for the den. Both areas we tend to relax, enjoy a good book or perhaps a long game of Words With Friends.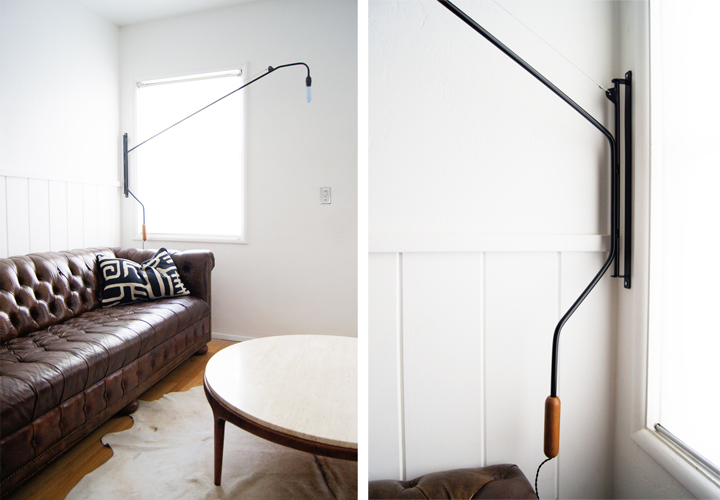 See? It swivels! You use the little wooden handle to move the lamp into position.
I love the detail of the braided cloth cord and handy little on/off switch positioned a little ways down the wiring. Logan worked it out on the little details to keep the lamp sleekly minimal but with areas of warm texture.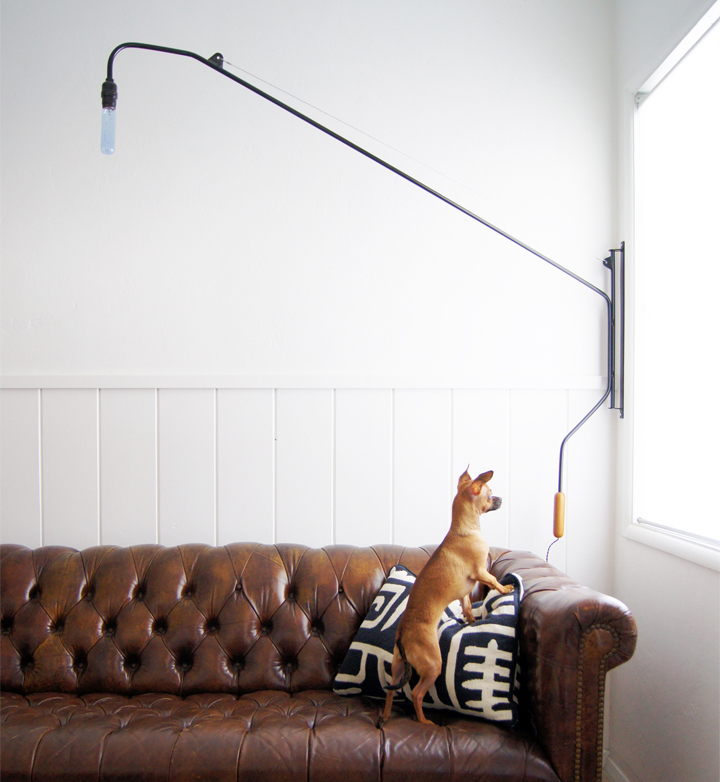 Chihuahua for scale.
My lamps are about six feet long and are perfect and I love them. Loved them so much and was so impressed by their handmade completely from scratch construction that I may have been a little forceful about Logan making a few available for sale. Maybe because I want to put them in all the homes I'm working on? Maybe out of complete selflessness? Weld! Weld till your fingers bleed!
Be sure to check out ONEFORTYTHREE for the DIY how to as well as even more of Logan's great DIY projects and home renovation. A limited run of these lamps will be available in his newly minted ETSY STORE. Check them out and be on the lookout for additional handmade items to be added in the near future (wink wink, nudge nudge Logan).
*Also, homeboy just got engaged to his lovely, talented and hilarious lady. Congrats! Roxy was rocking some Vegas style bling at the big sale for realz.