SALE, The Aftermath
Editorial Rating:

Average Rating:

(

0 votes

)
by

THE BRICK HOUSE
—
last modified
May 17, 2011
After a few months of talking and working and cleaning and stressing the 'eff out, we finally had the big BrickHouse + Modernhaus + Terri Planty pop-up sale this past Sunday (with extra special help and management pizazz from the super talented Laure Joliet). Lots and lots of folks showed up, lined up and then [...]
---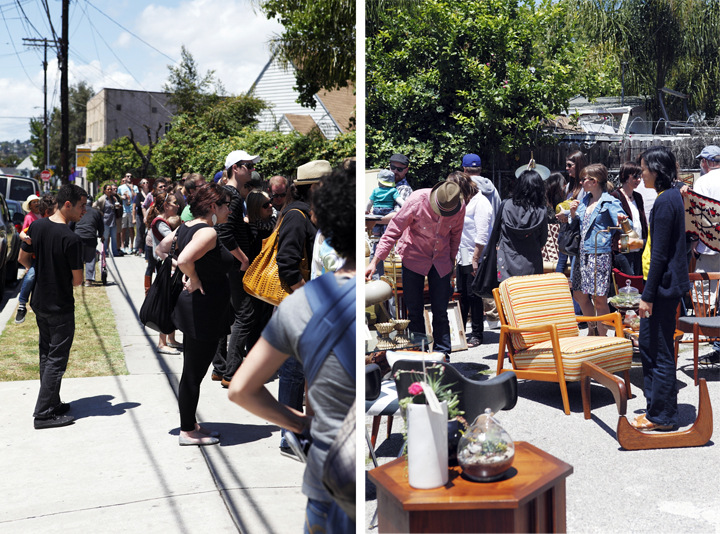 After a few months of talking and working and cleaning and stressing the 'eff out, we finally had the big BrickHouse + Modernhaus + Terri Planty pop-up sale this past Sunday (with extra special help and management pizazz from the super talented Laure Joliet).
Lots and lots of folks showed up, lined up and then heckled us when we were a few minutes late opening (not that they knew it had rained all morning and the seven of us spent FOUR hours as well as all of Saturday prepping to open for the sale – so you know – give us an extra ten minutes to wipe the sweat off and slap on some deodorant).
If you've ever sold at a flea market or pulled together a pop-up shop, you know that this kind of event can be a bit of a nightmare. Weeks of prep and labor and refinishing and stress and rentals add up into a singular moment where the crowd bum rushes in an orgy of shopping frenzied madness. It was like Thunderdome, but with less leather.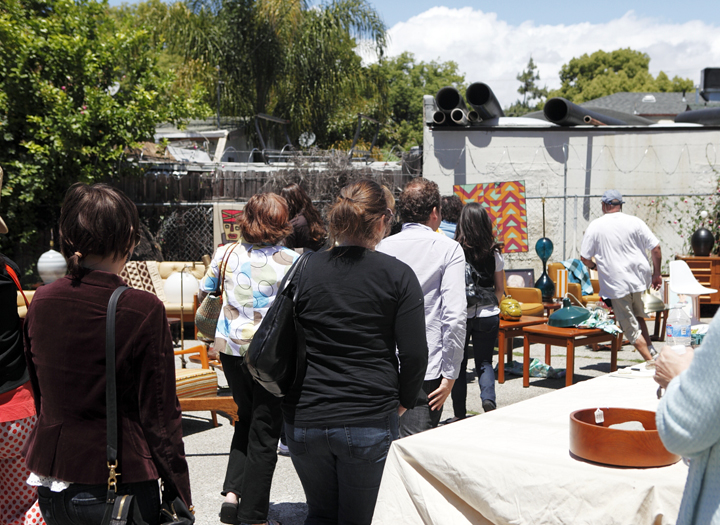 See the guy in the white shirt on the right full on running? He wasn't the only one. I almost got trampled by a lady trying to get to a lamp.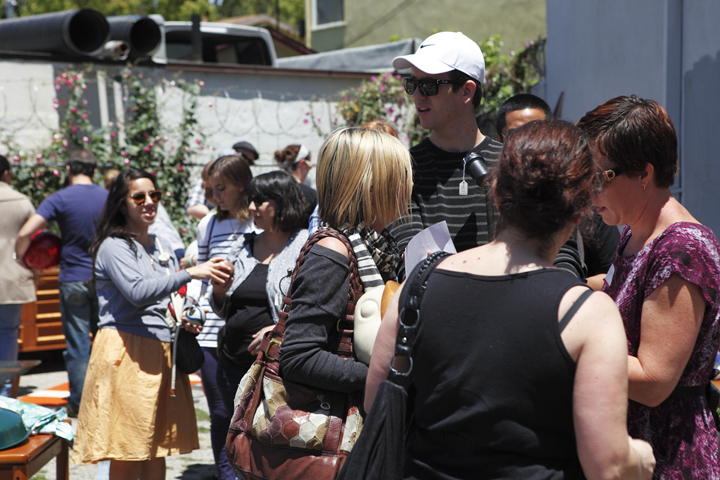 People grabbed their wears and we tried our best to invoice and process payments quickly. Thank the lordy for the boys (Erick, Ruben and Jeremy) who functioned as our cashiers, brute strength and water suppliers. I have to say, the first hour was completely overwhelming and a bit chaotic. People be hard core about their vintage buys.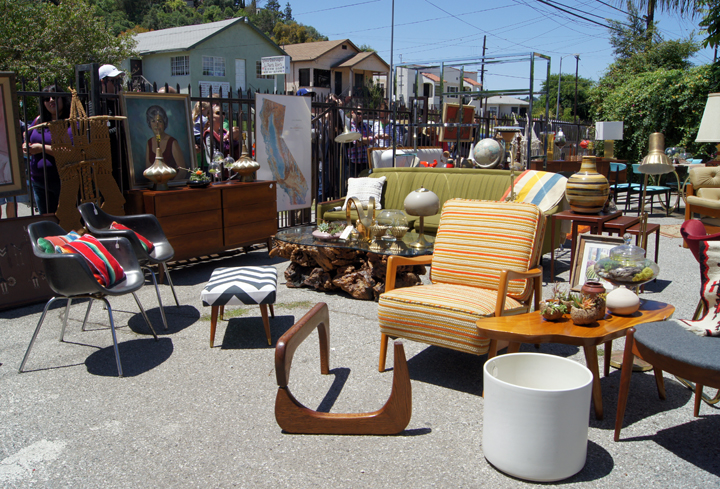 Laure and I tried to grab some quick photos of the setup before it was all torn to shreds. Gotta love that bright noon time light to make everything look extra harsh and sexy in the parking lot (Thankfully Laure got around and took a bunch of pictures that I am now reusing with reckless abandon).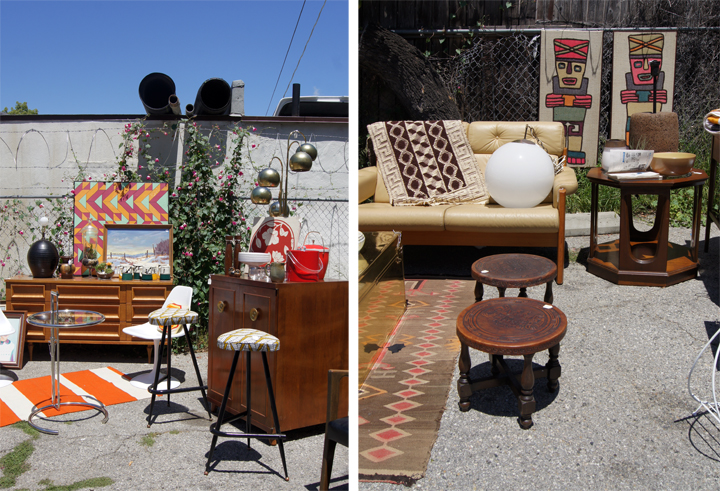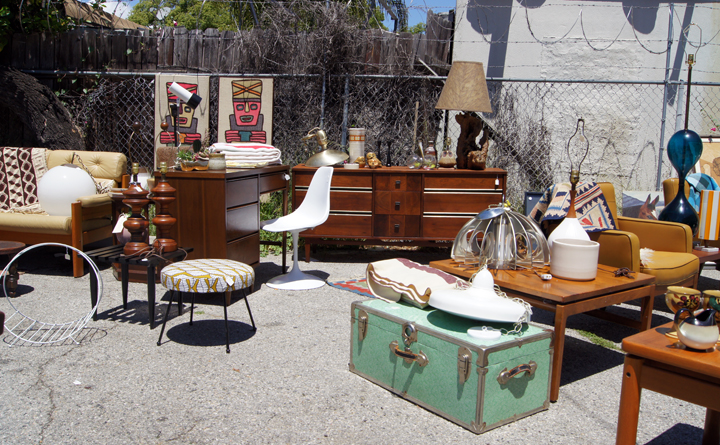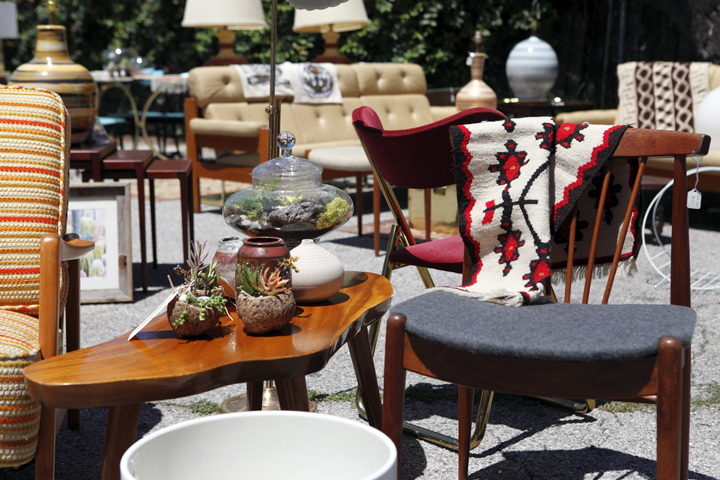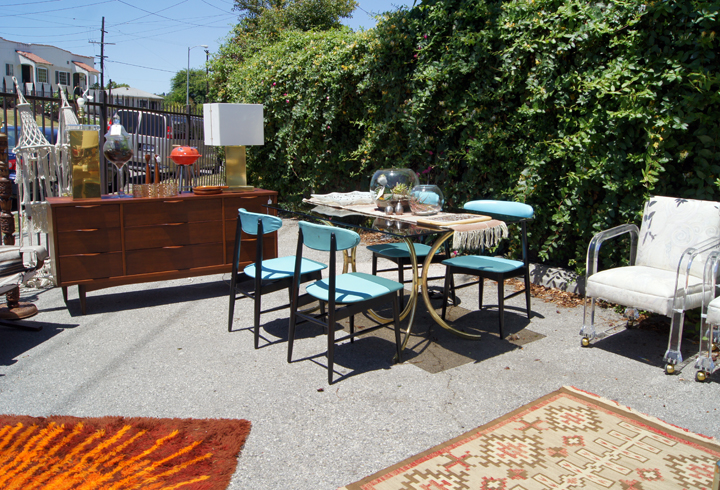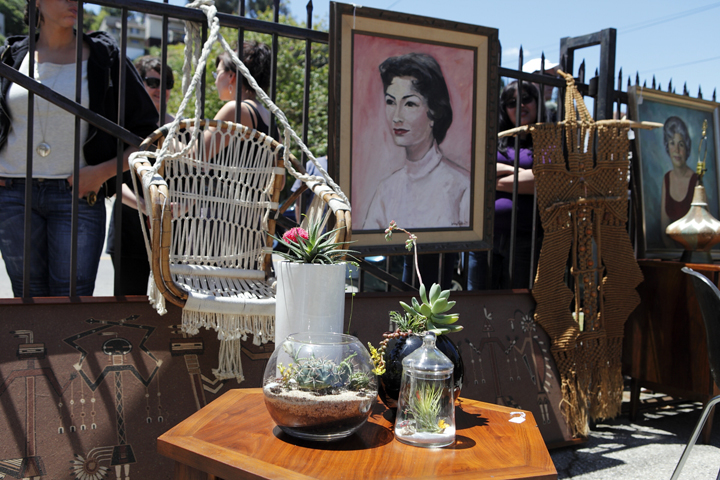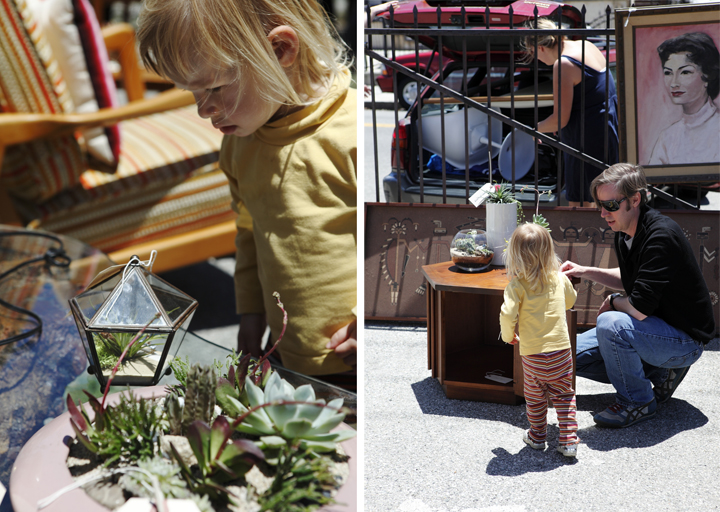 This little girl was my best salesman. She got her folks to buy this little Lane storage table by sheer adorableness – she kept climbing inside like it was a little house!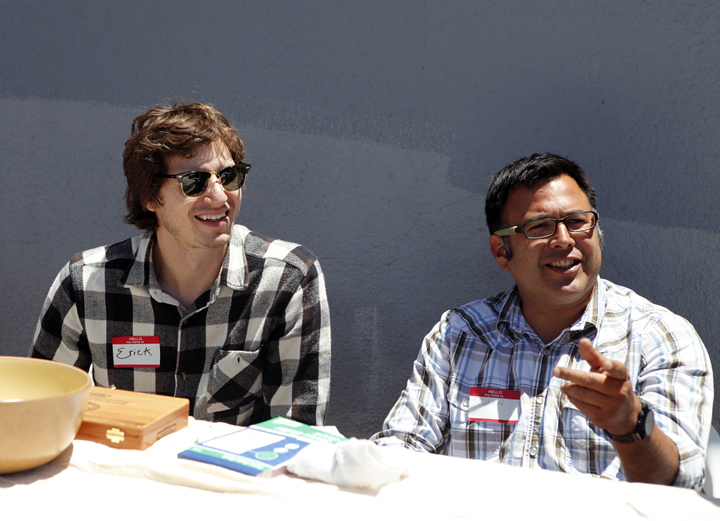 Check out Erick & Ruben working it at the cashier table and charming the ladies. It seems like we never got a shot of Jeremy during all the chaos, not even one of him bending over.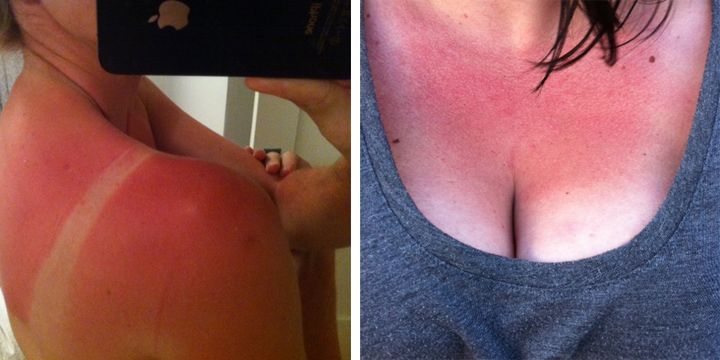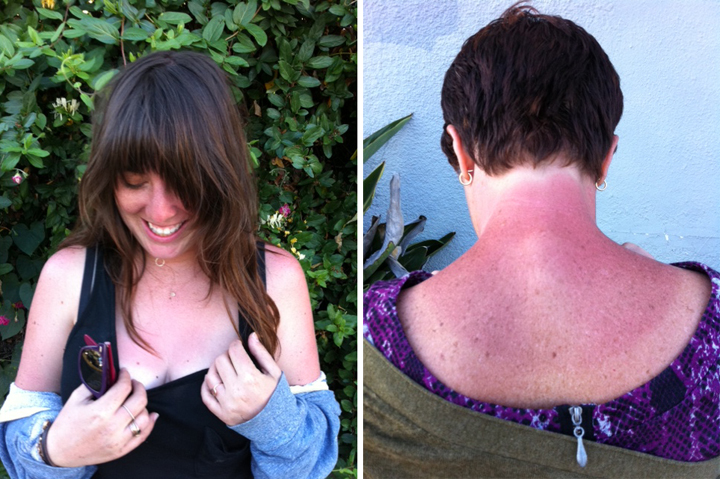 But Laure, me, Bianca and Summer all got wicked ass sunburns. Sexy right?
I hope you hecklers feel bad. We forgot to put suntan lotion on because we were rushing to open up. SHAME. SHAAAAAMMMMEEE on you.
In the end it went really, really, EXTRAORDINARILY well – sunburns, rainstorms, hecklers and those two crabby hipsters (we could hear you, also, put on some real pants – your camel toe is terrifying) and all. We were burnt, exhausted, dehydrated and hungry but still had a completely killer time meeting readers, new visitors and letting our stuff go to great new homes. Jeremy and I brought a huge load including a full 6×12′ trailer, full truck and fully stuffed Scion and left with just a tiny fraction of the original mass. The garage is finally walkable and the house needs some rearranging, but slowly everything is getting put back into place.
Maybe you missed out? Maybe you feel so sad? Maybe we can help? I'm not sure if we could do another one of these pop-up sale things anytime soon, we are officially pooped and busy napping. Well, be sure to check out the online shops all year 'round.
TERRI PLANTY (Custom and gorgeous handmade terrariums)
MODERNHAUS (Tasty vintage awesomeness)
BRICKHOUSE (Not temporary and still full of magic)
*Thank you all you amazing peeps who helped pull this together. I was a stressed out basket case of a mess and you guys were incredible and brought the best stuff and helped with all the heavy lifting. I'd listen to weird techno mixed with mariachi while eating hamburgers in a parking lot and cleaning furniture all day, any day. Most fun I've had in a long, long, long time.