New Design for the Tray House introduced
Editorial Rating:

Average Rating:

(

0 votes

)
The design for a new modern stock house plan, the Tray House, was unveiled today at lamidesign.com/plans
---
The Tray House is a modern house that fits into the suburban pattern of culdesac planning that is so common in today's suburbs. All around the country much new development for better or worse is done following this pattern which is why we have set out to create house plans. Many have no other option but to find a home in this kind of neighborhood. These people should be able to choose modern as well. The Tray House is poised as a counterpoint to today's typical suburban development, designed to fit into the common suburban landscape and still provide a modern refuge for those who want and hope for better.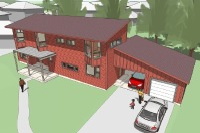 Project Number: 0385
Name: The Tray House
Bedrooms: 3
Square footage: 2,202
Design Prints available Now!