New design for the Porch House introduced
by Gregory La Vardera
—

last modified

Jan 04, 2012 12:28 AM
Gregory La Vardera Architect 2003
Editorial Rating:

Average Rating:

(

0 votes

)
An exciting new design for the Porch House was unveiled today at lamidesign.com/plans. The Porch House is part of the Camp Group of small modern cabins and cottages. Schematic floor plans, exterior and interior views are available online and Design Prints are available for order.
---
The Porch House leads a double life. During the winter it is a cozy two bedroom cabin. During the summer it is a weekend retreat able to accommodate many friends and guests. The entire ground floor of the cabin is designed as one big screened in porch, with sleeping areas and a summer kitchen which allows you to move your life outside for the summer months, hence the name Porch House. So despite the size of the house, during the summer months the number of people that can be accommodated can be quite large. These summer living spaces are made to drink in the scenery and make life at this retreat as different as possible from your daily life back home. Think of it as a machine for unwinding!
Stop by the site today and see it.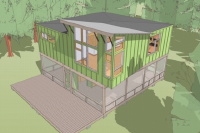 Project Number: 0367
Name: Porch House
Bedrooms: 2
Square footage: 1,066
Design prints available Now!