New Design for the Cube House introduced
Editorial Rating:

Average Rating:

(

0 votes

)
The design for a new modern stock house plan, the Cube House, was unveiled today at lamidesign.com/plans
---
The Cube House is a modern house that fits into the urban fabric of narrow deep lots and tall multistory houses that are so common in older suburbs. The exterior walls of the house are treated with our "suburban camouflage" which helps it to blend in as it breaks down the surface of the house into segments that are similar in scale to the massing of older houses. Although this house will work in an existing neighborhood it will also be quite happy in a range of other settings only limited by your imagination. The Cube House has a series of loft like living spaces all oriented off of a central stair core. It is a flexible plan that lends itself to different lifestyles and growing or shrinking households. It may be just right for you!
Stop by the site today and see it.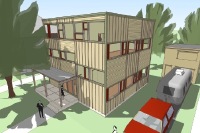 Project Number: 0380
Name: The Cube House
Bedrooms: 5
Square footage: 2,400
Design Prints available Now!